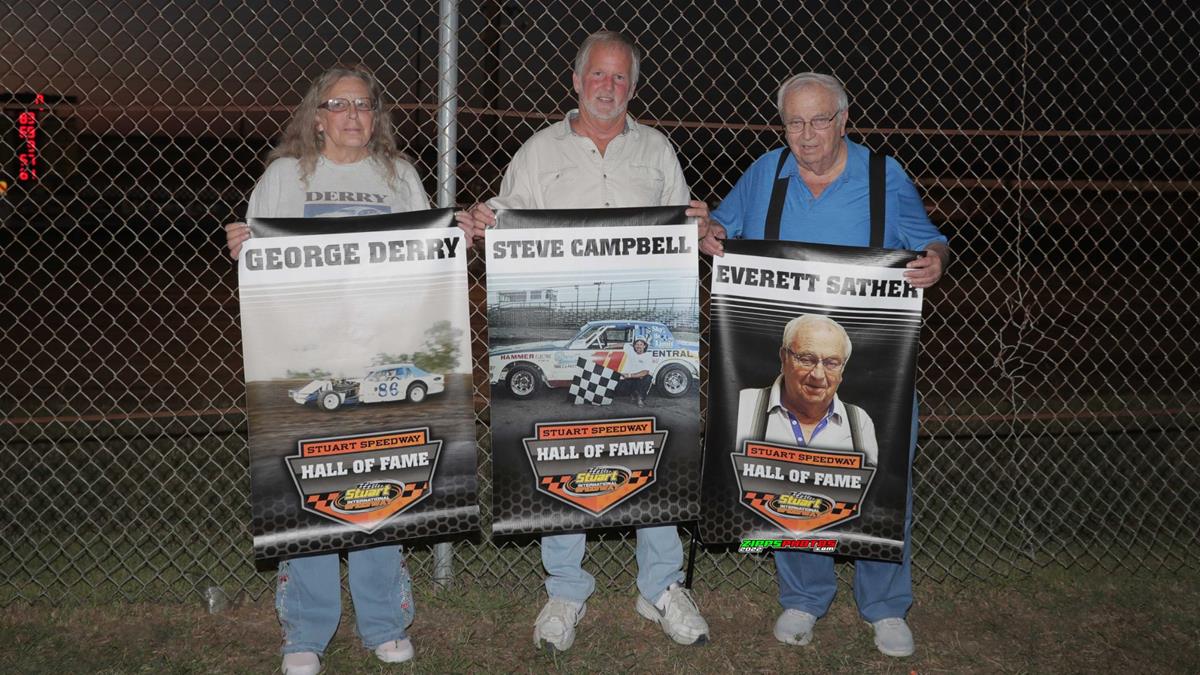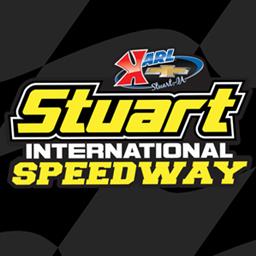 ---
Track Champions Crowned at Stuart
Karl Chevrolet of Stuart International Speedway had some terrific racing, inducted 3 very deserving individuals into the Hall of Fame and named our 2022 Track Champions on Wednesday night at the Jake Durbin Memorial. Ben Kraus, Mitchell Bunch, Jeremy Gettler, Dallon Murty, Brandon Cox and Cam Reimers were the race winners for the night and Everett Sather, George Derry and Steve Campbell were the Hall of Fame inductees.
Outlaw Mini Mods came out first for feature racing and it was Troy Ihrke setting the pace early on. Ben Kraus made it by Lucas Daniels for second on lap 6 and began to track down the leader. 7 circuits later Kraus would make the move in turn 2 as Ihrke bobbled, and that was all it took as Kraus went on to the win. Ihrke finished second with Daniels third, TJ Stalker fourth and Nathan Kilwine fifth. Kraus finished with a 57 point lead over Chase Daniels to claim the track title. Congratulations Ben!
Next up was the IMCA Sport Compacts and it was Mitchell Bunch leading lap one. Blake McCann moved by on lap 2 and looked strong, but Bunch would run him down and take the lead back on lap 8. Some lap traffic made things interesting but Bunch held strong and went on to the win. Dustin Grout finished in second with Kolby Sabin third, McCann fourth and Tyler Fiebelkorn fifth. Fiebelkorn ended the season with an 11 point lead over Sabin to take home the track championship. Congratulations Tyler!
Hall of Fame inductions came next with each inductee being introduced by Hall of Famer Michael "Wombat" Walrod in front of a full crowd of fans and drivers. Each inductee was remembered fondly for their years of being involved at the Speedway and this is a great way to keep those memories alive for years to come. Personal memories of each from myself are as follows:
• Steve Campbell – one of the cleanest looking IMCA Stock Cars week in and week out. Perennial front runner, passionate about finishing well and would usually put on a show while doing it.
• George Derry – his hauler was one of my favorites, I'd dream of knocking the back out of a bus and going racing all over. Always had a smile, especially when Joe College got a Chevy installed in the traditional Ford ride and it got him a win.
• Everett Sather – the sole reason Stuart Speedway still exists. Patriarch of a central Iowa racing family, parts supply business owner and multiple track ownerships. Stood up for his beliefs but wasn't afraid to shake a hand to bury a mishap. Took exceptional care of those that worked for him, creating lifelong employees and friendships.
Congratulations from everyone at Stuart Speedway to Steve, George and Everett!
IMCA Stock Cars were up next with Jeremy Gettler, Tom Berry Jr and Buck Schafroth firing off 1-2-3. As the race wound down Berry Jr would get up alongside Gettler each lap and Schafroth began to close. Lap traffic made things extra interesting, but at the end Gettler held the lead and took the win in the caution free event. Berry Jr finished in second with Schafroth third, Austin Kaplan fourth and Miciah Hidlebaugh fifth. Hidlebaugh took home his first track title with a 10 point advantage over Schafroth. Congratulations Miciah!
Next would be the IMCA Modifieds and the Jake Durbin Memorial. Randy Foote led the first 4 times around until Dallon Murty powered by on lap 5. Foote searched high and low but there was no catching Murty on this night as he drove away to take the win. Foote finished second with Austin Kuehl third, Matthew Meinecke fourth and Josh Gilman fifth. Gilman took home the track title with a 26 point lead over Chase Rudolf. Congratulations Josh!
IMCA Hobby Stocks were up next and it was Travis Cavin showing the way early on. Rusty Bates used the bottom of the track to take over the lead on lap 6 just before the caution came out. John Watson used the restart to his advantage and shot into the lead for a few laps until Brandon Cox eased into the lead on lap 10. Watson would take it back a lap later but Cox was too strong from lap 12 to the end as he went on to the win. Watson finished in second with Luke Ramsey third, Tommy Luft fourth and Skylar Pruitt fifth. Cox is the 2022 track champion with an 11 point advantage over Ramsey. Congratulations Brandon!
The last feature on the track was the IMCA Northern SportMods and it was the tightest point battle of the year. Brayton Carter, Izac Mallicoat and Tyler Inman were separated by only 2 points coming into the night and with the three of them starting 9-10-11 anything was possible! Hunter Poston led the first 5 laps until Carter made a sweeping move out of turn 2 on the top side around the top 3 cars to take the lead on lap 6. Carter looked to drive off to the easy win but Cam Reimers had other ideas, slowly reeling Carter in and making the pass on lap 16. Carter threw the kitchen sink at him but it was not to be as Reimers took the win. Carter finished second with David Schwartz third, Shane Paris fourth and Bryan Morris fifth. Carter took the championship by 4 points over Mallicoat. Congratulations Brayton!
The last events for the 2022 season were Ladies and Mechanics races for Full Body and Open Wheel divisions. Winners for these were:
• Ladies Race – Amanda Solum, 94 Stock Car
• Mechanics Races
o Full Body – Garrett Nelson, 92 Stock Car
o Open Wheel – Buck Schafroth, 95N SportMod
o Open Wheel (Small Cars) – Dustin Haggard, 17J Mini Mod
We'd like to thank all who came out to support the race track at our tenth and final event of the year. There are so many people that contribute to the success of this racetrack and we're beyond thankful for each and every one of you. We can't wait to see what 2023 holds in store for us, we'll see you then!
Photo Credit: Zipps Photos
---
Article Credit: Josh Reynolds
Article Media
Back to News