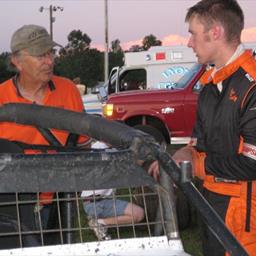 Eric Schulz
Sioux Falls, SD
Driver Information
My parents Started taking me to races at a ripe age of 6 months. With being around the races for most of my life, it was only a matter of time before I got involved. At 17 years old, after many years of and dreaming, I finally saved up enough to buy my first race car. It was a 1979 Olds with a 455 motor in it, all ready to go for enduro races. I had a lot of fun, but felt it was time to move up in 2005. I went to the local racers swap meet looking for a b-mod, but found a good deal on sprint chassis instead.
For the next year I worked hard and saved money and was on the track in the spring of 2006. During my second night on the track with my sprinter I made a rookie mistake and destroyed my car. After healing up and rebuilding, I was back on the track in August.
In 2007 I competed in my first full season. After racing hard and learning a lot, I came out at the end of the season on top!
In 2008 I received the Max Henery Sportsman of the Year Award, and got third in points.
Recommendations
No recommendation information