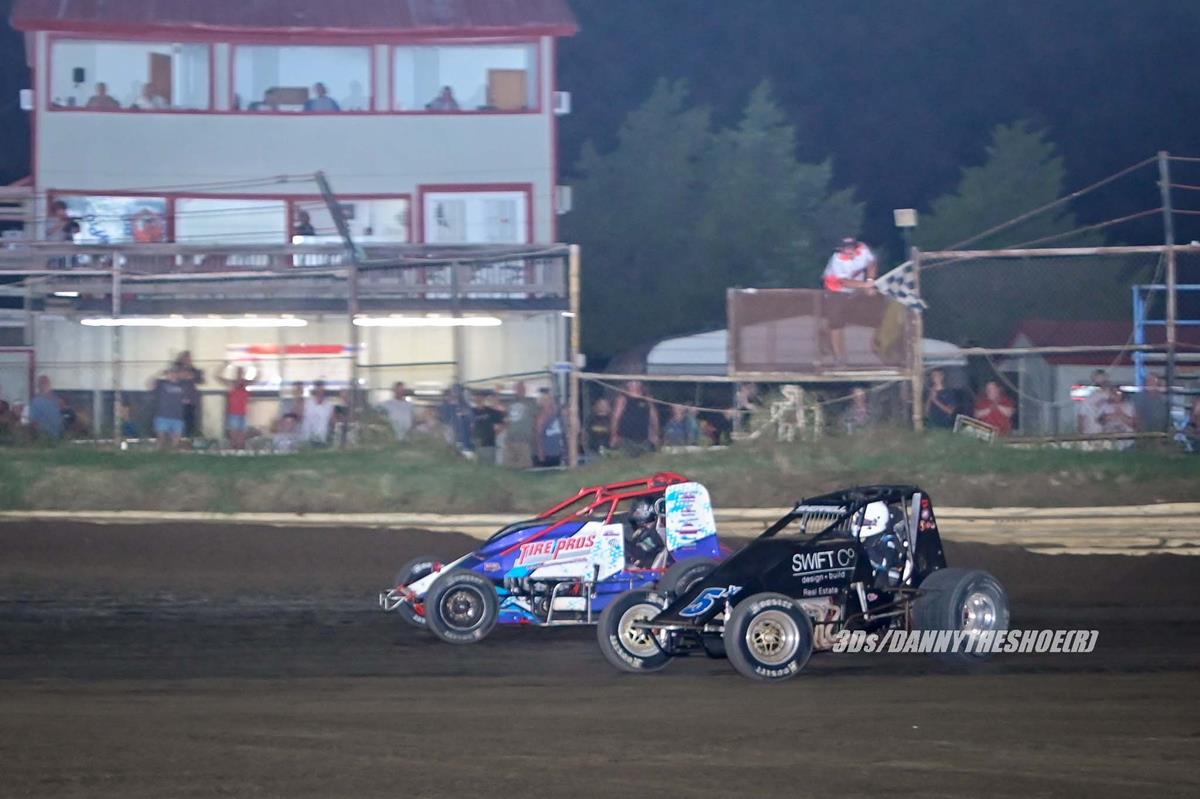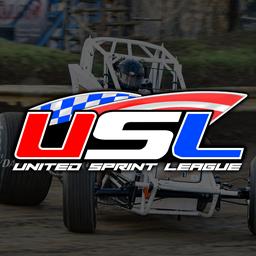 8/7/2022
United Sprint League
---
It's Kyle Clark At The Line For USL Score At Creek County Speedway!
(Image Credit: Danny Clum)
Bryan Hulbert – SAPULPA, Okla. (August 6, 2022) Three leaders, 40 laps, and it was Kyle Clark who landed in Victory Lane at Creek County Speedway on Saturday night with the United Sprint League.
Taking the lead the first six laps, Steven Shebester fell to second before his night ended three laps later. Putting Matt Sherrell to the point, the No. 5x kept pace until Lap 33. Rolling from 18th, Clark took the lead before relinquishing the spot a lap later.
Remounting the charger through the closing laps, the No. 9$ made things exciting with a last lap pass that saw the two separated by 0.171-seconds at the line. Ty Hulsey ran to third from 14th, with Cameron Hagin and Johnny Kent making up Saturday's top five.
The next outing for the United Sprint League is Friday, September 9 at Red Dirt Raceway in Meeker, Okla.
The United Sprint League is the continuation of Wingless Sprint Car Racing in Oklahoma. Founded in 2018 as the Wingless Sprint Cars of Oklahoma, the series was purchased by Terry Mattox and Kerry Gorby in 2022 and transformed it into the United Sprint League. For the complete lineup of events, notes, news, and points, log onto https://www.myracepass.com/series/1794.
Race Results:
United Sprint League
Creek County Speedway (Sapulpa, Okla.)
Saturday, August 6, 2022
Heat 1 (8 Laps): 1. 16S-Steven Shebester[4]; 2. 007-Cody Carter[1]; 3. 38-Jimmy Forrester[7]; 4. 55-Johnny Kent[6]; 5. 24H-Ty Hulsey[5]; 6. 22-David Stephenson[2]; 7. 39-Kimberly Tyre[3]; 8. 938-Bradley Fezard[8]
Heat 2 (8 Laps): 1. 22M-Rees Moran[1]; 2. 5-Cameron Hagin[4]; 3. 23A-Brett Wilson[3]; 4. 1H-Hank Davis[5]; 5. 8R-Ryker Pace[6]; 6. 29G-Gerald Smith[7]; 7. 9$-Kyle Clark[8]; 8. (DQ) 22P-Dylan Pendergrass[2]
Heat 3 (8 Laps): 1. 17E-Blake Edwards[3]; 2. 5X-Matt Sherrell[7]; 3. 24C-Craig Carroll[6]; 4. 7F-Noah Harris[2]; 5. 97-Kevin Cummings[4]; 6. 5$-Danny Smith[5]; 7. (DNS) 58-TJ Cain
A Feature (40 Laps): 1. 9$-Kyle Clark[18]; 2. 5X-Matt Sherrell[2]; 3. 24H-Ty Hulsey[14]; 4. 5-Cameron Hagin[6]; 5. 55-Johnny Kent[9]; 6. 22M-Rees Moran[7]; 7. 007-Cody Carter[5]; 8. 5$-Danny Smith[17]; 9. 22-David Stephenson[19]; 10. 17E-Blake Edwards[3]; 11. 23A-Brett Wilson[10]; 12. 7F-Noah Harris[13]; 13. 8R-Ryker Pace[12]; 14. 38-Jimmy Forrester[4]; 15. 39-Kimberly Tyre[20]; 16. 16S-Steven Shebester[1]; 17. 1H-Hank Davis[11]; 18. 97-Kevin Cummings[15]; 19. 22P-Dylan Pendergrass[23]; 20. 24C-Craig Carroll[8]; 21. 29G-Gerald Smith[16]; 22. 938-Bradley Fezard[21]; 23. 58-TJ Cain[22]
---
Submitted By: Bryan Hulbert
Article Media
Back to News