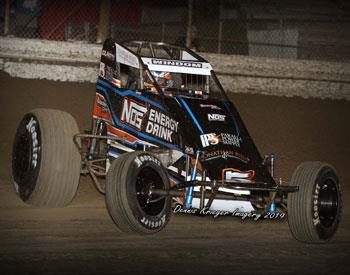 ---
The Hoosier Race Report
The Hoosier Race Report: Cowboy Time
On a damp and chilly night where one could see their breath, Clinton Boyles rode his bucking bronco, better known as the pride and joy of car owner Paul Hazen, to a dominating victory at the Gas City I-69 Speedway. The rain that has plagued the area left the surface of the quarter mile bullring more suitable for a motocross event, but the feature (along with all other races) was caution free.
Any race track that races on Friday nights is a challenge to get there. Gas City is no exception. The traffic on Indiana State Road 9 was the usual. Getting to through Greenfield is always an ordeal. Dealing with the road construction on 69 is a given. But the grandsons and I arrived right at 5:00 and joined the line to get to the parking lot.
As we arrived, I discovered that the temperature was a bit cooler up here, 100 hundred miles from my house. From 73° and partly sunny, we were greeted by 60° and cloudy. A t-shirt and shorts probably weren't the best choice of attire. But, seeing that this was the only track racing tonight with Bloomington and Paragon falling victim to the weather, I had other things to occupy my mind.
Notable among the 35 sprints (out of about 115 cars) were Dave Darland, in Mike Dutcher's chariot, Kevin Thomas Jr., Brady Bacon in his own car, Thomas Meseraull with help from Dave Stensland, Justin Grant, Chad Boespflug, Jarret Andretti, Scotty Weir and a midget racer jumping into a 410 beast, Zane Hendricks. Also trying his luck was second generation race Shane O'Bannion. Unfortunately, he was the only sprinter to get upside down all night and that was during hot laps.
Isaac Chapple led all the way to win the first heat. Thomas Meseraull couldn't overcome his eighth starting spot and headed to the B.
Justin Grant came from fourth to take the lead and win the second heat.
Clinton Boyles took the lead from Ben Knight midway through the third heat and won. Scotty Weir and Jarret Andretti went to the B.
Anthony Dalessio started on the pole and won the fourth heat over Dave Darland by a couple of feet.
Thomas Meseraull passed Scotty Weir midway through the first B and won, taking Weir with him to the show. Garrett Abrams easily won the second B with Travis Hery holding off Zane Hendricks to grab the 20th starting position in the feature.
After a brief intermission where a few folks tried to toss a Frisbee into a barrel in back of a moving truck on the frontstretch, the sprint feature lined up. Promoter Jerry Gappens missed his target of finishing by eleven, but one shouldn't complain given the number of cars jamming the pits. And given the weather conditions, Jerry was most likely pleased to see a very decent crowd hungry to see some racin' after a long off-season.
The front row of Darland and Chapple eyed starter Mark Orr's green flag and took off at 10:45. Neither of the front row guys would lead a lap. From third, Boespflug got around both to leads the first three laps. But Boyles was coming on strong from his eighth starting spot. Owning the top groove, which was relatively free of ruts, Boyles sailed toward the front. He dove under first Darland, showing him a huge right rear tire, then Boespflug, taking the lead on fourth lap.
Boyles extended his lead as the field spread out, and began dealing with the lapped traffic on the tenth circuit. Often we see leaders have issues with lappers, but that wasn't the case on this chilly evening. Quickly, Boyles put distance and cars between himself and new second place runner Grant, who passed Boespflug at about the same time Boyles caught the tail end of the field.
Given Grant's track record, one might expect him to reel in the leader as the race went on, but it wasn't happening tonight. Try as he might, the California native could not get any closer than a half straightaway behind the leader.
Trailing Grant in third was Kevin Thomas Jr., who couldn't seem to get untracked. Bacon was fourth while Tyler Hewitt had the best race that few saw, coming from fourteenth to finish fifth. Dave Darland was sixth, the last car on the lead lap. Andretti came from thirteenth to take seventh. Matt Westfall was eighth and Scotty Weir motored from nineteenth to ninth, making me a prophet in the process (Before the feature I had told Weir's car owner Scott Pedersen that Scotty would be the hard charger—and he was). Paul Dues started and finished tenth.
Announcer Rob Goodman said that the weather, cool, damp and a bit of fog, reminded him of London, England. Guess I should have told him it reminded me of London, Kentucky, where I've spent a few nights.
We need to remember at least two things. One is that extended periods of rain are not a dirt oval's best friend. These surfaces can be hard enough to prepare in ideal conditions, and complainers need to show up really early to observe these people doing their best to make the track as smooth as possible. The second thing is that, regardless of the results of their efforts, they do their best. We should not ask any more than that.
Kudos to friend/superfan Keith Wendel, who loaned me one of his many sweatshirts and made sure that my top (heavy) half would be warm. Thankfully, he didn't want it back on Saturday, when both Lawrenceburg and Lincoln Park rained out. Again.
As this is written, I'm aiming for Kokomo on Sunday night and it looks like weather will be permitting.
Cheering for all my favorite drivers like I'm at a strip club, I'm…
Danny Burton
---
Article Credit: Danny Burton
Submitted By: Adam Ulrey
Back to News