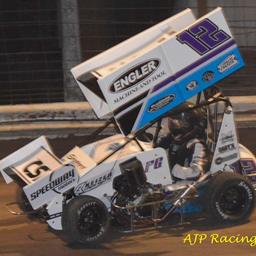 Frank Galusha
Lincoln, NE
Driver Information
Racing in the Galusha family started decades ago when Frank's father, Ron Galusha was just a young boy. Him and his older brother Bill spent much of their time in their neighbor's shop learning about and working on race cars. That neighbor happened to be the famed Kenny Gritz who was one of the best in his time claiming many victories, one of which being the Knoxville Nationals in 1969. Ron and Bill were privileged to go racing with Kenny often and naturally developed a love and passion for the sport. Kenny had passed in a racing accident shortly after he won the Nationals in 1969, and from that point forward racing was a permanent part of the young Galusha boy's lives.
As Frank's father Ron grew older, finished his education, and found good employment, he decided to start a race team of his own in 1982. With brother Bill alongside, the two went on many racing endeavors over the course of many years. With some natural talent and success as a driver, Ron was privileged to race for multiple car owners over the years where he raced both micro sprints and full sized sprint cars. The majority of Ron's career as a driver was spent in a micro sprint and he decided to hang up the helmet at the end of the 1995 racing season finishing 7th in the NMMA national point standings.
1997 marked the start of young Frank Galusha's racing career. Frank took to the sport naturally as his father did and was able to learn very quickly about the cars he was driving. Frank started in Jr. Sprints which he raced through the year of 1999 when he then transitioned into the newly created restricted 600 class in the year 2000. This was an unsanctioned class during the year of inception as it was merely to be tested in Nebraska to see how people would take to the class. Frank had a dominant stent in the restricted 600 class winning nearly every race he participated in, so in 2001 he was given the opportunity to move up a class on a grandfather rule given that he was not quite old enough for the class at that time. From 2001 to 2006 Frank competed nationally in the A class (stock 600cc class) and had lots of success. Due to continued successful performances, Frank was offered a full time 360 Sprint Car ride from Gary Swenson in 2007. Frank drove for Gary through the end of the 2008 season before they parted ways after having mediocre results for two straight seasons. 2009 was a year for regrouping as far as Frank's racing was concerned and he made a triumphant return to micro sprint racing in 2010. In 2010 Frank managed to win a staggering 15 features out of 22 starts and captured the final points championship at Wavelink Raceway Park. Since then, Frank has continued to race micro sprints full time, and has had the opportunity to periodically race the Brandon Smetter and Larry Fosler owned FS Motorsports #2 360 sprint car in 2012 and 2013, and is currently racing part time in the Gary Swenson owned 24B again.
258 feature wins
2017/2018 Victorian Formula 500 speed week champion (Australia)
2017 High Banks Hustle Champion $10K
2017 John Hinck Championship Champion $7K
6 NMMA Nebraska State Championship race victories
5 NMMA Region 6 Championship race victories
5 NMMA Missouri State Championship race victories
4 NMM Region 11 Championship race victories
6 Podiums at NMMA National events
9 top 5s at NMMA National events
7 top 10s in NMMA National point standings
7 time NMMA Nebraska State Champion
6 time NMMA Region 6 Champion
5 Cornhusker Raceway Park Track Championships
3 Greenwood Speedway Track Championships
Wavelink Raceway Park Track Championship
5 Podiums at the Show Me Showdown
2 Top 5's at The Outlaw Nationals
5 Top 10's at High Banks Hustle
3 Podium finishes at the High Banks Hustle
Won Micro Short Track Nationals $5k
3 Podiums at Micro Short Track Nationals
Won Turnpike Challenge @ I44
Won 3 consecutive Kiley Hunter Memorials
Favorites
Track

KAM Raceway

Driver

Kyle Larson

Event

High Banks Hustle & John Hinck Championship

Food

Tri Tip or Stir Fry

Movie

Interstellar

Song

Spotlight - MGK

Sports Team

Huskers

Speed Shop

EMi
Recommendations
Restaurant

HuHot

Fast Food

Pepperjax

Gas Station

Casey's

Car Manufacturer

Chevrolet

Beverage

NOS (Green)

Parts Store

Speedway Motors / EMi

Hotel

Double Tree