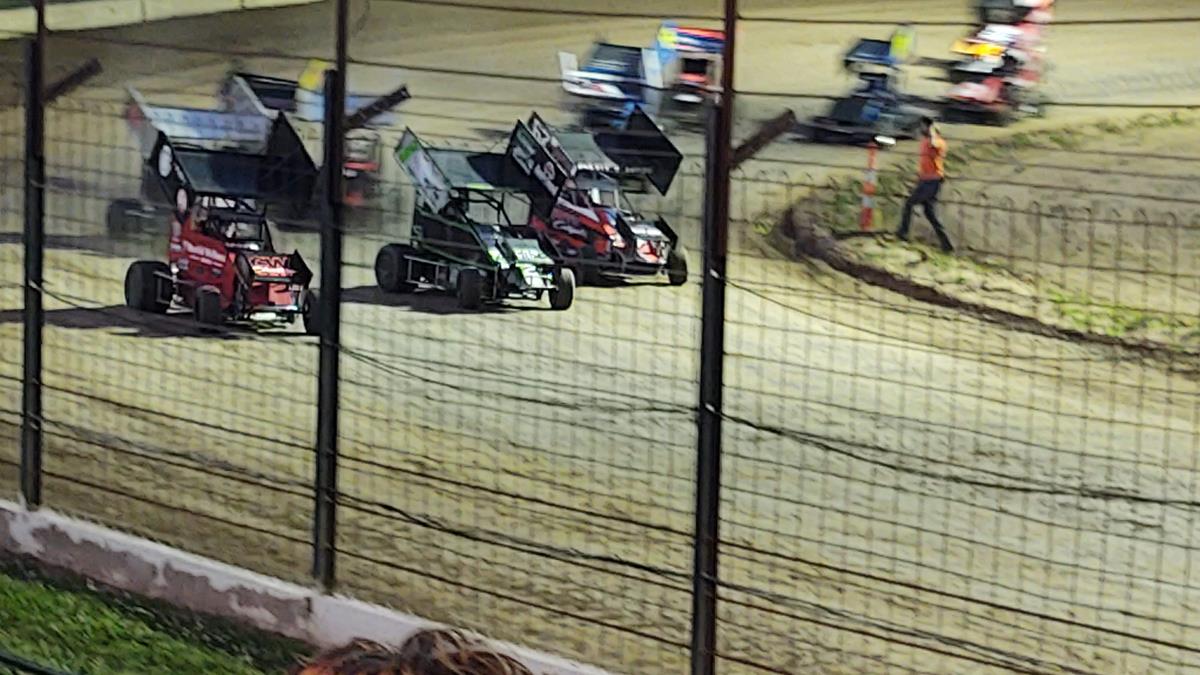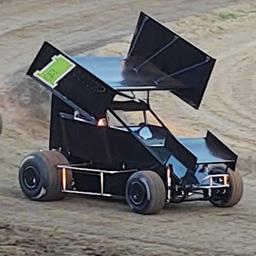 ---
Minnesota Missile Monday: Sparks Finishes Seventh at Sweet Springs
Minnesota Missile Monday: Sparks Finishes Seventh at Sweet Springs
Sweet Springs Motorsports Complex
Sweet Springs, MO
By: Stephanie Sparks
A beautiful, warm summer evening greeted racers to Sweet Springs Motorsports Complex for their fourth point event of the season. Twelve drivers signed in for competition on the restrictor class that would be second out in the evening's order of events.
HEAT:
KC Sparks drew the #20 that lined him up outside row two in the second heat race. Landon Jesina from Omaha, NE paced the heat line-up to the green and paced the field for the ten-lap event with challenges from Hawaii's Kyle Heflin and Missouri driver and point leader Peyton White for the lead. The top of the pack raced close for the entire race with Sparks just a few car lengths behind running in 5th.
When the checkered flag dropped, Jesina was the first across the line. White, Heflin, Waylon Phillips, Sparks and Andres Jones were the heat 2 finishers. Heat one was won by Logun Lunsford with Micah Becker, Hayden Aberson, and Michael Shoan finishing.
FEATURE:
The track line-up draw resulted in the top 9 drivers being inverted for the feature, putting Sparks on the pole. Shaon opted to start in the back, moving Heflin to the outside of the front row.
The drop of the green flag saw Sparks spin his tires and Heflin take the lead into the first set of turns with Phillips challenging to the inside. An early caution forced a complete restart where Sparks had a better start. "I didn't mash on the gas as hard and used the egg to not spin the tires," Sparks said as he recalled advice from Corwin DeRoon that he used in karting.
Sparks trailed Heflin in second at the end of the opening lap and made a bid for the lead going into turn three on lap two. The hard drive into turn three forced the Autoland, GRP Motorsports #1 to wash up out of the preferred bottom line and Phillips tucked into the open space on the track making it a three wide battle for the top spot at the front of the field. Heflin barely led the second lap with Phillips and Sparks in tow.
Phillips slid into the lead out of turn two and then put on a clinic showing the field how to run the bottom side of the track. Sparks worked the changing track and just kept overdriving into the corners, unable to stick to the bottom line that the other drivers were using to make up ground. "I needed to back up the corners to hold the bottom," Sparks told the crew chief after the feature.
The 20-lap feature event ran through without caution. Phillips was the first to cross the line claiming his first feature win at the track. White, Lunsford, Heflin and Jesina were the top five. Kooper Kelly came from the tail to finish sixth ahead of Sparks, Becker, Dale Johnston, and Alberson. Lunsford and Kelly were the hard chargers, both moving up six positions.
Upcoming Schedule:
MICRO RACING:
6/24: KAM Raceway; Hastings, NE
6/25: JayHusker Racing: Jefferson County Speedway; Fairbury, NE
7/2-7/3: "Small Town Throwdown" Sweet Springs Motorsports Complex; Sweet Springs, MO
2022 Partner/Sponsor Appreciation
Autoland; Sioux Falls, SD
Furby's Auto Repair; Sioux Falls, SD
GRP Motorsports; Stillwater, MN
Last Deck LLC; Jackson, MN
Heser Auto and Detailing; Jackson, MN
Hawk Wings; Jackson, MN
G-Force Chassis; Concordia, MO
Schure Build Suspension; Slater, MO
MyRacePass; #TeamMRP #GetTheApp
TL Racing; Jackson, MN
Living Like Outlaws
YTD MICRO STATS:
Shows: 5
Wins: 0
Top 5: 1
Top 10: 5
Heat Wins: 0
YTD KART Stats:
Shows: 10
Wins: 4
Top 3: 8
Top 10: 10
Heat Wins: 3 out of 6
Quick Times:0 out of 4
---
Article Credit: Stephanie Sparks
Back to News