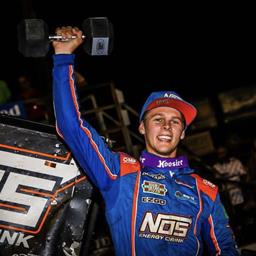 Sheldon Haudenschild
Wooster, OH
Driver Information
Sheldon Haudenschild's racing career began in 1996, racing dirt bikes at age four. He competed in amateur motocross and Arenacross until 2009, when he made the switch to sprint cars.
Sheldon collected Rookie of the Year honors in 2009 at Limaland Motorsports Park in Ohio. He traveled the Mid-West until 2014, picking up notable wins with the ASCOC, BOSS, and IRA series; his first All Star win coming at Wayne County Speedway.
Haudenschild raced with the All Star Circuit of Champions, acting as owner and driver in 2015 and 2016, earning The Bryan Clauson "Parked-It" Award for most wins (9) on the circuit in 2016.
In 2017, Sheldon debuted with The World of Outlaws Craftsman Sprint Car Series, earning the Kevin Gobrecht Rookie of the Year Award. The 24 year-old Wooster, Ohio native ventured onto the tour for the first time, maintaining sole ownership of his team, and finishing 7th overall in points standings.
In 2018, Haudenschild collected his first World Of Outlaws win at Volusia Speedway in the first race of the season, he went on to secure wins in Las Vegas, NV, Bakersfield, CA, Fairbury, IL, and Skagit, WA.
The 2019 season yielded wins at Cedar Lake, WI, and most notably The IronMan 55 at Pevely. Haudenschild lapped up to 5th place, winning by 10.3 seconds in an exciting spectacle that wowed fans and competitors alike.
2020 held a fresh start, with the addition of Haudenschild's longtime friend and crew chief, Kyle Ripper. The team took home seven wins, including The Night before the IronMan in Pevely, Lincoln, PA, Huset's, SD, Wayne County Speedway at Sheldon's home track in Ohio, US 36 Raceway, Dodge City, Kansas and Kokomo, IN. The SJMR team earned 4th in World Of Outlaws championship points standings.
Building on the success of his first season back with Ripper, Sheldon put together a career year in 2021 by setting personal bests with 296 laps led, 23 podium finishes, seven Quicktimes and eight wins, bringing his World of Outlaws career win total to 22.
Sheldon Haudenschild enters his fifth season piloting the Stenhouse Jr. Marshall Racing, NOS Energy Drink #17, his sixth year on the World of Outlaws tour.
Connect with Sheldon online:
Shophaud.com
Twitter: @haudenschild_17
Instagram: @haudenschild_17
Facebook: https://m.facebook.com/haudenschildracing/
Dirt bikes, snowboarding, mountain biking, OneWheel, cleaning
Favorites
Track

Eldora, Tulare, Haubstadt, Pevely

Event

Kings Royal

Food

Chicken

Movie

Catch Me If You Can
Recommendations
Restaurant

BJs Brewhouse

Fast Food

Chick-fil-A

Gas Station

Love's

Car Manufacturer

Chevrolet

Beverage

NOS Energy Drink - Original

Parts Store

NAPA