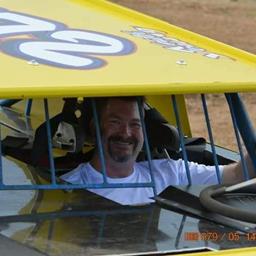 Keith Young
Park Hills, MO
Driver Information
Grew at the race track watching so many good racers in the 70s and 80s. Dean Adams, senior and Jr, Tommy Worley, Danny Mosier, Clark Bruno and Dad Leonard Young.
Joined the Navy in 1991 and served for 4 years where I met my wife Rachel. We moved back to Missouri in 2000 and raised our 2 children Makayla and Sammy.
In 2018 we decided to get into racing and started in the street stock division in a blue and yellow camaro that became the very first 572 Machine. After never missing a race we ran that car to 4th in points and was rookie of the year.
Over the next 4 years we have gone from the Super streets to the B-mod division, blue and yellow has changed to Purple and Yellow and we continue to work hard to compete in a packed field of cars.
2017 4th in points
2017 Rookie of the year Super Street division
2020 First Heat Race Win
2021 crashing into the wall not once but twice and destroying the car on opening night AND my Birthday.
Favorites
Track

St. Francois County Speedway

Driver

Dale Jr.

Food

Any good steak

Song

Too many to list but really love Billy Joel right now.

Sports Team

Pittsburgh Steelers
Recommendations
Restaurant

Si senior mex mex Farmington mo.

Gas Station

Rhodes 101

Car Manufacturer

Chevy

Beverage

Dr. Pepper

Parts Store

ABC AUTO PARTS