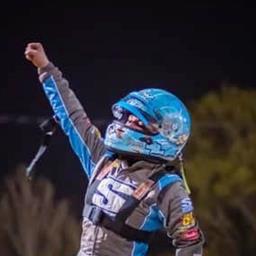 Harli White
Lindsay, OK
Driver Information
Harli has an incredible story behind her, her first race ever could have been her last. In April of 2008 Harli went to her first Micro race ever. During her first race ever the car flipped and laid on it's side and out of no where the car exploded into flames with harli still strapped in it. She was trapped and couldn't get out. Then when a God sent Angel arrived to pull her from the burning fire, she was freed from the burning car by Donnie Ray Crawford. Harli was left with scars over 50% of her body deep third degree burns. As soon as harli was released from the Shriners Hospital for Children in Galveston, TX she wanted to race again, so in 2009 she went back to racing micros and has made her way up to the sprint cars.
1st Female Ever to Win an ASCS National Tour Event
1st Female Ever to Win an NRA Event
2nd Female Ever to make the 360 Knoxville Nationals A-Main
2nd Female Ever to win a heat race at 410 Knoxville Nationals
7th in ASCS National Points in 2019
ASCS Red River, ASCS Mid South Feature Winner
Highest finishing female in Chili Bowl History
Travelled to Australia 3 times to race 410 Sprint Car
2013 OCRS Wing and Nonwing Champion
First female to win an ASCS National Tour Event
5th in ASCS National Points in 2020
Fishing, Working, Public Speaking, Family Time, Hunting, and all things racing!
Recommendations
No recommendation information