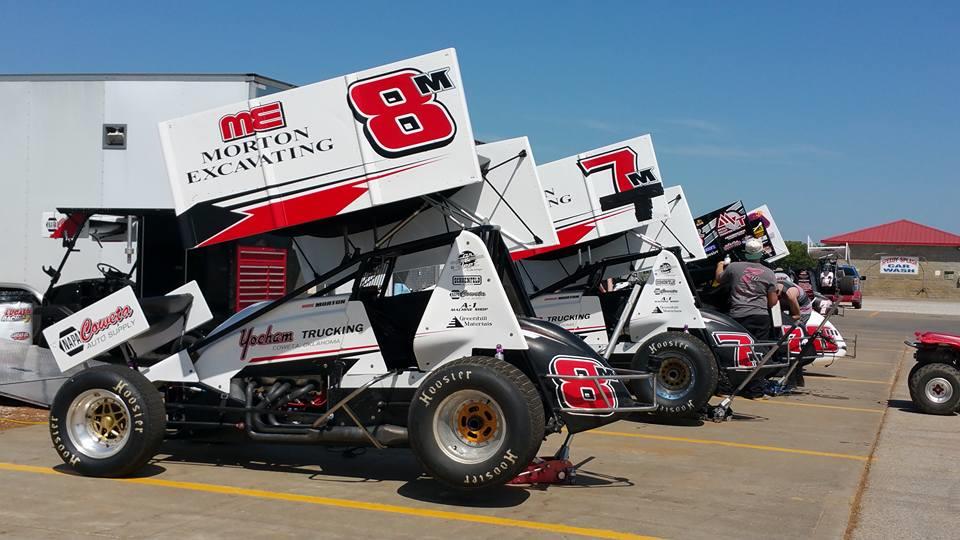 ---
Kade Morton Looking To Rebound With Return To Texas Motor Speedway
(Image Credit: Terry Ford)
COWETA, Okla. (May 10, 2016) After a couple weeks of rough luck, Kade Morton is looking to get his season turned around this weekend as the American Bank of Oklahoma ASCS Red River Region presented by Smiley's Racing Products teams up with the Lucas Oil ASCS National Tour presented by the MAVTV Motorsports Network at the Texas Motor Speedway Dirt Track.
Taking on the Lucas Oil POWRi Midgets at Valley Speedway in Grain Valley, Mo. before pulling a double with the ASCS Red River and Warrior Regions at the Lucas Oil Speedway in Wheatland, Mo. the results didn't match the effort as Kade's night at Valley ended with a burned Piston. Trying to race into the A-Feature on Saturday in ASCS competition, the power steering in Morton's No. 8m gave up.
"We're just looking to get turned around this weekend in Texas. We've got the equipment and the speed, just need the luck now."
Morton's second career trip to the four-tenths mile oval, Kade finished 13th in his 2015 debut. Looking to close the gap in the 2016 ASCS Red River Region championship, Morton currently sits third behind Brandon Hanks and Mickey Walker.
The 2016 season for Kade Morton will be a mixture of full time ASCS Red River action, OCRS Sprints, and Midget events throughout the mid-west. Kade's racing adventures would not be possible without the help of his sponsors: Morton Excavating, Yocham Trucking, Whitacre Glass Works, MyRacePass.com, Wesmar, STK Racing Engines, Lucas Oil, Maxim Chassis and Super Shox.
For continue updates on Kade Morton and the Morton Excavating No. 8m team, log onto http://www.sprintsource.com/profile/?r=21152&rt=driver. Fans can also find the Morton Racing Team on Facebook.
Latest Results:
4/6/2016 – Valley Speedway (Grain Valley, Mo.) – Lucas Oil POWRi Midget
Heat Race: 6th; B-Main 7th
4/7/2016 – Lucas Oil Speedway (Wheatland, Mo.) – Lucas Oil POWRi Midget / ASCS Regional
POWRi: Heat Race: 6th; B-Main: 16th
ASCS: Heat Race: 7th; B-Main: 5th
Season So Far:
Events: 11; Wins 0; Top 5: 0; Top 10: 3; Top 15: 3, Top 20: 4;
Up Next:
May 13-14, 2016 – Texas Motor Speedway Dirt Track (Ft. Worth, Texas) – Lucas Oil ASCS National
Kade Morton Online:
Sprint Source: http://www.sprintsource.com/profile/?r=21152&rt=driver
Facebook: https://www.facebook.com/Mortonracing8m7m/?fref=ts
---
Submitted By: Bryan Hulbert
Back to News