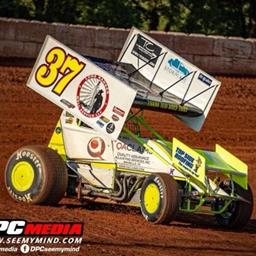 Jack Hall
Mustang, OK
Driver Information
17 Year Old Driver of the # 37 Sprint Car and a Senior at Mustang High School in Mustang, Oklahoma.
Started racing Jr Sprints at age 7. Moved up to Restricted Micro Sprints, then to Micro Sprints running mostly Non-Wing Micro Sprint class.
2021 Non Wing Micro Sprint Champion at Red Dirt Raceway in Meeker, Oklahoma.
Likes to travel to different race tracks across 5 different States.
Jack Hall Racing
#37 600cc Non Wing Micro Sprint Driver: 13 Yr. Old Jack Hall Jr.
Jr Sprints our 1st year at I44 Riverside Speedway ran respectable all year long and were 1of 4 teams that made every race all year long and finished a very proud 6th place in points.
Winter of 2014 / 2015 Gator Motorplex, Longhorn Shootout in Mesquite, TX, "Tulsa Shootout" in Tulsa, OK. In 2015 We finished up 7th in Jr. Sprint Points. In 2016 1/2 yr Jr. Sprint class. Moved to 600 Restricted A Class Micro Sprints. Top 10 in points at I-44 Riverside Speedway. 2017 Restricted A Class 600cc Micro Sprints JacK Hall got his first career A Feature Win!. 2017 4th Place Restricted I-44 Riverside Championship points. 2018 2nd Feature win I-44. 2018 National Open Wheel 600 Series 10th in Restricted National Points. 2019 moved up to Non-Wing 600 Micro Sprints. 3rd in Non Wing Points at Red Dirt Raceway. Jack got 1st Non Wing A Feature win on his 13th Birthday!
2021 Red Dirt Raceway Non-Wing Micro Track Champion!
Favorites
Track

Red Dirt Raceway Meeker, OK.

Driver

Christopher Bell!

Food

most of it

Sports Team

Mustang Broncos

Speed Shop

XXX Race Co.
Recommendations
Fast Food

Taco Bell

Car Manufacturer

Ram

Beverage

NOS Energy Drink

Parts Store

O'Reilly Auto Parts

Hotel

Holiday Inn Express