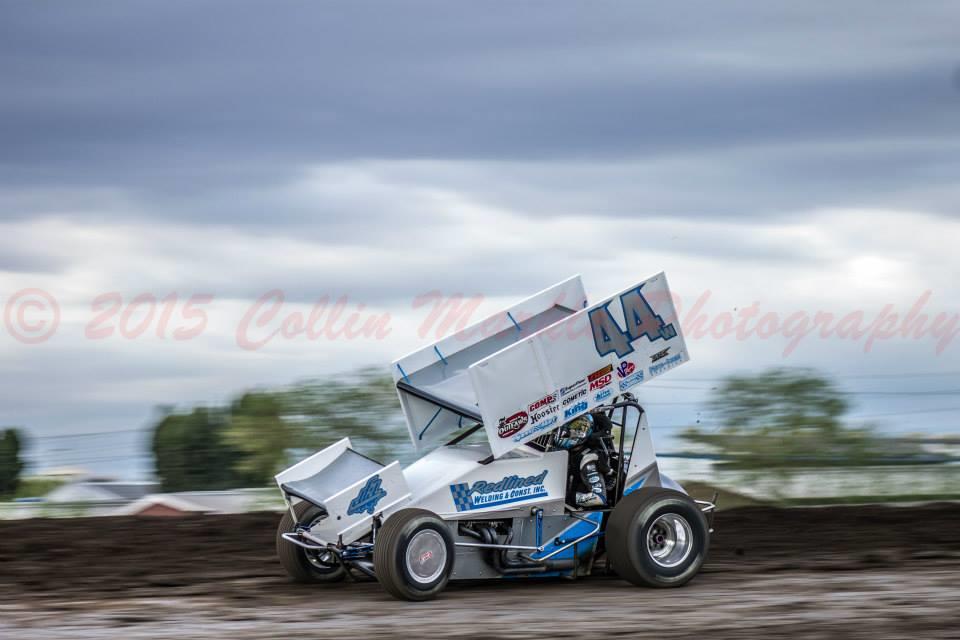 3/30/2015
Inside Line Promotions
---
Wheatley on Pace for Top Five with World of Outlaws Before Crash in Chico
(Photo by Collin Markle Photography)
Inside Line Promotions – ANTIOCH, Calif. (March 30, 2015) – Austen Wheatley was off to his best start of the season last Saturday with the World of Outlaws Sprint Car Series.
Wheatley qualified ninth quickest among the 44 drivers at Silver Dollar Speedway in Chico, Calif., before he captured his first heat race victory of the season.
"It makes your night a lot easier," he said of qualifying well. "I felt comfortable the whole night. In the heat race (David) Gravel took off and slid me going into turn one. I cut it back underneath him and took the lead going into turn three. When you have a clean track like that you can go wherever you want. You can set your own pace. It was pretty good. It was by far the most comfortable I've felt throughout a night."
The heat race win locked Wheatley into the dash, where he finished seventh. He continued to move forward in the opening laps of the main event as he quickly powered into the top five before battling for fourth place.
"They reworked the track so the bottom and top were tacky with it slick in the middle," he said. "It was pretty racy for about the first 10 laps. We were good on both the top and the bottom. On a restart we went three wide coming to the green. I was on the top and someone ran into me."
Wheatley, who restarted sixth, was forced to pit during the caution following the collision approximately a quarter through the race. He returned to the race with a battered car, but the track took rubber shortly after the ensuing restart and he ended with a 23rd-place result
"I think we definitely would have had a top five in the main event," he said. "That's just part of racing."
The weekend wrapped up on Sunday at Antioch Speedway for Wheatley, who qualified 29th quickest before advancing from eighth to sixth place in a heat race. That was only one spot out of a lock-in position to the main event and it forced Wheatley to compete in the Last Chance Showdown, where he finished 10th to cap the night.
He will take this weekend off before resuming action with the World of Outlaws on April 8 at Placerville Speedway in Placerville, Calif.
QUICK RESULTS –
March 28 – Silver Dollar Speedway in Chico, Calif. – Qualifying: 9; Heat race: 1 (2); Dash: 7 (6); Feature: 23 (7).
March 29 – Antioch Speedway in Antioch, Calif. – Qualifying: 29; Heat race: 6 (8); B Main: 10 (9).
SEASON STATS –
9 races, 0 wins, 0 top fives, 0 top 10s, 0 top 15s, 1 top 20
UP NEXT –
April 8 at Placerville Speedway in Placerville, Calif., with the World of Outlaws Sprint Car Series
MEDIA LINKS –
Website: http://www.AustenWheatley.com
Twitter: https://twitter.com/AustenWheatley
Facebook: https://www.facebook.com/DownForceDesigns?fref=ts
APPAREL –
Wheatley will have t-shirts and hoodies for sale at every race he competes at this season. For his schedule of races, visit http://www.AustenWheatley.com.
SPONSOR SPOTLIGHT – Downforce Designs
Downforce Designs is an apparel company established and operated by Austen Wheatley. For information on apparel options, prices, clientele and more, visit http://www.DownforceDesigns.com.
"It's good to have a fresh take on apparel in the sport," Wheatley said. "My goal is to provide something unique and diverse, and I think I know what a driver wants to see on his or her apparel. It's a racer helping racers."
Wheatley would also like to thank Redlined Welding & Construction, Astro Titanium, Fire-Down Graphics, SpeedMart, Bell and King Racing Products for their continued support.
INSIDE LINE PROMOTIONS –
Inside Line Promotions specializes in affordable public relations and media management for motor sports drivers, teams, sponsors, tracks, series, events, organizations and manufacturers. ILP Founder Shawn Miller leverages professional journalism with new media technologies and social networking to improve your exposure and the return on investment for your sponsors.
To meet the media relations needs of your program by joining Team ILP, contact Shawn at 541-510-3663 or Shawn@InsideLinePromotions.com. For more information on Inside Line Promotions, visit http://www.InsideLinePromotions.com.
---
Article Credit: Inside Line Promotions
Submitted By: Shawn Miller
Back to News