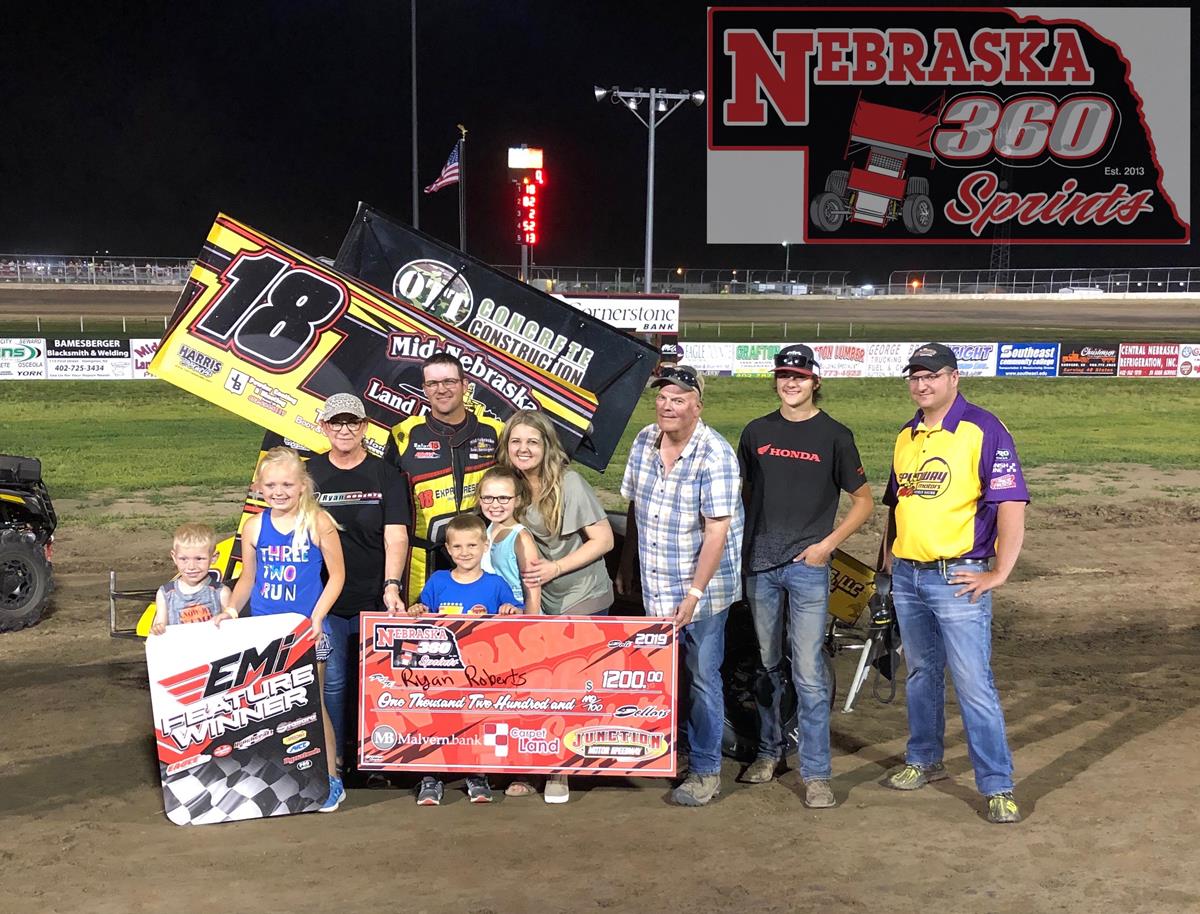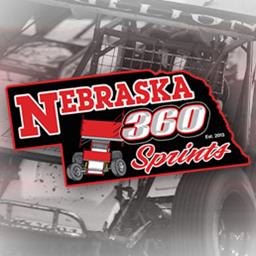 ---
Ryan Roberts Dominates Feature at Junction Motor Speedway!
Junction Motor Speedway McCool Junction, Nebraska (June 8, 2019)—The series made their first and only stop of the year to Junction Motor Speedway in south central Nebraska. This was suppose to be the tour's second stop at the 3/8 mile facility but mother nature put a damper on that last month as she has done to us several times this year already. Thirteen cars checked into the pits which was made up with two heat races and an A feature. Points leader, Jack Dover, would be a scratch for the heat races after an oil leak in the motor was found after hot laps.
In the end, it was Ryan Roberts who took advantage of a pole starting position to pick up his first win of the season at his home track! "You know I slid across there to the cushion and I felt it stick and I've lost a lot of races that way. I felt bad and slid around the bottom to protect it but it was a hell of a race. I don't know what Delmar thought as i know he was frustrated earlier today but we finally got this one in. Id like to thank Roush Construction, Ott Concrete, Mid Nebraska Land Developers, Salon 18, Moss Racing Engines, and Eagle Chassis. We don't race a lot now as my son is racing a lot over in Hastings so pretty soon he will be wheeling this thing around someday."
Saldana Racing Products pole winner of Ryan Roberts lead the field to the green flag for the start of the A feature. But as the cars came to turn 1, the #7 of Shane Sundquist came to a stop on the lower side of the track with a broken front end.
On the restart, it was all Ryan Roberts as he jolted to the lead and never looked back. Much of the racing action throughout the feature was mid pack as several cars swapped spots but it was Jack Dover, who in 6 laps, came from 12th to 5th Midway through the race Roberts gathered an 8 car lead over second running Jason Martin, with Don Droud Jr in third followed by Jack Dover and Seth Brahmer. The racing stayed that way until the checkers flew giving Ryan Roberts his first season win this year.
Heat Race #1 Results (8 Laps)
Seth Brahmer
Cody Ledger
Tyler Drueke
Shane Sundquist
Rich Cerveny
Mark Chisholm
Jack Dover
Heat Race #2 Results (8 Laps)
Ryan Roberts
Shayle Bade
Jason Martin
Don Droud Jr
John Klabunde
Jay Russell
A Feature Results (25 Laps)
Ryan Roberts
Jason Martin
Don Droud Jr
Jack Dover
Seth Brahmer
Shayle Bade
Jay Russell
Tyler Drueke
Cody Ledger
John Klabunde
Mark Chisholm
Rich Cerveny
Shane Sundquist
Contingency Awards
Saldana Racing Products Pole Award- Ryan Roberts
Speedway Motors Hard Charger $200- Jack Dover
Electrical Systems Inc Podium Draw $300- Seth Brahmer
Hard Charger 3D Auto Transport Tire Award- Jack Dover
Points (As of June 9, 2019)
Pos Driver Points Gap
1 Jack Dover 747 -
2 Jason Martin 712 35
3 Ryan Roberts 668 79
4 Cody Ledger 621 126
5 Tyler Drueke 604 143
6 Shayle Bade 556 191
7 Matt Juhl 555 192
8 John Klabunde 552 195
9 Seth Brahmer 531 216
10 Lee Grosz 523 224
The series will take the next 13 days off and resume the season on June 22 at the Off Road Speedway in Norfolk, Nebraska. It is a co-sanctioned event with the Midwest Sprint Touring Series. For more information please visit www.offroadspeedway.com.
To stay up to date on news and information with the series, please visit our website or find on us on Facebook at "Carpetland Nebraska 360 Sprint Series presented by Malvern Bank.
---
Article Credit: Travis Johnson
Submitted By: Travis Johnson
Article Media
Back to News