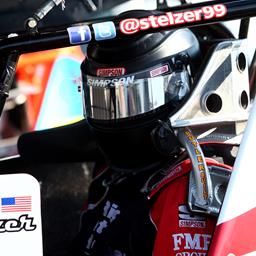 Matthew Stelzer
Omaha, NE
Driver Information
Matthew came into 2014, champing at the bit. After winning the 305 track title in 2012, he was sidelined after motor problems in 2013 while leading points again. He returned late in the season and won on Season Championship night. In 2014, he won a pair of features and looked to be headed for championship contention again before mechanical ills struck, relegating him to a fourth place standing.
Matt makes the two and a half hour tow from Omaha each week to compete. He was named Owner of the Year in 2012, and also won the "Lyle Boyd Hard-charger Award" for passing the most cars in feature events.
Matthew has been racing 305 sprint cars since 2006 around the Midwest area. He won his first career feature event on August 15, 2006 at I-80 Speedway in Nebraska. That same year, Matthew tied for the I-80 Speedway 305 Championship, but would lose the tiebreaker due to feature wins. He was also awarded with I-80 Speedway 305 Sprint Co-Rookie of the Year.
KNOXVILLE FEATURE WINS (305): 4
CHASSIS: EMI (Schnee)
ENGINE: Speedway Motors Racing Engines
SPONSORS: Right at Home, FMB Group, Scott Spady Motor Sales, Trail Performance Coatings, Matco Tools, Kylie's Kakes
305 Point Standing By Year:
2014 - 4th, 2012 - 1st, 2011 - 3rd, 2010 - 4th
Recommendations
No recommendation information