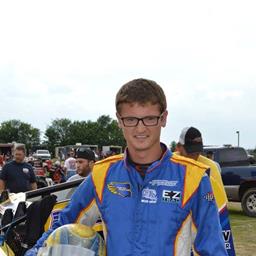 Aaron Farney
Brookston, IN
Driver Information
Aaron Farney was born and raised near the small town of Brookston, IN. Aaron's Grandfather, John Brettnacher gave Aaron his first Jr. Sprint for his 4th birthday. From that moment Aaron fell in love with the sport and hasn't slowed down since! Always driving a yellow, DCT Racing car, he raced his way through the Jr. Sprints and Micro-Sprint Series until 2011, when he began racing a Mini-Sprint.
Farney had a very successful run in the Mini-Sprint series. In 2011, Aaron earned Rookie of the Year in the American Mini-Sprint Association. On May 19, 2012, Aaron earned his first Feature win in Montpelier, Indiana. Farney also had feature wins at Brownstown Speedway, US 24 Speedway, Lawrenceburg Speedway, and Waynesfield, Ohio. In the fall of 2013, Aaron began racing a 410 Sprint. Running the USAC AMSOIL National Sprint Car series in 2015, he had his first sprint car feature win July 15, 2015 in Terre Haute and was named USAC National Sprint Car Rookie of the Year.
Farney may still be a young driver, however, he is earning his seat time and learning from teammate, "The Madman" Robert Ballou. To finish off the 2014 racing season, Aaron finished 8th in the Midwest Sprint Car Series points. This year Farney is determined to win Rookie of the Year for the USAC National Sprint Car Series.
2011:
Rookie of the Year, American Mini-Sprint Association
2012:
Feature wins at Brownstown Speedway, US 24 Speedway, Lawrenceburg Speedway, Waynesfield, OH
2013:
Began racing 410 non-wing sprint
2014:
Finished 8th in Midwest Sprint Car series points
2015:
First Top 5 USAC AMSOIL National Sprint car feature finish May 9 - Eldora Speedway
First USAC AMSOIL National Sprint car feature win July 15 - Terre Haute
USAC National Sprint Car Rookie of the Year
Recommendations
No recommendation information