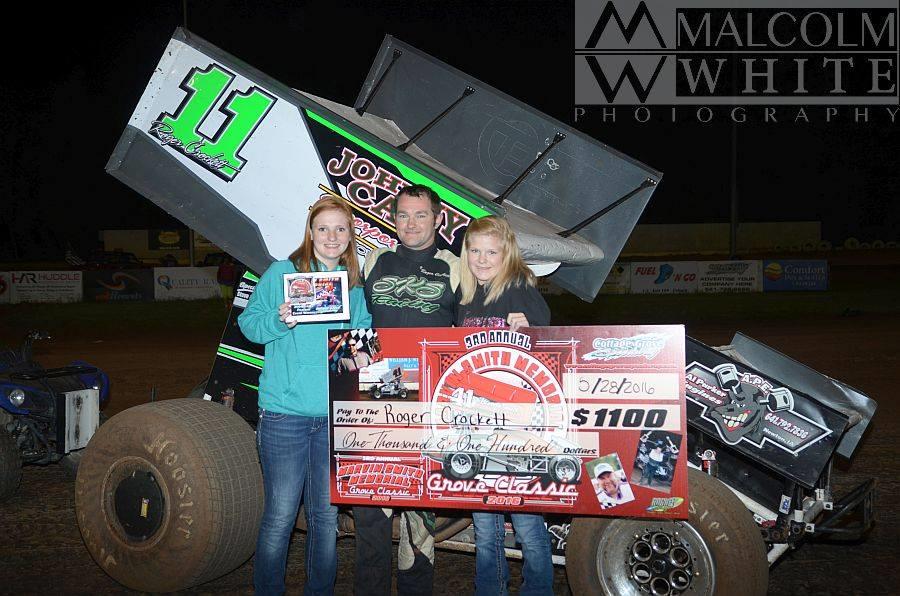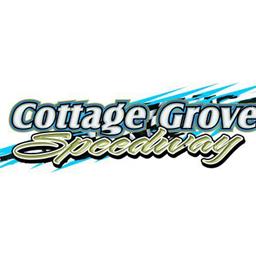 5/29/2016
Cottage Grove Speedway
---
Roger Crockett Wins Night One Of Marvin Smith Memorial Grove Classic; Curtis Towns IMCA Modified Feature Winner
Roger Crockett Wins Night One Of Marvin Smith Memorial Grove Classic; Curtis Towns IMCA Modified Feature Winner
By Ben Deatherage
(Photo Courtesy of Malcolm White Photography)
Cottage Grove, Oregon- Saturday May 28th would be the opening leg of the Marvin Smith Memorial Grove Classic presented by Body Works Salon and Marvin Smith Auto Repair. An impressive thirty-eight 360 Sprint Cars would travel from Oregon, Washington, California, as well as the Canadian provinces of British Columbia and Alberta. For the IMCA Modifieds twenty entries were in the house.
Defending race winner Jason Solwold, of Burlington, Washington, would lead the opening lap of the 360 Sprint race. Solwold, in the Mike Anderson owned Shaylene Raye Motorsports/Scottie's Plumbing/Heavy D/Rob Graham Trucking #18 XXX, would get passed on lap two by Roger Crockett. Crockett, from Medford, would build a decent lead but just as lapped traffic was coming into the picture a caution would occur.
A few more cautions would come out and it was right about when traffic was beginning to become a factor. Crockett would be very good on the restarts and really had no issues the rest of the way. It would be the second win of the 2016 season at CGS for Roger and the Rocket Designs/Auto Stitch Embroidery/Al Parker Racing Engines/Johnny Cat Inc./BC Motorsports #11 KPC.
Jason Solwold would end the night second followed by Paradise, California's Kyle Hirst, in the Scott and Jason Finley owned Finley Farms/CLT Logging/Rider Racing Engines #77 Maxim, in third. The balance of the top five would consist of the fourth finishing Kovash Logging/Johansen Excavating/Big Al Kids & Motorsports Foundation/Factory Kahne Shocks #33V Maxim, piloted by Henry Van Dam of Enumclaw, Washington, while Central Point native Garen Linder, in his Linder Powdercoating/Visual EFX Signs & Graphics #22 KPC, was fifth. The top four finishers of Crockett, Solwold, Hirst, and Henry Van Dam are locked into the Sunday night feature.
With so many cars in attendance the field was split in half with two groups of qualifying. Jason Solwold was fastest in the first wave while Kyle Hirst was on top of the second group. The Berco Redwood/Trex Plastic Decking/K&N Filters/Moyle Racing Engines #31C entry, driven by Justyn Cox of Clarksburg, California, Roger Crockett, the Redifined Ministries/Redefined Furniture Company/Bio Mass One Renewable Energy #13 KPC of Central Point chauffeur Chadd Noland, and Albany's Bricen James, in the Tim Galloway owned Myers Logging/Eugene Denture Clinic #51 XXX, were the four heat race winners. Kyle Miller, from Eugene, was the winner of the Dot's Trophy Shop Trophy Dash in the Kady Adelman owned Machined For Speed By Craig Jensen #6A XXX.
Despite a number of cautions in the main event the IMCA Modifieds would put on quite an entertaining race. Coquille's Ryan Baker would get his Cam Cat Tractor/Blaylock Inc./Wadsworth Garbage Service #18R Shaw into the lead on lap one. Curtis Towns, of Cottage Grove, was able to get around Baker to take over the top place position. Towns, in the Superior Fuel Cells/West End Performance/BSB Manufacturing/IBEW Local 280 #24 Superior, would build a decent lead but kept having it cut down due to cautions.
Kreg Britton, also out of Cottage Grove, would track down Towns and made the pass underneath for the lead on lap ten only to lose it the following lap. Curtis Towns was able to hold on for the rest of the distance to win his first race of the season at Cottage Grove.
The Virgil Hanson Automotive Machine/Best Pots Inc., A&B Septic/Superior Fuel Cells #33C Victory Circle, of Albany's Craig Hanson got second while Kreg Britton, in the Eugene Mortgage Brokers/Mickey's Affordable Auto Sales/Commonwealth Financial Network/Aspen Chiropractic #77 X-Factor, crossed the line third. Pulling off double duty Bricen James was fourth, in his James Gang Pizza/Linn-Benton Insurance/Raceprint.com #13 GRT, followed by the Furniture Options/JDM Racing Solutions/Raceprint.com #W5 High Side of Eugene's Jesse Williamson in fifth.
Steven Sturdevant of Springfield was fast time of the night in his Point S Springifeld Tire Factory/KMC Wheels/Pyramid Brewing/Fastenal #11 X-Factor. Picking up heat race wins were Sturdevant, the Hoppes Motorsports/Courtney Auto Repair/Eugene Gutter Service #5M Dirt Works of Springfield's Jake Mayden, and Curtis Towns. Craig Hanson would be victorious in the Dot's Trophy Shop Trophy Dash.
On Sunday May 29th the fun continues with the final night of action for the Marvin Smith Memorial Grove Classic presented by Body Works Salon and Marvin Smith Auto Repair. Tickets are Adults $15.00, Juniors/Seniors $10.00, Youth (6-12) - $5.00, Family Pass $30.00, and Children 5 or under are FREE. Pit Gates open at 2:00 PM, Front Gates 4:00, and Racing starts around 6:00. As will happen all year long in honor of our 60th Anniversary the 60th fan through the Front Gate gets in for FREE. For more information, log on to www.cottagegrovespeedway.com and check out the track's Facebook page and click "Like".
---
Submitted By: Ben Deatherage
Article Media
Back to News