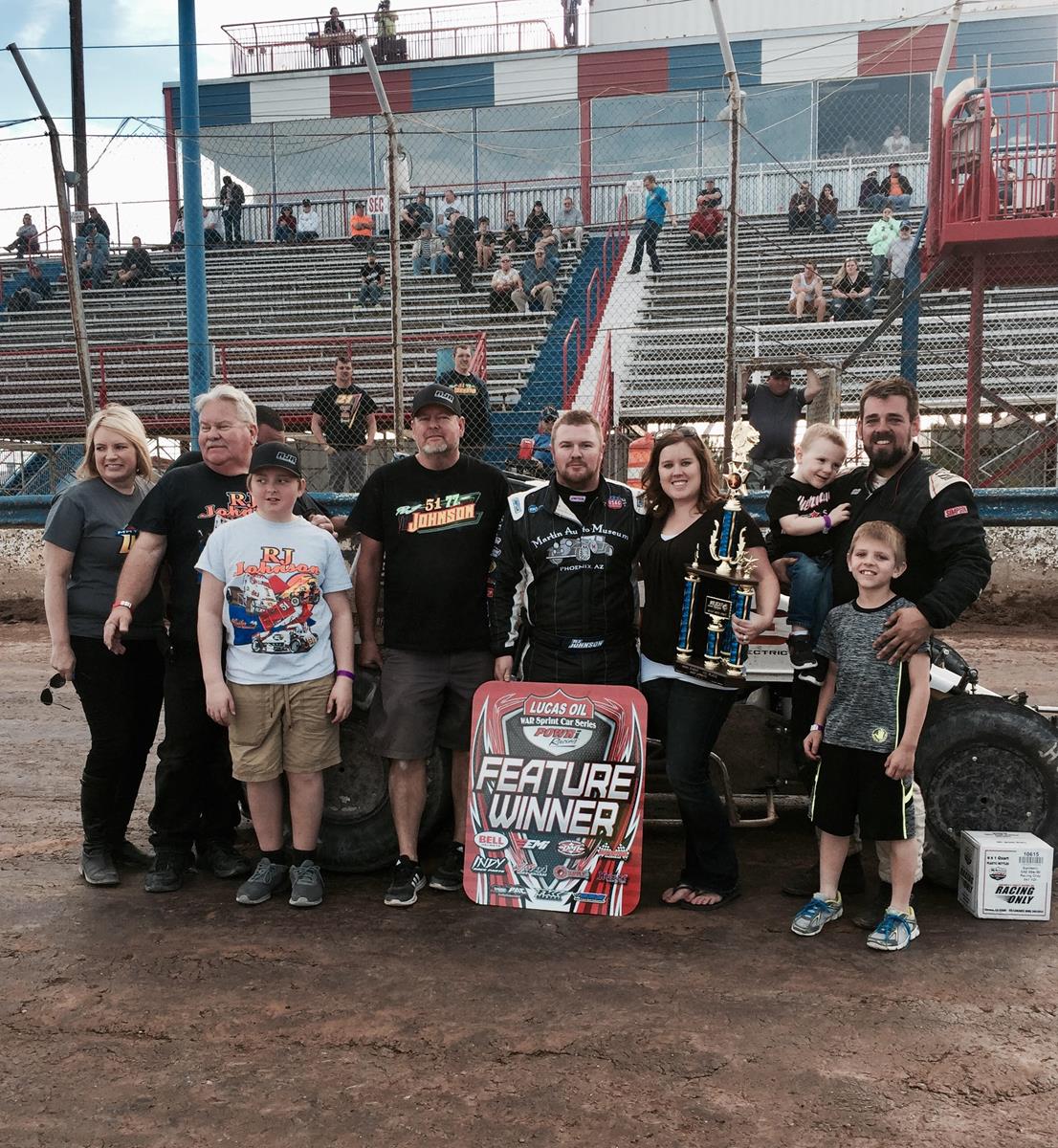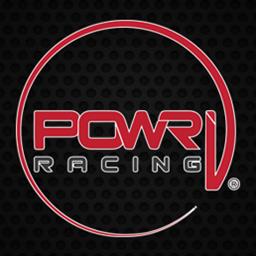 ---
JOHNSON TOPS WILDCAT WAR
JOHNSON TOPS WILDCAT WAR
TUCSON, AZ. (February 4, 2017) – Taking over the top spot on lap eighteen, RJ Johnson led the final two laps to pick up his first POWRi WAR victory Saturday at Wildcat Raceway at the first of a three-event series known as the Wildcat Winter Sprints.
As the cars took the green flag, Mike Martin led the field into turn one. On lap two Martin drifted high off of turn two, caught the fence and flipped. He was uninjured, but could not restart. Hinchman Racewear heat race winner, Stevie Sussex, would lead the field back to green.
Sussex set a quick pace to achieve a comfortable lead followed by Brady Short and RJ Johnson. Sussex began to catch the tail of the field, and made contact with a lapped car in turn one which brought him to a stop on lap fifteen bringing out the yellow flag. He would restart at the tail.
Short took the green with five laps left and set the pace followed by Johnson and Andy Reinbold. With two laps left, Johnson threw a slide job at Short in turns one and two. The drivers made contact, but continued with Johnson now in the lead. As the leaders came down the back straight away, the yellow flag flew putting Short back in the top spot for the following restart. Previous leader, Sussex, had worked his way back into the top five after restarting at the tail of the field earlier in the race.
This set up a green-white-checkered finish with Short leading over Johnson and Reinbold. The leaders raced to the first corner where Johnson chose the high side to take the lead and go on to win his first POWRi WAR event in his friend Matt Lundy's Desert State Electric XXX Chassis #98. Short ran a strong second in Andy Reinbold's AME Electric Maxim Chassis #19S. Sussex charged from last to steal a podium spot finishing third in Team Arizona's Pacific Supply RSS Chassis #21AZ, with Reinbold and Charles Davis Jr. rounding out the top five.
Rick Ziehl earned the Indy Race Parts Hard Charger Award passing five cars and finishing seventh which also earned him the DMI Lucky 7 Award.
The POWRi/WAR 360 Wildcat Winter Sprints are back in action at Wildcat Raceway for a two-day event weekend on Friday February 17 and Saturday February 18 in Tucson, AZ.
POWRi/WAR 360 Wildcat Winter Sprints results
Wildcat Raceway
2/4/17
13 cars
Hinchman Racewear Heat- 10 laps
21AZ-Stevie Sussex, Laveen, AZ (3); 2. 50-Charles Davis Jr., Buckeye, AZ (5); 3. 19S-Brady Short, Bedford, AZ (7); 4. 7K-Bruce St. James, Phoenix, AZ (2); 5. 16-Mike Martin, Yuma, AZ (6) 6. 98-RJ Johnson, Phoenix, AZ (13); 7. 5M-Matt Lundy, Peoria, AZ (9); 8. 25-Rick Shuman, Queen Creek, AZ (4); 9. 19-Andy Reinbold, Chandler, AZ (10); 10. 20-Shon Deskins, Waddell, AZ (11); 11. 14-Cody Sickles, Glendale, AZ (12); 12. 20z-Rick Ziehl, Las Cruces, NM (8)-DNF; 13. 75X-Johnny Herrera, Albuquerque, NM (13)-DNS
Wilwood Disc Brakes Inverted Heat Race- 10 laps
98-Johnson (1); 2. 19-Reinbold (2); 3. 20-Deskins (3); 4. 16-Martin (4); 5. 19S-Short (7); 6. 21AZ-Sussex (11); 7. 7K-James (8); 8. 50-Davis (9); 9. 5M-Lundy (5); 10. 25-Shuman (6) 11. 14-Sickles (10); 12. 20Z-Ziehl (12)-DNS; 13. 75X-Herrera (13)-DNS
A-Main- 20 laps
98-Johnson (3); 2. 19S-Short (2); 3. 21AZ-Sussex (4); 4. 19-Reinbold (6); 5. 50-Davis (5); 6. 20-Deskins (8); 7. 20Z-Ziehl (12); 8. 5M-Lundy (9); 9. 25-Shuman (10); 10. 7K-James (7); 11. 14-Sickles (11); 12. 16-Martin (1)-DNF; 13. 75X-Herrera (13)-DNS
Product Award Winners
Hinchman Racewear Heat Race Winner-$50 gift certificate: Sussex
Wilwood Disc Brakes Heat Race Winner-$50 gift certificate: Johnson
FK Midwest High Point Man Award-$50 gift certificate: Sussex
DMI "Lucky 7" Award-$25 gift certificate: Ziehl
Indy Race Parts Hard Charger Award-$50 gift certificate: Ziehl
Bell Helmets-$50 gift certificate: Johnson
Schure Built Suspensions-$50 gift certificate: Sussex
EMI Hard Luck Award-Free set of EMI rear torsion arms: Martin
Lucas Oil Victory Lane-Free case of Lucas Oil: Johnson
---
Article Credit: Brooke Rowden
Back to News