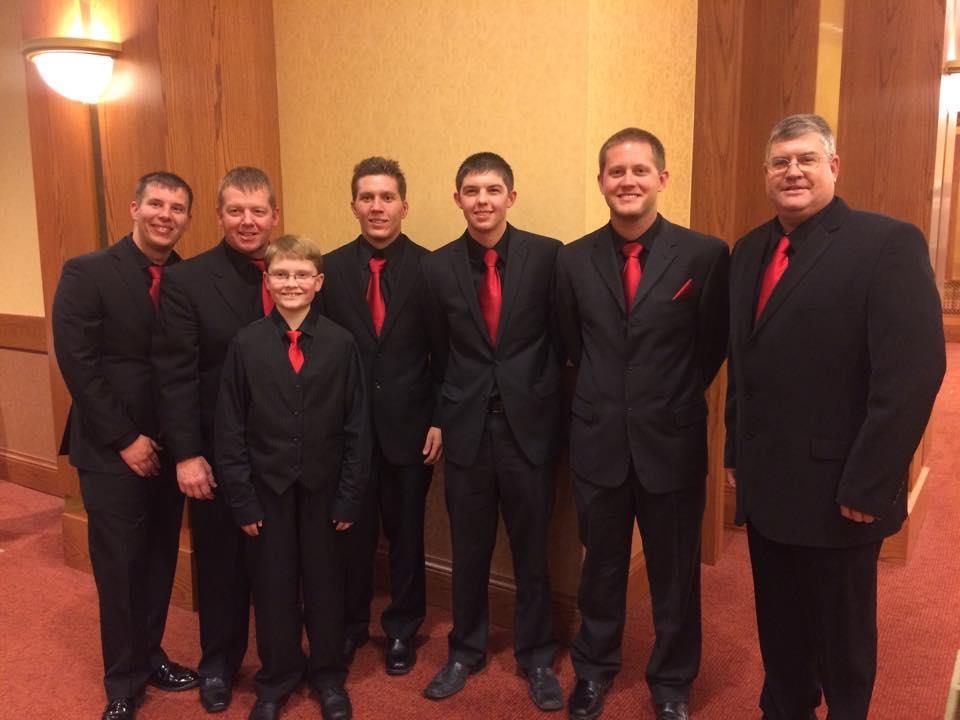 11/17/2014
Inside Line Promotions
---
White Lightning Motorsports Honored at Knoxville Raceway Banquet
(Photo Courtesy of White Lightning Motorsports)
Inside Line Promotions – KNOXVILLE, Iowa (Nov. 17, 2014) – White Lightning Motorsports officially wrapped up the 2014 season last Saturday at the Knoxville Raceway banquet.
The team was awarded third place in the championship standings in the 360 class and was honored as the Sportsman of the Year in the 305 division.
"We're making steady progress," said Jamie Ball, who scored his first career 360 victory this season. "I think we've got consistent enough that we can contend for a championship next year.
"The sportsmanship award is something that is really important. A lot of people go through this sport and make it all about them. I think Devin (Kline) and the rest of our team is really proud about how we were able to help another driver achieve a dream."
Kline and White Lighting Motorsports received the award in large part because of Kline allowing championship contender J. Kinder to use his engine on the final night of the season.
"I know how much getting those two wins my rookie season meant to me," Kline said. "I couldn't imagine what a championship on the line meant for him. It feels good to help him out."
Additionally, White Lightning Motorsports scored a new Maxim chassis and a set of wings thanks to the random drawing Knoxville Raceway holds for the teams that attended at least 75 percent of the races.
"The Maxim chassis was the best prize we could win at the banquet so we're thrilled about that," Ball said. "We were the first team drawn so we definitely picked a Maxim chassis."
White Lightning Motorsports would also like to thank the Knoxville Raceway Charitable Organization, which provided insurance for eligible drivers, a $500 credit for safety products and a new driveline restraint system.
SEASON STATS –
JAMIE BALL – 14 races, 1 win, 5 top fives, 10 top 10s, 10 top 15s, 12 top 20s
LARRY BALL JR. – 8 races, 0 wins, 0 top fives, 0 top 10s, 0 top 15s, 3 top 20s
DEVIN KLINE – 7 races, 2 wins, 2 top fives, 3 top 10s, 3 top 15s, 3 top 20s
MEDIA LINKS –
Jamie Ball Website: http://www.JamieBall.com
Larry Ball Jr. Website: http://www.LarryBallJr.com
Devin Kline Website: http://www.DevinKline.com
Jamie Ball Twitter: http://www.twitter.com/JamieBall5j
Larry Ball Jr. Twitter: http://www.twitter.com/LarryBallJr5j
Devin Kline Twitter: http://www.twitter.com/DevinKline5j
VIDEO –
Here is a link to highlights from Ball's first career 360 victory at Knoxville Raceway on June 21: http://youtu.be/sJxnb-gK1nY
Here is a link to highlights of Kline's first-ever 305 win at Knoxville Raceway on July 19: http://youtu.be/cu2F34pQISg
Here is a link to highlights from Kline's triumph at Knoxville Raceway on Aug. 2: http://youtu.be/wHeFsGhah6I
APPAREL –
White Lightning Motorsports has t-shirts and hoodies available for purchase at their race trailers in the infield of each sprint car event at Knoxville Raceway in Knoxville, Iowa.
SPONSOR SPOTLIGHT – Maxim Racing
Located in Springfield, Ill., Maxim Racing has focused on building elite sprint car chassis since being established in 1988. For more information, visit http://www.RaceMaxims.com.
"Since I got hurt in 2012 we switched to Maxim Chassis and the first night out after we put the car together Dusty Zomer won before I could get back in the car," Ball said. "They not only build fast cars that help us be successful, but they keep up safe as well."
White Lightning Motorsports would also like to thank L & J Automotive, AIB College of Business, JJ Kane Auctioneers, Van Gorp Construction, Ostrich Racing Engines, The Hearing Clinic, Timber Line Tree Service, Keizer Aluminum Wheels, Matt Jones Trucking, Bell Helmets, Driver Websites, Sweet Manufacturing, Vocon Auctioneers, Iowa State Savings Bank, FK Rod Ends, Fragola Performance Systems, King Racing Products, BR Motorsports, Hoosier Tire, MPD Racing, Champion Oil, Wingdance Graphics, Replay XD, Shell Shock and Hooker Harness for their continued support.
INSIDE LINE PROMOTIONS –
Inside Line Promotions specializes in affordable public relations and media management for motor sports drivers, teams, sponsors, tracks, series, events, organizations and manufacturers. ILP Founder Shawn Miller leverages professional journalism with new media technologies and social networking to improve your exposure and the return on investment for your sponsors.
To meet the media relations needs of your program and to join Team ILP, contact Shawn at 541-510-3663 or InsideLinePromotions@gmail.com. For more information on Inside Line Promotions, visit http://www.InsideLinePromotions.com.
---
Article Credit: Inside Line Promotions
Submitted By: Shawn Miller
Back to News