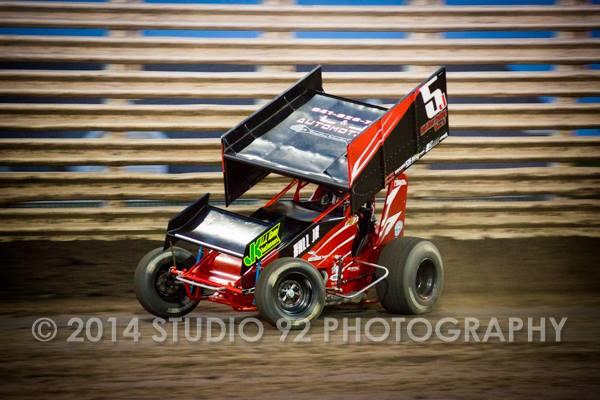 9/2/2014
Inside Line Promotions
---
White Lightning Motorsports Enjoys a Banner Season at Knoxville Raceway
(Photo by Studio 92 Photography)
Inside Line Promotions – KNOXVILLE, Iowa (Sept. 2, 2014) – White Lightning Motorsports had a breakout season at the famed Knoxville Raceway.
Jamie Ball captured his first career 360ci feature victory en route to a career-best third place finish in the championship standings and Devin Kline earned back-to-back wins in the 305ci class during his inaugural season in a sprint car.
"Every goal that we set out to make this year we made," Ball said. "My three goals were to finish in the top three in the points, win a main event and make the feature at the 360 Knoxville Nationals. We accomplished all of those things."
In addition to his thrilling victory on June 21, Ball scored five top fives and 10 top 10s in 14 races at the half-mile track this season. He also earned a spot in the prestigious 360 Knoxville Nationals on Aug. 2, when he finished 19th out of the approximate 100 competitors.
"Consistency was definitely a focus going into the year," he said. "We pretty much did that except for two nights. We're going to work on trying to get our qualifying back to where it was. If we can do that we'll be back there competing for a championship."
Ball also made his debut in a 410ci sprint car.
Kline, who had spent the previous couple of years as a crew member for White Lightning Motorsports, had a rough start to the season before rebounding with two wins on July 19 and Aug. 2.
"It was a season filled with the lowest of lows – blowing up two weeks in a row – and the highest of highs," he said. "I was hoping going into the year I could get a podium once or twice. To win two in a row was quite a dream for me. That right turn off the scales into Victory Lane was an indescribable feeling."
Additionally, Larry Ball Jr. started the season competing in the 410ci class, but he was sidelined midway through the season with a neck injury.
White Lightning Motorsports will do a similar schedule next year with Ball venturing on the road more.
"Ideally if we can get our sponsors to stay on board and have a good winter we plan to race at Knoxville for the championship and about 15-to-20 shows around the Midwest," he said.
Kline will be aiming for the 305 championship at Knoxville Raceway.
"The preparation has been there," he said. "The car has been there. The support has been there. I need a little bit of luck I guess. I want to say thanks to Larry and Jody for the opportunity and I'm looking forward to a great season next year with the team."
SEASON STATS –
JAMIE BALL – 14 races, 1 win, 5 top fives, 10 top 10s, 10 top 15s, 12 top 20s
LARRY BALL JR. – 8 races, 0 wins, 0 top fives, 0 top 10s, 0 top 15s, 3 top 20s
DEVIN KLINE – 7 races, 2 wins, 2 top fives, 3 top 10s, 3 top 15s, 3 top 20s
MEDIA LINKS –
Jamie Ball Website: http://www.JamieBall.com
Larry Ball Jr. Website: http://www.LarryBallJr.com
Devin Kline Website: http://www.DevinKline.com
Jamie Ball Twitter: http://www.twitter.com/JamieBall5j
Larry Ball Jr. Twitter: http://www.twitter.com/LarryBallJr5j
Devin Kline Twitter: http://www.twitter.com/DevinKline5j
VIDEO –
Here is a link to highlights from Ball's first career 360 victory at Knoxville Raceway on June 21: http://youtu.be/sJxnb-gK1nY
Here is a link to highlights of Kline's first-ever 305 win at Knoxville Raceway on July 19: http://youtu.be/cu2F34pQISg
Here is a link to highlights from Kline's triumph at Knoxville Raceway on Aug. 2: http://youtu.be/wHeFsGhah6I
APPAREL –
White Lightning Motorsports has t-shirts and hoodies available for purchase at their race trailers in the infield of each sprint car event at Knoxville Raceway in Knoxville, Iowa.
SPONSOR SPOTLIGHT – L & J Automotive
L & J Automotive was founded by Larry Ball Jr. and Jody Hegwood in 2010. Since then L & J has been providing excellent service and offering outstanding value to neighbors throughout Marion County. Bring your car in today for a free 25-point inspection and see what L & J Automotive is all about. It is located in Knoxville, Iowa, just two blocks south of "The Sprint Car Capital of the World" Knoxville Raceway.
"L & J Automotive is your one-stop shop in Knoxville, Iowa," Jamie Ball said. "There is no job too big or too small for them. L & J also employees and sponsors mechanic/305/360 sprint car driver Mitchell Alexander. Not only are they good guys, but they're big supporters of sprint car racing."
White Lightning Motorsports would also like to thank AIB College of Business, JJ Kane Auctioneers, Van Gorp Construction, Ostrich Racing Engines, The Hearing Clinic, Timber Line Tree Service, Keizer Aluminum Wheels, Matt Jones Trucking, Bell Helmets, Driver Websites, Sweet Manufacturing, Vocon Auctioneers, Iowa State Savings Bank, FK Rod Ends, Fragola Performance Systems, King Racing Products, BR Motorsports, Hoosier Tire, MPD Racing, Champion Oil, Wingdance Graphics, Replay XD, Shell Shock and Hooker Harness for their continued support.
INSIDE LINE PROMOTIONS –
Inside Line Promotions specializes in affordable public relations and media management for motor sports drivers, teams, sponsors, tracks, series, events, organizations and manufacturers. ILP Founder Shawn Miller leverages professional journalism with new media technologies and social networking to improve your exposure and the return on investment for your sponsors.
To meet the media relations needs of your program and to join Team ILP, contact Shawn at 541-510-3663 or InsideLinePromotions@gmail.com. For more information on Inside Line Promotions, visit http://www.InsideLinePromotions.com.
---
Article Credit: Inside Line Promotions
Submitted By: Shawn Miller
Back to News