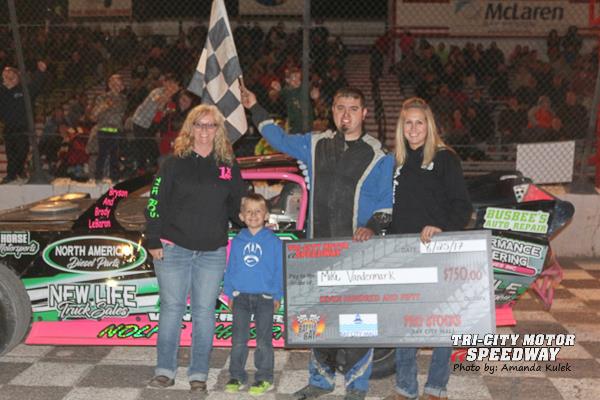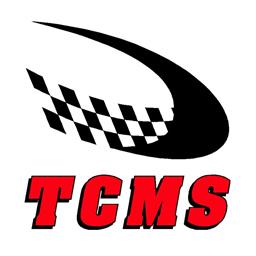 8/28/2017
Tri-City Motor Speedway
---
8/25/2017 Race Results
08/25/2017 Midland Nazarene Battle By The Bay Part 2 Night
Melling Select Late Models: #6m Dona Marcoullier
Main Street Seed & Supply IMCA Modifieds: #71 Timmy Near
Elgin Pro Stocks Presented By Bay City Mall: #26 Mike Vandermark Jr.
Suspension MAXX Street Stocks Presented By Tri City Furniture: #1x Mike Vandermark Jr.
Thornton Brothers Sewer and Septic Service Bomber Stocks: #9 Ethan Robarts
Vandermark Takes Two at Tri-City Motor Speedway
08/25/2017 (Auburn, MI) Midland Nazarene sponsored night two of the Battle By the Bay at the Tri-City Motor Speedway last Friday night. Over 95 drivers came to compete in the five different classes with the Pro Stocks, Street Stocks and Bomber Stocks all racing for the coveted title of being a Battle By the Bay winner.
An impressive field of twenty-two Bay City Mall sponsored Pro Stocks took the green flag with 2017 Champion #28 Jared Rizer starting on the pole position. He would lead much of the first half before #69 Nate Murphy was able to overcome Rizer and pace the field. #26 Mike Vandermark, from his seventh place starting position worked the inside line to his benefit to get to Murphy's back bumper. Murphy would slip up in turn four opening the door for Vandermark to take advantage and the lead with less than five laps remaining. He would be the first to the checkered flag beating Murphy, #11j Josh Loomis, #39 Chad Spencer, and #m65 Rick Spencer. Murphy and C. Spencer also won their preliminary heat races.
The biggest field of cars on this night was the Tri City Furniture sponsored Street Stocks as thirty-one cars and drivers filled the pit area looking to capture one of the 20 spots available in the 25 lap main event. #260 Ron Pope, #1x Mike Vandermark, and #69 Barry Vance captured wins in their qualifying heats to assure they would compete for the increased purse in the main event. #23 Garret Laudenslager would claw his way to victory in the Last Chance Qualifier putting in near the tail of the starting lineup. Vance would lead early before #50 Jake Thompson, who has been on a winning streak over the past few weeks, would grab the lead in the caution filled event. Once the field settled down to run multiple green flag laps, Thompson would pull away from the field. However, Vandermark would patiently tip toe from his ninth place starting position and pull ahead of Thompson with less than ten laps remaining. Thompson did all he could to put the pressure on Vandermark but it was to no avail as Vandermark would go on to win his second feature of the evening. Thompson would finish second and was followed by #17 Brent Jezewski, #7r Kevin Newcomb, and #35 Josh Kunish.
The Thornton Sewer and Septic Service Bomber Stock provided an exciting 20-lap main event as the earlier heat race proved that #7 John Staszak and #9 Ethan Robarts were the two cars to beat for the big check. Staszak, who won that heat race, would lead early. However, Robarts would overtake Staszak and was untouched for the remainder of the race as he took home his second TCMS victory of 2017. Staszak would have to settle for second. #18 Mercedes Kosha, #03 Josh Charbonneau, and #66 Bryan Dinsmore completed the top five.
The IMCA Modified division was led to the green flag by the 2017 Track Champion #19jr Kody Johnson. Johnson led a majority of the first half of the 20-lap main event before #71 Timmy Near would take control making the pass in the high groove. Once out front, he pulled away beating a hard charging #4s Toby Steele and #187 Gavin Hunyady to the finish. #7d Myron DeYoung and #5 Chaz Pray rounded out the top five. Heat races were captured by both Near and #71 Brenten DeYoung.
A couple of sponsors stepped up to provide extra money in the Late Model feature as they had their final feature event of the 2017 season. Earlier heat races were won by #34 Frank Sedar, #6m Dona Marcoullier, and #2 Travis Stemler. Last week's winner #9 Isaac Wolfgang and #21s Steven Hilliker would battle for the lead early in the 30-lap feature before Stemler would motor by both of them. He would take a large lead until a caution with 2 laps remaining would bunch the field up for a final shootout. Marcoullier, who had been sent to the rear on lap six, had steadily moved back into contention and started third on the restart. By turn two, Marcoullier would pass Stemler and win by half a straightaway. Stemler would finish runner up and was followed by #21d David Hilliker, 2017 Champion #4t Andrew Terrill, and #19 Derrick Hilliker.
Join us for our final night of racing for 2017 with the Racing Extravaganza with Great Lakes Super Sprints Outlaw Late Models, Pro Stocks, Street Stocks, and IMCA Modifieds!! Why stand in a long line to purchase your tickets when you can buy them online?! Purchase your tickets today at www.tricityracetrack.com!! We hope to see you at least one more time for our #fillthestandsFridays! The grandstand gates open at 5:30pm with practice beginning at 6:30. Family Fun Friday action begins at 7:55pm with our preliminary races. Check out our website for details regarding the free Swap Meet in October and the end of year banquet!!
---
Article Credit: Roger Williams
Submitted By: Erika Puvalowski
Article Media
Back to News