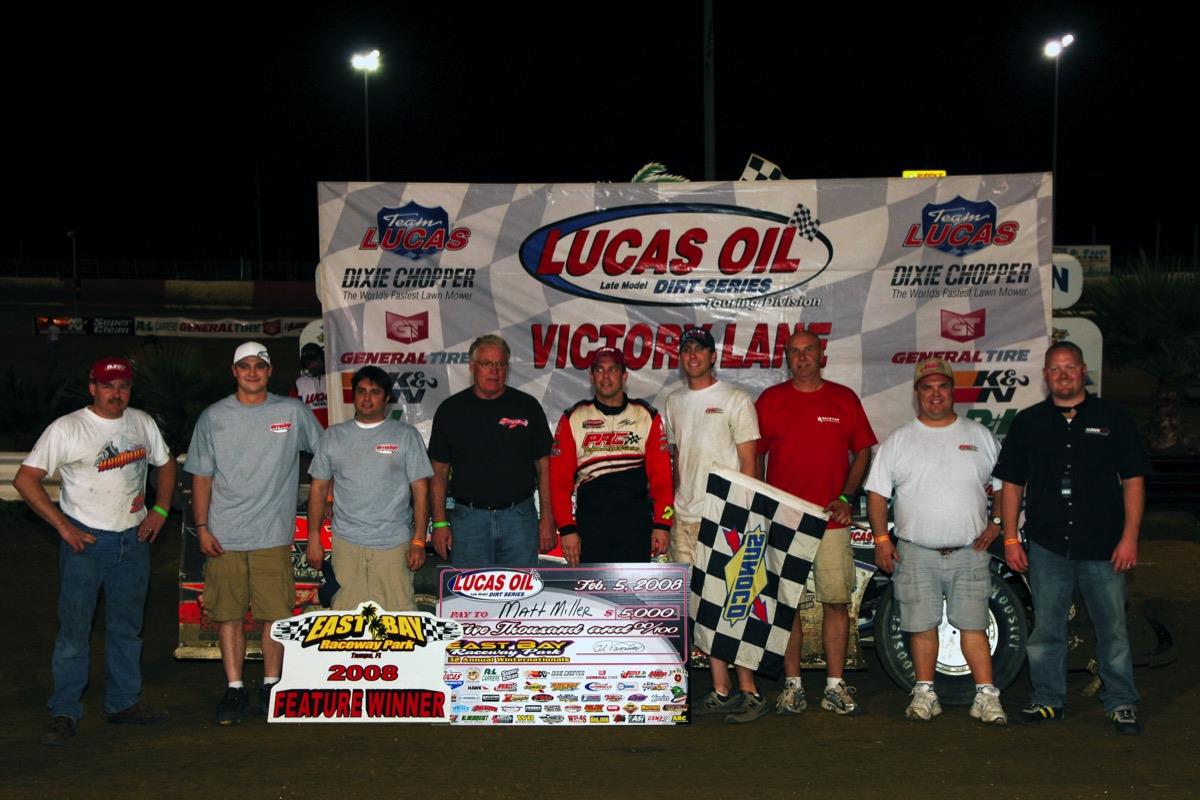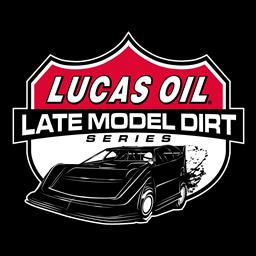 2/5/2008
Lucas Oil Late Model Dirt Series
---
Matt Miller Wins Thriller on Night 2 of DART Winternationals at East Bay
TAMPA, FL (February 5, 2008) – Matt Miller of Waterville, OH loves racing at East Bay Raceway Park and on Tuesday Night he roared to the lead around opening night winner Don O'Neal on lap 20 and then pulled away to take the victory of the Lucas Oil Late Model Dirt Series sanctioned event. O'Neal who had led every lap but the first lap of tonight's event at the "32nd Annual DART Winternationals" at East Bay Raceway Park racing until Miller passed him could, O'Neal couldn't manage to reel Miller back in as the laps waned late in the race eventually settling for the second spot. Shannon Babb came from the 14th starting spot to finish third followed by Terry English and Justin Rattliff.
Donnie Moran who is celebrating his 30th year of racing this year drew the pole for feature among the six heat race winners as he and O'Neal would make up the front row of the 30 lap event. When chief starter Julian Mullis waved the green flag the action-packed battle at East Bay Raceway Park would begin. Moran and O'Neal would cross the start-finish line on the first lap practically dead even. O'Neal would then forge ahead by a car length on the second circuit with a bevy of drivers in hot pursuit.
With O'Neal picking up where he left off the night before in the lead Moran was holding down the second spot followed by Tim Dohm, English and Miller. O'Neal would start to enter heavy traffic by the ninth lap as Dohm would make a keen move by Moran for second.
Dohm then closed in rapidly on O'Neal as the leader was battling to get by a lapped car. Dohm would pull dead-even with O'Neal coming of the turns with Moran closely following those two. English and Miller were putting on a show of their own in the race for the fourth spot as those two would cross the start-finish line neck and neck for three circuits in a row.
With 15 laps in the books O'Neal still had the point with Dohm and O'Neal breathing down his back. At this point Miller had finally cleared English and was running in fourth.
Just as Dohm looked like he was going around O'Neal as and still racing in heavy traffic the driveshaft broke in his car and he slowed dramatically coming off of turn number four. Dohm's misfortune also hurt Moran as Dohm slowed Moran was too close to him and he had to spin to avoid a major wreck as Moran's car came to a halt on the front stretch bringing out the first and only caution of the race.
With the race ready to go green again O'Neal was in front by himself on the Delaware double file restart, he had Miller and English lined up right behind him. With 12 laps to go the race would get underway with the same fervor it had had the first 18 laps of action.
Miller would pull dead even with O'Neal and coming off of turn number four for the 20th lap and storm to the lead. Miller then started to open up enough of an advantage that left him breathing room between himself and O'Neal. Miller nearly caught up the tail end of the field which gave O'Neal one last shot at the win, but Miller sped on to take the victory in a very exciting race. O'Neal would cross line about four car lengths behind Miller at the end. Shannon Babb made a late charge from 14th passing English for third with a little more than five laps to go to finish third. English and 13th starting Justin Rattliff completed the top five.
Eddie Carrier, Jr. would led the rest of the top ten across the finish in sixth followed by Dan Schlieper, Dan Stone, Tim McCreadie and Jackie Boggs.
In the post race victory lane celebration Miller was exhausted from the terrific race for the lead and the warm weather. "I hope the fans enjoyed that one!" said the former Eldora Dream winner, as he addressed the fans. "Our car was tight early on, the track was tackier than the night before so we just had to bide our time there early on, we had a nice race with Terry (English) there for several laps and then when Dohm and Moran got together that was the break we needed."
"Don (O'Neal) is one tough customer and I knew it was going to be a hard to get around him, because he wasn't going to back down and I knew that, but he raced me clean and gave me plenty of room and once we got by him, I couldn't wait to see the checkered flag," said Miller who wanted to thank several people for making his win possible. "I want to thank my car owner Larry Moring, we didn't get to run as much last year as we would have liked to, but this is a real strong start to the season, so hopefully we will be contenders night in and night out this year, I would also like to thank Ronnie Stuckey and John Murphy and all the other guys on the crew and our thoughts go to Russell, who is ailing, he is a good friend of Larry's and we wish him the best."
Miller's Larry Moring Motorsports Rocket Chassis is powered by a Clements Race Engine and sponsored by MDI Environmental Services, Performance Rod and Custom, Freeport Recycling Center, Sunoco Race Fuels and Graphic Arts Express.
O'Neal who now has a first and second in the first two nights of competition at East Bay drives the Jeff and Eddie Harrod owned Harrod Farms/Jay Dickens Racing Engines/C.J. Rayburn Monte Carlo. Babb's third place finish was his top five of the week for Clint Bowyer Racing as English came home fourth in the AAA Fence/ARC Race Engines/MasterSbilt Impala SS with Rattliff in the James Rattliff/Rattliff Motors/C.J. Rayburn Monte Carlo grabbing the fifth spot.
In preliminary events Matt Miller was the PRC Fast Time Award winner with a quick lap of14.348 seconds. The heat races were won by Matt Miller, Don O'Neal, Tim Dohm, Donnie Moran, Dan Stone and Terry English. The B-Main victors were
Steve Shaver, Tim McCreadie and Kevin Cole. Chuck Harper was the top man in the PRC Strawberry Dash earning a spot in the A-main.
Racing will continue on Wednesday Night, February 6th for the 2008 version of the DART Machinery East Bay Winternationals with a $5,000 to win show. The event will be broadcast live via the Internet at www.racetalklive.com.
Race Summary
Lucas Oil Late Model Dirt Series
Tuesday Night, February 5, 2008
East Bay Raceway Park-Tampa, FL
PRC Fast Time: Matt Miller 14.348 seconds
Hawk Brake First Heat (10 Laps-Top 3 advance): Matt Miller, Eddie Carrier Jr, Justin Rattliff, Steve Shaver, Tyler Ivey, Chuck Harper, Rick Elliot, Anthony White, Austin Hubbard, Eric Wells, Ronnie Whitt
Hawk Brake Second Heat (10 Laps-Top 3 Advance): Don O'Neal, Steve Francis, Shannon Babb, Tim Fuller, Rick Eckert, Terry Casey, Wayne Chinn, Jared Hawkins, Brian Shirley, Joe Isabell, Bob Geiger
AFCO Racing Products Third Heat (10 Laps-Top 3 Advance): Tim Dohm, Scott James, Chris Wall, Ray Cook, Tyler Boggs, Jason McBride, Peyton Taylor, Billy Drake, Marshall Austin, Bryan Collins
Tiger Rear ends Fourth Heat (10 Laps-Top 3 Advance): Donnie Moran, Dan Schlieper, Josh Richards, John Mason, Tim McCreadie, Clint Smith, JR Hotovy, Rohn Moon, Ky Harper, Billy Moyer, Doug Blashe
Hawk Brake Fifth Heat (10 Laps-Top 3 Advance): Dan Stone, Jackie Boggs, Damon Eller, Kellen Chadwick, Josh McGuire, Dennis Erb, Shon Flanary, Donald Beyers, Jim Borden, Scott Riggs
Hawk Brake Sixth Heat (10 Laps-Top 3 Advance): Terry English, Bryan Barber, Vic Coffey, Kevin Cole, Doug Horton, Tim Lance, Danny Johnson, Jeep Van Wormer, Dave Tyrchniewicz, Russ Adams, Mark Andersen
Mason Racin' Rebel Shock Dyno First B-Main (12 Laps-Top 2 Advance): Steve Shaver, Tim Fuller, Tyler Ivey, Rick Eckert, Brian Shirley, Jared Hawkins, Austin Hubbard, Eric Wells, Bob Geiger, Rick Elliot, Joe Isabell, Anthony White, Ronnie Whitt, Chuck Harper, Terry Casey, Wayne Chinn
Quarter Master Second B-Main (12 Laps-Top 2 Advance): Tim McCreadie, Jason McBride, Ray Cook, Ky Harper, Peyton Taylor, JR Hotovy, Rohn Moon, Marshall Austin, Tyler Boggs, Doug Blashe, Steve Casebolt, Bryan Collins, Billy Drake, DNS: John Mason, Clint Smith, Billy Moyer, Eric Jacobsen
Quarter Master Third B-Main (12 Laps-Top 2 Advance): Kevin Cole, Dennis Erb, Kellen Chadwick, Shon Flanary, Josh McGuire, Dave Tyrchniewicz, Danny Johnson, Tim Lance, Donald Beyers, Doug Horton, Russ Adams, Jim Borden, Jeff Beyers, DNS: Jeep Van Wormer, Scott Riggs, Mark Andersen, Anthony Ferguson
PRC Strawberry Dash: (6 laps-Winner Advanced to Feature): Chuck Harper, Rick Eckert, Jared Hawkins, Austin Hubbard, Tyler Ivey, Jim Borden, Bryan Collins, Billy Drake, Bob Geiger
Lucas Oil Late Model Dirt Series DART Machinery East Bay Winternationals Feature Finish: (30 Laps) Matt Miller, Don O'Neal, Shannon Babb, Terry English, Justin Rattliff, Eddie Carrier Jr, Dan Schlieper, Dan Stone, Tim McCreadie, Jackie Boggs, Scott James, Steve Shaver, Chris Wall, Steve Francis, Damon Eller, Vic Coffey, Dennis Erb, Tim Fuller, Donnie Moran, Josh Richards, Jason McBride, Tim Dohm, Bryan Barber, Chuck Harper, Kevin Cole
Race Statistics
Entries: 68
Caution Flags: 1 Caution (Lap 18)
Lap Leaders: Lap 1 Donnie Moran, Laps 2-19 Don O'Neal, Laps 20-Finish Matt Miller
PBM/Erson Cams Hard Charger of the Race: Shannon Babb (Started 14th and finished 3rd-Advanced 11 positions)
Allstar Performance Performer of the Race: Justin Rattliff
K&N Filters Clean Pass of the Race: Matt Miller
Quarter Master Rookie of the Race: None
ASI Racewear Lucky 7 Award – Dan Schlieper
Integra Crew Chief of the Race – Jeff Gullett (Justin Rattliff)
Time of Race: 13.25 Minutes Started: 9:23 Ended 9:36
---
Submitted By: Jeremy Shields
Back to News