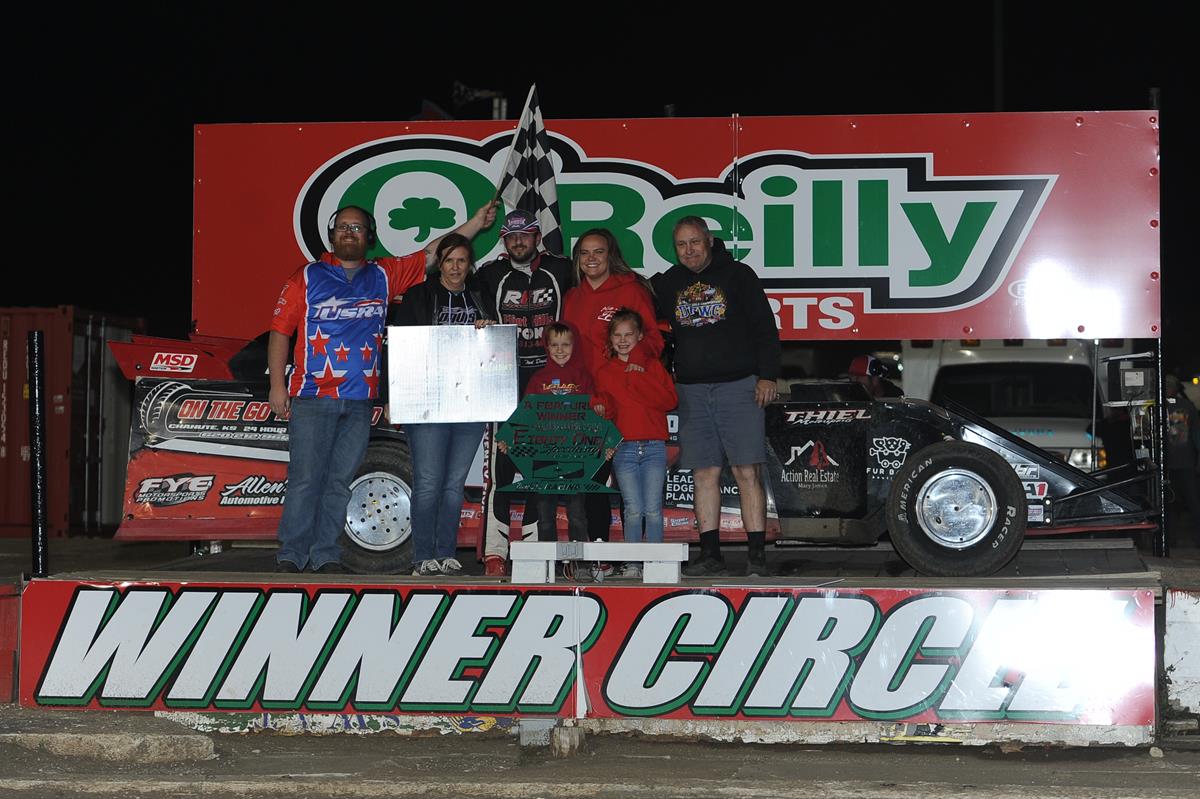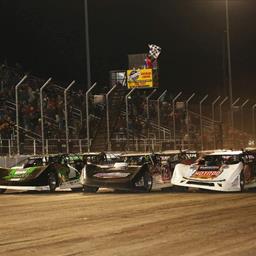 ---
Momentum builds as 81 Speedway prepares for month of May opener.
Photo Credits: Randy Lane Photography
Erick Chesterman - PARK CITY, Kan. (May 4th, 2022) If the last two weeks are any indication, the racing action should remain red hot as 81 Speedway gets set to open the month of May.
In Alternative Pest Management USRA Modified action Mount Hope's Tad Davis has proven himself a force to be reckoned with. Two weeks ago he broke Chris Kratzer's heart as the Late Model shoe turned modified driver was poised to collect his first victory in the modified ranks.
During arguably the best race of the year, restart after restart Kratzer turned away Davis with every move he attempted to make. But a late race restart with four laps to go proved one too many, as Tad pulled the trigger on the slider that sealed Kratzer's fate.
Last week Davis was at it again, this time leading from the drop of the green. It wasn't without challenge though as USMTS regulars Tanner Mullens and Tyler Davis both took their shot at the Mt. Hope Missile. Davis succumbed to a right rear flat tire, and Mullens proved not to have enough finishing in second.
That's left Tad Davis tied for the lead with Tyler Davis in race wins on the year. Tad currently sits second in points but will most likely claim the lead while Tyler chases the USMTS trail this weekend.
The HeyGlassman.com Stock Cars have put on some barn burners of their own. Two weeks ago Hutchinson young gun Tanner Thiel picked up an emotional victory. No stranger to 81 Speedway victory lane in 4-cylinder Mini Stock competition, a long 5-year win drought since climbing behind the wheel of a stock car was snapped as he picked up the first win of his 8-cylinder career.
With a record car count in attendance last weekend, it was a pair of IMCA Racing invaders who stole the show. Bullard, TX hot shoe Boone Evans tried to run away with the A-feature, but a late race caution put an end to that thought process. On the restart Brandon Conkwright dug deep and out dueled the No. 4jr, completing a last lap pass for the win.
This week, in response to the record car count last week, 81 Speedway officials and partners have stepped up to increase the stock car purse to $500 to win, and $100 to start a 20 lap A-feature event. Other contingences and awards have been announced as well.
After "calling his shot" to begin the season, Chris Purkey picked up his first AutoTech Service Superstock win of the season two weeks ago, claiming the points lead in the process. One week later he added $50 out of his own pocket to the winners share, once again daring his competitors to make him deliver it to them in victory lane.
True to form Super Stock hot shoe and multi-time track champion David Blocher answered the call and won in dominating fashion. Purkey kept his word and hand delivered the bonus to the winner but kept his point lead intact at night's end.
The JLR Property Management Rookie Modifieds were on track two weeks ago, and Valley Center's Dakota Dale survived to win the caution plagued affair.
Last weekend the BSB Mfg. USRA B-Mods returned to the Park City, KS oval. They had a rough go of it as well, with multiple cautions and at one point a multi-car incident bringing out a Sit-and-Spin red flag. At the end of the night Reece Solander got the 81 Speedway monkey off his back claiming the win in a 1-2 finish alongside teammate Gabriel Hodges.
Weekly racing resumes this Saturday night with the Alternative Pest Management USRA Modifieds, JLR Property Managment Rookie Modifieds, Heyglassman.com Stock Cars, and Midwest Wrap Co. IMCA Mod Lites. Racing action kicks off at 7pm. Tickets are $12 while kids 10 and under are free. For a complete schedule and race day information visit us at www.81Speedway.com
4/23/2022 at 81 Speedway
Alternative Pest Management USRA Modifieds
A Feature 1 (20 Laps): 1. 75-Tad Davis[4]; 2. 55-Chris Kratzer[1]; 3. 65-Tyler Davis[9]; 4. 21C-Cody Schniepp[15]; 5. 99T-TJ Tolan[11]; 6. 2K-Kendall Kemp[16]; 7. A2-Randy Wilson[17]; 8. K9-Kyler Kemp[10]; 9. 20G-Jake Greider[3]; 10. 127-Paden Phillips[2]; 11. 22N-Kevin Newell[12]; 12. 65B-Brett Davis[8]; 13. 11H-Denver Howard[20]; 14. 69-Cecil Dymond[19]; 15. 7CJ-Chris Eveland[18]; 16. (DNF) 21B-Bryce Schniepp[6]; 17. (DNF) 02-Tanner Mullens[5]; 18. (DNF) 7J-Jerry Eveland[13]; 19. (DNF) 2W-Richard Wilson[21]; 20. (DNF) 52-Ryan McAninch[7]; 21. (DNF) 40-Jason Yager[14]; 22. (DNF) 171-Edward Leecy[22]; 23. (DNS) 32R-Daniel Richey
Heat 1 (8 Laps): 1. 20G-Jake Greider[1]; 2. 75-Tad Davis[6]; 3. K9-Kyler Kemp[2]; 4. 99T-TJ Tolan[5]; 5. 40-Jason Yager[3]; 6. 2K-Kendall Kemp[7]; 7. 69-Cecil Dymond[4]; 8. 11H-Denver Howard[8]
Heat 2 (8 Laps): 1. 02-Tanner Mullens[4]; 2. 52-Ryan McAninch[1]; 3. 55-Chris Kratzer[6]; 4. 65-Tyler Davis[7]; 5. 21C-Cody Schniepp[5]; 6. 7CJ-Chris Eveland[2]; 7. (DNF) 2W-Richard Wilson[3]; 8. (DNS) 32R-Daniel Richey
Heat 3 (8 Laps): 1. 21B-Bryce Schniepp[2]; 2. 127-Paden Phillips[5]; 3. 65B-Brett Davis[4]; 4. 22N-Kevin Newell[1]; 5. 7J-Jerry Eveland[6]; 6. A2-Randy Wilson[7]; 7. (DNS) 171-Edward Leecy
AutoTech Service Super Stocks
A Feature 1 (15 Laps): 1. 36-Chris Purkey[6]; 2. 164-James Weve[3]; 3. 32-Jeff Richey[1]; 4. 4-Rick Dunsworth[7]; 5. 84T-Mark Courtright[2]; 6. 54-Mike McIlvain[4]; 7. 28-Tim Ozbun[8]; 8. 41J-Brady Lanphier[10]; 9. (DNF) 35-Jay Purkey[5]; 10. (DNS) 3B-Raymond Ketner
Heat 1 (6 Laps): 1. 36-Chris Purkey[1]; 2. 164-James Weve[5]; 3. 54-Mike McIlvain[3]; 4. 32-Jeff Richey[7]; 5. 84T-Mark Courtright[4]; 6. 35-Jay Purkey[9]; 7. 4-Rick Dunsworth[10]; 8. 28-Tim Ozbun[6]; 9. (DNF) 3B-Raymond Ketner[2]; 10. (DNS) 41J-Brady Lanphier
Heyglassman.com Stock Cars
A Feature 1 (15 Laps): 1. 3T-Tanner Thiel[3]; 2. 12C-Clint Smith[5]; 3. 55R-George Ramey[4]; 4. 9-Scott Lehman[2]; 5. F0-AJ Finch[8]; 6. 59-James Lutkie[6]; 7. 82-Joey Richmond[11]; 8. 71-Josh Hammar[17]; 9. 3-Alex Krogmeier[20]; 10. 924-Lionel Stilwell[13]; 11. 01-Chris Griffin[15]; 12. (DNF) 86-Justin Franz[7]; 13. (DNF) 7B-Justin Snodgrass[18]; 14. (DNF) 66-Jeremy Heim[14]; 15. (DNF) 24-Chris Holle[9]; 16. (DNF) 62-Austin Ramey[16]; 17. (DNF) 45-Scott Squier[10]; 18. (DNF) 01X-Beau Davis[1]; 19. (DNS) 3B-Walker Burkholder; 20. (DNS) 57-Aaron Esparza; 21. (DNS) 2-Seth Wright
Heat 1 (6 Laps): 1. 01X-Beau Davis[2]; 2. F0-AJ Finch[1]; 3. 86-Justin Franz[6]; 4. 45-Scott Squier[5]; 5. 924-Lionel Stilwell[3]; 6. 01-Chris Griffin[7]; 7. (DNS) 2-Seth Wright
Heat 2 (6 Laps): 1. 3T-Tanner Thiel[5]; 2. 9-Scott Lehman[3]; 3. 12C-Clint Smith[7]; 4. 82-Joey Richmond[4]; 5. 66-Jeremy Heim[1]; 6. 62-Austin Ramey[6]; 7. 71-Josh Hammar[2]
Heat 3 (6 Laps): 1. 59-James Lutkie[3]; 2. 55R-George Ramey[6]; 3. 24-Chris Holle[4]; 4. 3B-Walker Burkholder[2]; 5. (DNF) 7B-Justin Snodgrass[5]; 6. (DNF) 57-Aaron Esparza[7]; 7. (DNF) 3-Alex Krogmeier[1]
JLR Property Managment Rookie Modifieds
A Feature 1 (15 Laps): 1. 37D-Dakota Dale[3]; 2. 020-Frederick Freeman[2]; 3. 96-Logan Johnson[8]; 4. 15W-Wyatt Gaggero[7]; 5. 54-Jim Roney[9]; 6. 14-Eric Jarvis[18]; 7. 19-Terry Collins[12]; 8. 72-Dickie Koeppen Jr[6]; 9. 7-Steve Emond[17]; 10. 19D-Ian Davis[10]; 11. 4-Shawn Walton[15]; 12. 64-Dickey Koeppen[13]; 13. (DNF) 22-KC Mullin[5]; 14. (DNF) 93J-Jeff Carrell[11]; 15. (DNF) 13-Josh Barnes[14]; 16. (DNF) 93-Nick Tullos[1]; 17. (DNF) 10-Chris Klick[20]; 18. (DNF) 0-Tyler Humphries[4]; 19. (DNF) 28-Eddie Stillwell[22]; 20. (DNF) 86A-Ashley Main[21]; 21. (DNF) 47-Doulphus Koeppen[16]; 22. (DNS) 14R-Ryan Quiring
Heat 1 (6 Laps): 1. 020-Frederick Freeman[3]; 2. 0-Tyler Humphries[5]; 3. 72-Dickie Koeppen Jr[6]; 4. 19D-Ian Davis[7]; 5. 13-Josh Barnes[4]; 6. 47-Doulphus Koeppen[1]; 7. 28-Eddie Stillwell[8]; 8. 14-Eric Jarvis[2]
Heat 2 (6 Laps): 1. 22-KC Mullin[2]; 2. 93-Nick Tullos[1]; 3. 96-Logan Johnson[5]; 4. 93J-Jeff Carrell[3]; 5. 64-Dickey Koeppen[6]; 6. 4-Shawn Walton[7]; 7. (DNF) 14R-Ryan Quiring[4]
Heat 3 (6 Laps): 1. 37D-Dakota Dale[6]; 2. 15W-Wyatt Gaggero[1]; 3. 54-Jim Roney[5]; 4. 19-Terry Collins[3]; 5. 86A-Ashley Main[7]; 6. 7-Steve Emond[4]; 7. (DNF) 10-Chris Klick[2]
4/30/2022 at 81 Speedway
Alternative Pest Management USRA Modifieds
A Feature 1 (20 Laps): 1. 75-Tad Davis[2]; 2. 02-Tanner Mullens[3]; 3. 4A-Josh Lanterman[1]; 4. 65-Tyler Davis[5]; 5. G3-Brendon Gemmill[4]; 6. 24C-Brandon Conkwright[21]; 7. 99T-TJ Tolan[22]; 8. 11H-Denver Howard[14]; 9. 21C-Cody Schniepp[11]; 10. 22N-Kevin Newell[8]; 11. 7CJ-Chris Eveland[18]; 12. 65B-Brett Davis[17]; 13. 69-Cecil Dymond[15]; 14. 8C-Chris Clark[9]; 15. 96-Logan Johnson[16]; 16. (DNF) 40-Jason Yager[12]; 17. (DNF) 20G-Jake Greider[7]; 18. (DNF) 32R-Daniel Richey[19]; 19. (DNF) 15W-Wyatt Gaggero[20]; 20. (DNF) 127-Paden Phillips[10]; 21. (DNF) 52-Ryan McAninch[6]; 22. (DNF) 37D-Dakota Dale[23]; 23. (DNF) A2-Randy Wilson[13]; 24. (DNS) 21B-Bryce Schniepp
Heat 1 (8 Laps): 1. 75-Tad Davis[6]; 2. 65-Tyler Davis[5]; 3. 127-Paden Phillips[1]; 4. 21C-Cody Schniepp[4]; 5. A2-Randy Wilson[2]; 6. 96-Logan Johnson[8]; 7. 32R-Daniel Richey[7]; 8. (DNF) 99T-TJ Tolan[3]
Heat 2 (8 Laps): 1. G3-Brendon Gemmill[2]; 2. 4A-Josh Lanterman[6]; 3. 22N-Kevin Newell[5]; 4. 8C-Chris Clark[8]; 5. 11H-Denver Howard[3]; 6. (DNF) 15W-Wyatt Gaggero[1]; 7. (DNF) 24C-Brandon Conkwright[4]; 8. (DNF) 37D-Dakota Dale[7]
Heat 3 (8 Laps): 1. 02-Tanner Mullens[5]; 2. 52-Ryan McAninch[4]; 3. 20G-Jake Greider[6]; 4. 40-Jason Yager[2]; 5. 69-Cecil Dymond[1]; 6. 65B-Brett Davis[3]; 7. 7CJ-Chris Eveland[8]; 8. (DNF) 21B-Bryce Schniepp[7]
AutoTech Service Super Stocks
A Feature 1 (15 Laps): 1. 24B-David Blocher[1]; 2. 4-Rick Dunsworth[5]; 3. 66-Jason Thurman[4]; 4. 09B-Kyle Blocher[6]; 5. 54-Mike McIlvain[7]; 6. 19-Shane Cook[2]; 7. (DNF) 28-Tim Ozbun[9]; 8. (DNF) 84T-Mark Courtright[10]; 9. (DNF) 32-Jeff Richey[8]; 10. (DNF) 36-Chris Purkey[3]
Heat 1 (6 Laps): 1. 66-Jason Thurman[3]; 2. 24B-David Blocher[10]; 3. 09B-Kyle Blocher[7]; 4. 36-Chris Purkey[8]; 5. 19-Shane Cook[2]; 6. 4-Rick Dunsworth[9]; 7. 54-Mike McIlvain[4]; 8. 32-Jeff Richey[5]; 9. (DNF) 28-Tim Ozbun[6]; 10. (DNF) 84T-Mark Courtright[1]
Heyglassman.com Stock Cars
A Feature 1 (15 Laps): 1. 24C-Brandon Conkwright[5]; 2. 4JR-Boone Evans[4]; 3. 24-Chris Holle[2]; 4. 1-Scott Miller[3]; 5. 01X-Beau Davis[13]; 6. 12C-Clint Smith[15]; 7. 55R-George Ramey[7]; 8. 86-Justin Franz[14]; 9. 77-Cody Williams[6]; 10. 9-Scott Lehman[12]; 11. 59-James Lutkie[16]; 12. 82-Joey Richmond[10]; 13. 62-Austin Ramey[9]; 14. 45-Scott Squier[18]; 15. 57-Aaron Esparza[11]; 16. 48-Craig Miller[17]; 17. 33D-Dalton Frank[19]; 18. 47-Robert Foster[21]; 19. 3-Alex Krogmeier[22]; 20. (DNF) 01-Chris Griffin[24]; 21. (DNF) 19D-Dylan Chambers[23]; 22. (DNF) 66-Jeremy Heim[1]; 23. (DNF) F0-AJ Finch[8]; 24. (DNS) 51-Cody Wright
B Feature 1 (10 Laps): 1. 01X-Beau Davis[4]; 2. 86-Justin Franz[1]; 3. 12C-Clint Smith[2]; 4. 59-James Lutkie[12]; 5. 48-Craig Miller[14]; 6. 45-Scott Squier[6]; 7. 33D-Dalton Frank[3]; 8. 51-Cody Wright[5]; 9. 47-Robert Foster[11]; 10. 3-Alex Krogmeier[8]; 11. 19D-Dylan Chambers[7]; 12. 01-Chris Griffin[13]; 13. (DNF) 55X-Mike Burian[9]; 14. (DNF) 3B-Walker Burkholder[10]; 15. (DNS) 2K-Colten Kelley
Heat 1 (6 Laps): 1. 66-Jeremy Heim[1]; 2. 1-Scott Miller[8]; 3. 82-Joey Richmond[4]; 4. 57-Aaron Esparza[2]; 5. 86-Justin Franz[7]; 6. 45-Scott Squier[3]; 7. 3-Alex Krogmeier[6]; 8. 3B-Walker Burkholder[5]; 9. 01-Chris Griffin[9]
Heat 2 (6 Laps): 1. 4JR-Boone Evans[4]; 2. 55R-George Ramey[2]; 3. 24-Chris Holle[6]; 4. 62-Austin Ramey[8]; 5. 12C-Clint Smith[1]; 6. 01X-Beau Davis[7]; 7. 55X-Mike Burian[3]; 8. 47-Robert Foster[5]; 9. 48-Craig Miller[9]
Heat 3 (6 Laps): 1. 24C-Brandon Conkwright[1]; 2. 77-Cody Williams[3]; 3. F0-AJ Finch[5]; 4. 9-Scott Lehman[4]; 5. 33D-Dalton Frank[2]; 6. 51-Cody Wright[7]; 7. 19D-Dylan Chambers[8]; 8. 59-James Lutkie[6]; 9. (DNS) 2K-Colten Kelley
BSB Manufacturing USRA B-Mods
A Feature 1 (15 Laps): 1. 5-Reece Solander[1]; 2. 7G-Gabriel Hodges[3]; 3. 54-Tyler Kidwell[9]; 4. 98-Kenton Allen[7]; 5. D86-Donald McIntosh[12]; 6. 52-Cory Janasek[5]; 7. 14J-Jacob Hodges[24]; 8. 2T-Zach Traylor[17]; 9. 24-Brandon Miller[22]; 10. 21-Mark Smith[11]; 11. 06-Andrew Wallace[8]; 12. (DNF) MC2-Clint McFadden[18]; 13. (DNF) 2W-Richard Wilson[20]; 14. (DNF) 0NA-Ahnna Schouten[13]; 15. (DNF) 86J-Travis Johnson[4]; 16. (DNF) 35-Tim Echevarria[2]; 17. (DNF) 70P-Tanner Prochnow[10]; 18. (DNF) 4JR-Boone Evans[6]; 19. (DNF) 9-Slade Mohr[19]; 20. (DNF) 17C-Henry Chambers[14]; 21. (DNF) 2C-Matthew Crowell[16]; 22. (DNF) 21J-Jacob Ellison[23]; 23. (DNF) 13-Peyton Burkhart[15]; 24. (DNF) 28-Shawn Langhover[25]; 25. (DNS) 3C-Jacob Crowell; 26. (DNS) 44-Braden Stoner
Heat 1 (8 Laps): 1. 52-Cory Janasek[1]; 2. 35-Tim Echevarria[6]; 3. 06-Andrew Wallace[5]; 4. D86-Donald McIntosh[3]; 5. 70P-Tanner Prochnow[8]; 6. 2T-Zach Traylor[4]; 7. MC2-Clint McFadden[9]; 8. 3C-Jacob Crowell[7]; 9. (DNF) 14J-Jacob Hodges[2]
Heat 2 (8 Laps): 1. 7G-Gabriel Hodges[2]; 2. 86J-Travis Johnson[4]; 3. 54-Tyler Kidwell[3]; 4. 0NA-Ahnna Schouten[1]; 5. 21-Mark Smith[8]; 6. 13-Peyton Burkhart[9]; 7. 9-Slade Mohr[6]; 8. (DNF) 21J-Jacob Ellison[7]; 9. (DNF) 28-Shawn Langhover[5]
Heat 3 (8 Laps): 1. 5-Reece Solander[4]; 2. 98-Kenton Allen[2]; 3. 4JR-Boone Evans[6]; 4. 17C-Henry Chambers[3]; 5. 2C-Matthew Crowell[1]; 6. 44-Braden Stoner[5]; 7. 2W-Richard Wilson[7]; 8. 24-Brandon Miller[8]
---
Article Credit: 81 Speedway
Submitted By: Erick Chesterman
Article Media
Back to News