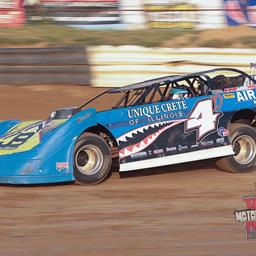 Doug Tye
Troy, IL
Driver Information
Born in Muskogee OK. 1989 Graduated Haskell High School. US Air Force 1989-2010. Owner of Unique Crete of Illinois concrete overlay and epoxy coatings.
4D Tye Motorsports
Originally from Muskogee Oklahoma. Retired US Air Force Master Sergeant (MSgt). Began racing career in 2014.
2014 BMod Rookie of the Year Highland Speedway. First Feature win at Paducah International Raceway Kentucky in 2015. Two Feature wins in 2017. Two Feature wins 2018. Super Late Model Rookie year 2021.
Favorites
Track

Belle Clair

Driver

Larry Phillips

Event

DirtCar Summer Nationals

Food

Steak

Movie

Forrest Gump

Song

The Dance

Sports Team

Oklahoma Sooners

Speed Shop

4D
Recommendations
Restaurant

Peel Edwardsville Illinois

Fast Food

Freddie's

Gas Station

Casey's

Car Manufacturer

GMC

Beverage

What The Cup Race Fuel Coffee

Parts Store

ORielys

Hotel

Drury Inn