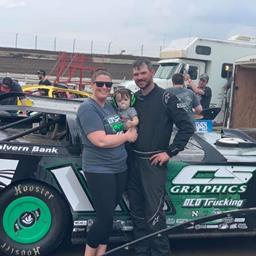 Tyler Smith
Gibbon, NE
Driver Information
Growing up as a third generation racer, Tyler began pursuing his dream of racing while still a senior in high school. In 2006 with the help of his family and friends he built his first car in the same shop his Dad built his first car some 30 years earlier, the shop sits on his Grandfather's small family farm outside Gibbon, Nebraska.
Beginning his career in the International Motor Contest Association's (IMCA) most elite class of cars, The IMCA Modified proved no easy task but he's never been one to back down from a good challenge. Several seasons followed with consistent top 10 finishes but the greatest accomplishment over those years was teaming up with charity to give back while doing what he loved. Tyler spent the 2008 season driving to raise funds for the National Multiple Sclerosis Society. Fans and fellow drivers grew to love this young man's vision for something greater than himself. He was featured multiple times in area news publications for his generosity and gained many fans over the year.
After several years of racing the IMCA Modified and even a short one year stent in the Hobby Stock Class, it was time for change. Tyler found support through various sponsorships and took the plunge to pursue the family tradition of driving a Super Latemodel in 2016. He purchased an older used chassis from a friend and jumped on the Malvern Bank Super Latemodel Racing Series (MBSLMR). The intention was always to take the first few years getting familiar with a different type of racing. This series is one of the elite for the Nebraska, Kansas, South Dakota, and Iowa area dirt track racing scene. Knowing that the challenge was great but the opportunity to learn was greater; Tyler took that plunge and has never looked back. The MBSLMR tours a four state region and brings an excitement and energy to weekly racing that is unmatched every night.
Following the last three years of getting comfortable in the Latemodel and feeling ready to compete at the next level Tyler is planning a run at the full MBSLMR schedule in 2019.
Favorites
Track

I-80 Speedway

Driver

My Dad - Gene Smith

Event

Silver Dollar Nationals
Recommendations
No recommendation information