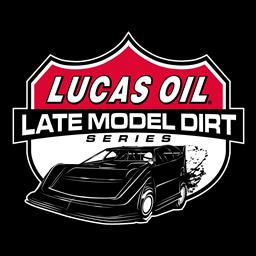 8/30/2008
Lucas Oil Late Model Dirt Series
---
Josh McGuire Takes Biggest Win of His Career in Event at Portsmouth
PORTSMOUTH, OH (August 30, 2008) – "The local boy done good" as the saying goes and Josh McGuire of Grayson, KY proved that Saturday Night at Portsmouth Raceway Park as he won the biggest race of his career in taking the $10,000 to win Glockner Toyota River Days Rumble 75 for the Lucas Oil Late Model Dirt Series. McGuire became the 22nd different winner in LOLMDS competition in 2008 as he led 66 of 75 laps to secure the win. Donnie Moran of Dresden, OH finished second; followed by Steve Casebolt of Richmond, IN; Dan Schlieper of Sullivan, WI; and Darren Miller of Chadwick, IL. In front of a packed grandstand, Steve Shaver and McGuire started on the front row with McGuire bolting to the lead at the onset of the race with Shaver, Schlieper, Jeep VanWormer and Mike Balzano running in the top five with a lap in the books.
McGuire lengthened his lead to almost a full straightaway by lap five as he was setting a blistering pace over the start-studded field of participants. Schlieper then moved into second on lap six as he started to immediately close the gap as McGuire was starting to enter traffic.
Schlieper closed to the rear bumper of McGuire as McGuire was receiving his first serious threat of the race. The first caution came out on lap 12 for Justin Rattliff and that would bunch the field up behind McGuire who had led all the way up to that point.
On the restart McGuire would see Schlieper hound him for two laps until the second caution flew on lap 15 for a slowing VanWormer who was running in fifth at the time. VanWormer headed to the pits and did not return to the action.
The top five with 15 laps scored were McGuire, Schlieper, Shaver, Moran and R.J. Conley. After VanWormer's caution the restart would see 13th starting Terry Casey now in the hunt as the leading rookie driver on the LOLMDS was soaring through the field as he was up to third by lap 17.
Casey then passed Schlieper two circuits later to take second as Casey was super fast in his first ever appearance at PRP. As McGuire again entered lapped traffic Casey seized the opportunity and took the lead on lap 26.
Casey and McGuire then hooked up in a classic battle for the lead going back and forth lap after lap until the third caution of the race came out on lap 34 for R.J. Conley. The ensuing restart would change the complexion of the race as Casey slowed briefly on the frontstretch and McGuire and he could make contact as Casey slowed and left the track as his strong run had come to an end.
McGuire then was out in front once more by himself on the Delaware double file restart. Schlieper then would get a tremendous run as he powered to the outside of McGuire in the race for the lead. Moran then would pick up the paced again as he would challenge Schlieper for second as they made it a three-car battle for the lead.
Moran made the pass on Schlieper on the 47th lap for second and just as Moran was ready to challenge McGuire for the race lead a caution came out for a slowing Eddie Carrier Jr. on lap 49. On this particular restart Schlieper again was on the move as he went around Moran to regain second.
Schlieper and Moran would then contest the second spot side-by-side for several laps as McGuire was pulling away from them. A caution for debris on lap 61 would slow the field once more enabling Schlieper and Moran to line up side-by-side on the restart.
Casebolt then emerged from the pack as he jumped from fourth to second in a matter of one lap as he put himself in a position to win the race. Casebolt and Moran would then hook up in a nice duel amongst themselves as they went door to door for five consecutive laps as McGuire was starting to stretch out his lead.
Moran cleared Casebolt on lap 68 to regain second, but McGuire had built a lead of almost five car lengths heading for the stretch run of the race. McGuire had no lapped traffic to contend with in the closing laps as Moran would mount one last challenge in the last few laps of the race, but the race ended before Moran could get close to McGuire as McGuire crossed the finish line for the biggest win of his racing career.
In the Lucas Oil Victory Lane, with a resounding cheer from crowd, everyone witnessed a piece of personal history from a driver who had started his career at Portsmouth by winning a Bomber Division Championship. "That was a heck of a race, this is unbelievable," said the 27 year-old driver. "This new Rayburn car has been so good the last few races and George Caldwell of GCP Racing Engines builds a great motor, I don't know what happened to Casey, it looked like he lost power and I was looking into turn one and we got together… he was fast."
"I hope the fans enjoyed that one, I sure did, I got excited at about lap three of the race and then to wait through those caution flags was agonizing at the end, but it feels great to finally to win a Lucas Oil race here in front of the home crowd."
McGuire's C.J. Rayburn GTO is sponsored by D.J.'s Kitchen Corner, Tri-State Flooring, Baby Cat Trucking, Budda Bert Transmissions, Long Architectural Sales, D&C Salyers, Glenny Glass, Ashland Specialists, K&N Filters,PRC, Ohlins, Hypercoils, Mason Starters and K&E Trucking.
Moran was driving his Eddie's Sunoco/Draime Engines/MasterSbilt Impala SS with Casebolt behind the wheel of his Dixie Chopper/Cornett Engines/Rocket GTO. Completing the top five were Schlieper in a new Miller Brothers Coal/Pro Power Engines/Wild Inc. Ford Fusion and Miller in the NAPA/Pro Power Engines/Moyer Victory Circle Ford Taurus.
Completing the top ten were Scott James, who drove most of the race with a broken upper control arm, Rod Conley, Brad Neat, Justin Rattliff and Billy Drake.
The Lucas Oil Late Model Dirt Series will be back in action on Sunday Night, August 31st with the 40th Annual Hillbilly 100 at Tyler County Speedway in Middlebourne, WV paying $40,000 to win. For more information, go to www.tylercountyspeedway.net or www.lucasdirt.com.
To find out more about the Lucas Oil Late Model Dirt Series, log on to www.lucasdirt.com or call the series office at (951) 532-2503.
Lucas Oil Late Model Dirt Series
Race Summary
Saturday Night, August 30, 2008
Portsmouth Raceway Park – Portsmouth, OH
PRC Fast Time: Josh McGuire/14.244 seconds
Hawk Brake First Heat (10 Laps-Top 4 Advance): Josh McGuire, Donnie Moran, Earl Pearson Jr., Terry Casey, Audie Swartz, Brad Neat, Michael England, Jason Fitzgerald, Barry Doss, John Mason, Matt Pistole, Josh Bocook
Hawk Brake Second Heat (10 Laps-Top 4 Advance): Dan Schlieper, Jeep VanWormer, Bart Hartman, Darren Miller, Justin Rattliff, Chris Conley, Steve Casebolt, Delmas Conley, Wayne Chinn, Jason Montgomery, David Kirker, John Melvin
AFCO Racing Products Third Heat (10 Laps-Top 4 Advance): Mike Balzano, RJ Conley, Jackie Boggs, Davey Johnson, Ben Adkins, Mike Wilson, Rod Conley, Casey Noonan, David Smith, Eddie Carrier Jr., Butch Dowdy – DNS
Tiger Rear Ends Fourth Heat (10 Laps-Top 4 Advance): Steve Shaver, Matt Miller, Brian Shirley, Scott James, Jimmy Owens, Nick Bocook, Freddy Smith, Josh Tidwell, Billy Drake, Joe Ramey, Jonathan Day
Mason Racin' Rebel Shock Dyno First B-Main (12 Laps-Top 3 Advance): Steve Casebolt, Justin Rattliff, Brad Neat, Delmas Conley, Wayne Chinn, Jason Montgomery, John Mason, Audie Swartz, Chris Conley, Jason Fitzgerald, Michael England, David Kirker, Barry Doss – DNS, Matt Pistole – DNS, Josh Bocook – DNS
Quarter Master Second B-Main (12 Laps-Top 3 Advance): Eddie Carrier Jr., Ben Adkins, Rod Conley, Nick Bocook, Casey Noonan, Jimmy Owens, Joe Ramey, Josh Tidwell, Mike Wilson, Billy Drake, Freddy Smith, David Smith – DNS, Jonathan Day – DNS, Butch Dowdy – DNS
"Glockner Toyota River Days Rumble 75" Feature Finish (75 Laps): Josh McGuire, Donnie Moran, Steve Casebolt, Dan Schlieper, Darren Miller, Scott James, Rod Conley, Brad Neat, Justin Rattliff, Billy Drake, Earl Pearson Jr., Freddy Smith, Jackie Boggs, Steve Shaver, Brian Shirley, Davey Johnson, Eddie Carrier Jr., Terry Casey, RJ Conley, Bart Hartman, Audie Swartz, Ben Adkins, Mike Balzano, Matt Miller, Jeep VanWormer
Race Statistics
Entries: 46
Caution Flags: 9
Lap Leaders: Josh McGuire 1-25, Terry Casey 26-34, McGuire 35-75
Lucas Oil Late Model Dirt Series Provisionals: Billy Drake, Freddy Smith
Portsmouth Raceway Park Track Provisional: Audie Swartz
PBM/Erson Cams Hard Charger of the Race: Rod Conley (Started 22nd and finished 7th – advanced 15 positions)
Allstar Performance Performer of the Race: Steve Casebolt
K&N Filters Clean Pass of the Race: Donnie Moran
Quarter Master Rookie of the Race: Terry Casey
ASI Racewear Lucky 7 Award: Rod Conley
Integra Shocks Crew Chief of the Race: Ben McGuire/Lowell McGuire (Josh McGuire)
Comp Cams Engine Builder of the Race: GCP Racing Engines
Time of the Race: 45 minutes
---
Submitted By: Jeremy Shields
Back to News