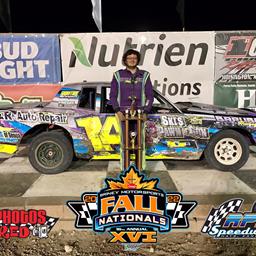 Tristan Grape
Columbus, NE
Driver Information
Started racing in 2018 and have had some up and downs but it is all in the fun of it!
2020 Lynn Langenburg Memorial Winner
2021 Octoberfest
2022 Albion $1100 to win
2022 Us30 King of The Hill
2022 Us30 TRACK CHAMPION
2022 ROC Qualifer 4th
2022 Super Nationals Big Dance 10th
2022 Abe Lincoln Memorial
2022 Tiny Lund Memorial
2022 Falls Nationals Qualifier Winner!
2022 Fall Nationals Winner!
2022 Us30 Track Championship. The first one in my family to do it just makes it so much better!
Favorites
Track

US30 or Boone County
Recommendations
No recommendation information