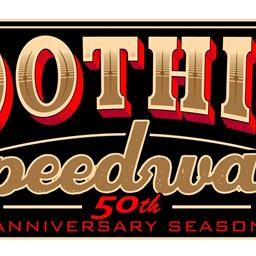 An action packed night with the Dynamic Duo on the mic, Zach and Joshua
RAINED OUT at 8:00PM
Racing this Saturday, July 8th! The Dynamic Duo, Zach Clark and Joshua Bell are on the mic calling all the action. Bring your cooler and come hang out with us for a night of action packed, fast, family fun!
Pits Open: 4PM
General Admission Opens: 5PM
Draw Ends/Drivers Meeting: 6:30PM
Hot Laps 7:00PM
Racing to Follow
Running Order: (Transponder location)
Pro Mod (Mid Plate, Low)
USRA Factory (RR Axle)
Sportster (RR Axle)
USRA Limited (Mid Plate, Low)
USRA Tuner (RR Axle)
Crate Late Model (Front Frame Rail)
Heats
B Mains
INTERMISSION (If needed)
Features
All classes are scored by transponder and a back up hand scorer. Transponders are available, Rental $10 for event. All classes on a passing point format. All drivers must use a Raceceiver Channel 454.000. All USRA Sanctioned classes must have a USRA license, a temp can be purchased @ registration for $10/event.
"If You Wanna Race, The Hill's The Place"
Sunoco USRA Factory Stocks

36 entries

American Racer USRA Limited Mods

23 entries

Crate Late Model

14 entries

Pro-Mods

12 entries

USRA Tuners

18 entries

Sportsters

8 entries
Pits Open

5:00 PM

Gates Open

6:30 PM

Hot Laps At

7:30 PM

Racing Starts

8:00 PM