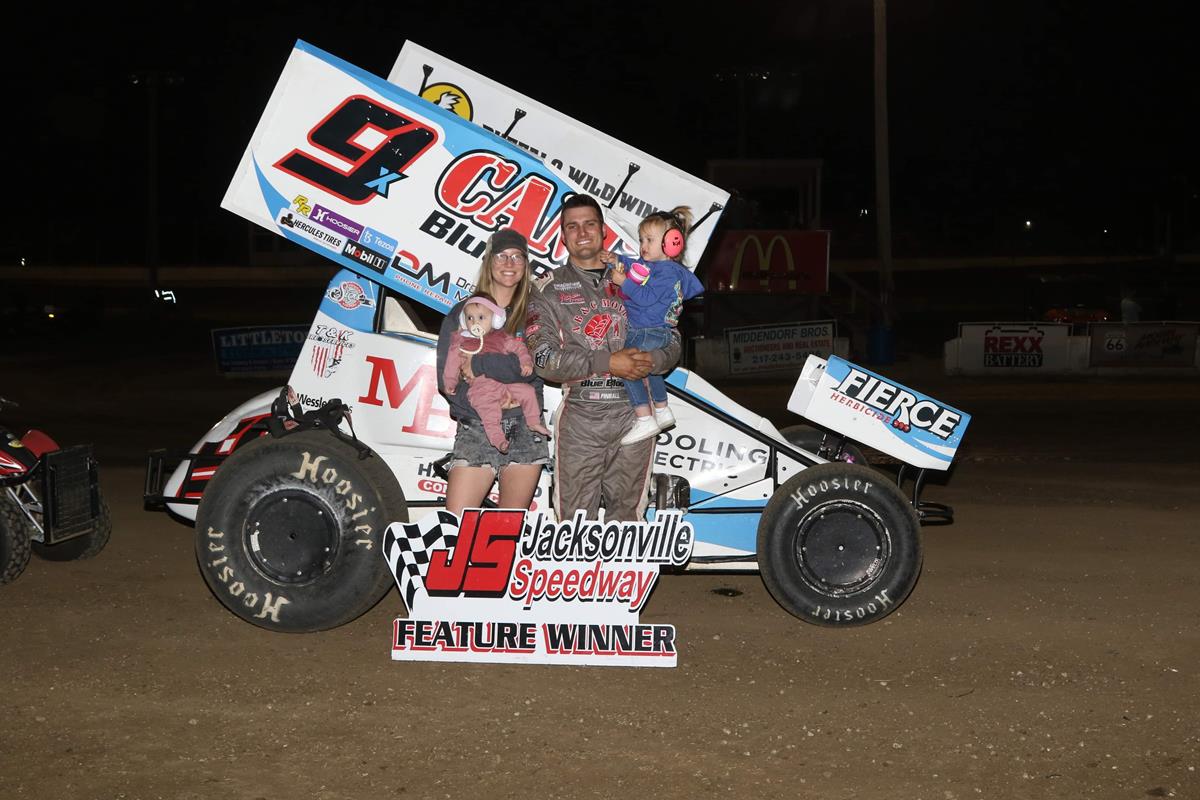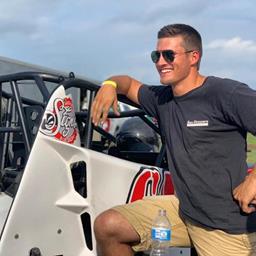 ---
Paul Nienhiser Goes Two-For-Two in Doubleheader Weekend
After a season plagued with bad luck at the Jacksonville Speedway, Paul Nienhiser was finally able to break through for his first feature win of 2023 this past Friday night in weekly 410 competition.
However, the winning didn't stop there.
"It was great to finally get the monkey off our back." Nienhiser said of the weekend's racing. "And after 34 on Sunday, it's great to have some momentum heading into a huge weekend coming up."
Starting with Friday night, Nienhiser pulled off a clean sweep. Winning his heat from the pole position, and holding off a hard charging Ryan Timms in the feature after an incredible battle. Timms threw a slide job in turns 3 and 4 that didn't quite clear the MB Heating & Cooling #9X and the two made contact, sending both cars up into the wall. Incredibly, both drivers were able to continue with Nienhiser maintaining the lead and Timms eventually spinning to a stop while battling for 2nd with the #7A of Will Armitage.
After the caution period, Armitage mounted a challenge at Nienhiser for the lead, briefly eclipsing the Chapin, IL driver with just 2 laps to go. However, Nienhiser would not be denied as he powered around the outside of Armitage to take the lead back and eventually the feature win.
"We've had a string of bad luck haunting us this year, but it felt so good to get that first win out of the way." Nienhiser said of Friday's outing at Jacksonville. "I feel like we've finally got the car back to how I need it to feel and it showed in the speed we had."
After a night off on Saturday, Nienhiser traveled to West Burlington, IA to pilot the Midland Performance #50 machine in Sprint Invaders 360 action. After a heat race win, the MOWA Sprint Car Champion started on the pole of the 25 lap feature and proceeded to absolutely dominate the stout 22 car field.
"We took some of what we learned in the #9X on Friday and applied it to the #50 car on Sunday." Nienhiser stated. "We still made a few tweaks but by Feature time that thing was set on kill. Ended up with a ½ lap lead at the end and lapped up to 7th. Having such a stout night like that feels great."
Looking ahead, Nienhiser will head to Farmington, MO this weekend in the CAM2 Racing #9X to take part in the Queen's Royal event at the St. Francois County Raceway. On Friday's prelim night, the 410 Sprint Car A Feature will pay $5,000 to the winner, with the winner's share more than doubling for Saturday's finale, paying $10,088 to finish 1st. Tickets will be available at the track. Warm ups are set to get underway at 6PM both nights.
Paul Nienhiser Racing would like to thank their 2023 Marketing Partners for their support this season!
CAM2 Racing
Buffalo Wild Wings
MB Heating & Cooling Inc.
American Rental Center
Midland Performance
Innovative Design | Sletten Properties
Bradshaw Custom Pumping
Mason Sound
Heartland Trailer Manufacturing
AB&C Moving
Signature Signs & Design
Fierce Herbicide
Haverfield Concrete
Eric Hohmann Mowing
Wessler Bros. Agency Inc.
T&K Tree Services
Dropped Mobile
Engler Machine & Tool
Simpson Race Products
Maxim Chassis
Rider Racing Engines
Smith Titanium
Premier Powder Coating
Box3 Media
FULL RESULTS: 5/26 at Jacksonville Speedway w/Weekly 410's
Heat: S/1st, F/1st
A Main: S/4th, F/1st
5/28 at 34 Raceway w/Sprint Invaders
Heat: S/2nd, F/1st
Dash: S/4th, F/3rd
Feature: S/1st, F/1st
NEXT UP: 6/2-3 at St. Francois Co. Raceway w/410 Sprints (Queen's Royal)
SEASON STATS
Features: 11
Top 10's: 5
Top 5's: 3
Feature Wins: 2
PC: Brendon Bauman Photos
---
Article Credit: Loren Kelly-Box3 Media
Submitted By: Loren Kelly
Back to News