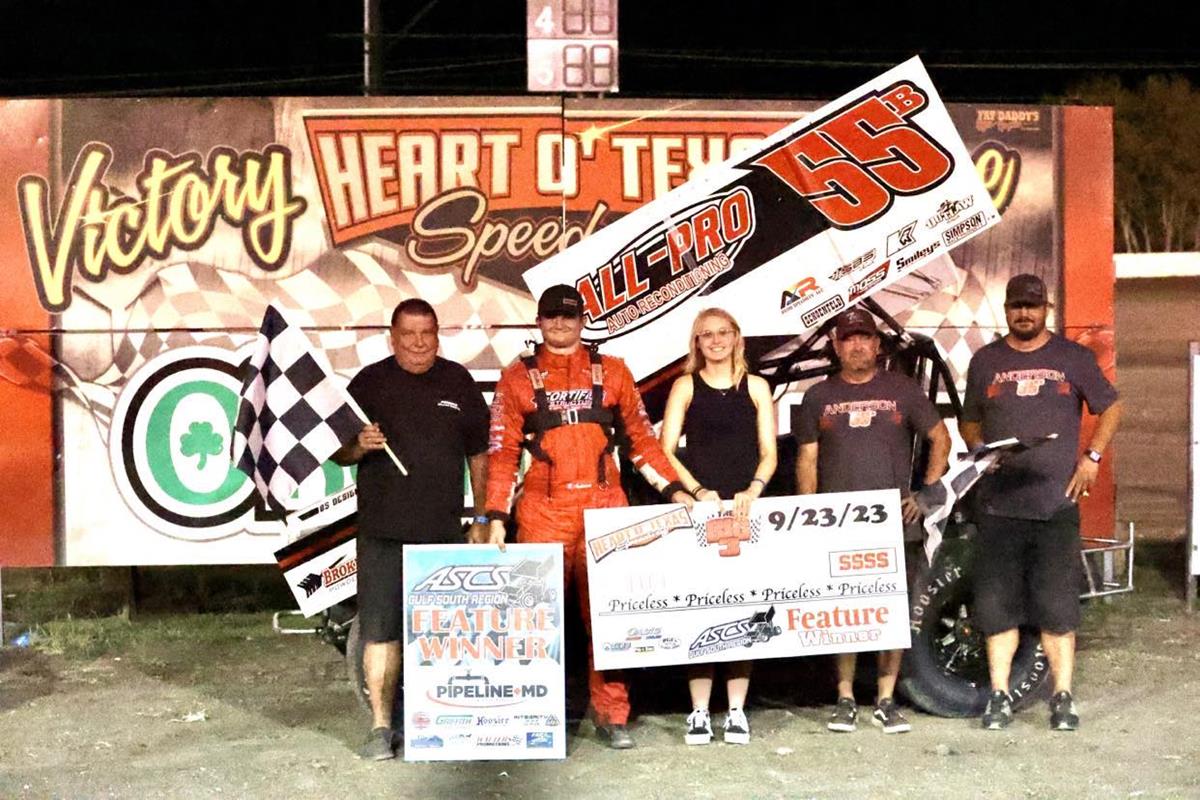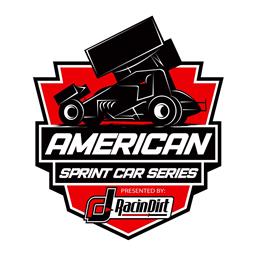 ---
Brandon Anderson Leads It All With ASCS Gulf South At Heart O' Texas
(Image Credit: David Smith, Jr.)
Bryan Hulbert – WACO, Texas (September 23, 2023) Picking up his first win of the 2023 season, Brandon Anderson headed south to the Heart O' Texas Speedway and added his name to the list of winners with the ASCS Gulf South Region presented by Fast 5 Solutions and Pipeline+MD.
Marking the third ASCS Regional Tour that Anderson has won against, the No. 55b took off from the pole and went unchallenged through 25 laps to win by 3.351-seconds. Shane Morgan crossed second, with Jason Howell in third. Rees Moran and Austin Mundie completed the top five.
The ASCS Gulf South Region presented by Fast 5 Solutions and Pipeline+MD has one more show in 2023 at Texana Raceway on Saturday, September 30.
Taken over by Chris Walters (Walters Promotions, LLC), the series is looking forward to a full slate in 2024. Anyone with questions about the series can call Chris at (281) 475-1919.
Support for the ASCS Gulf South Region is provided by Fast 5 Solutions, Pipeline+MD, Griffith Truck and Equipment, Precision Spray Foam, C4 Branding, What Makes Us Fire Foundation, Dusty Moon Veterinary Service, Top Coat Fabrication, Willy's Racing Products, and Integrity Cleaning.
Race On Texas will have live coverage of Saturday's event.
The 2023 season will mark the 32nd year of competition for the American Sprint Car Series. Spearheaded by the American Sprint Car Series National Tour, the ASCS Nation includes Regional Tours that encompass both wing and non-wing competition.
For other news, notes, and information on any of the tours under the ASCS banner, log onto http://www.ascsracing.com, follow on Facebook, Instagram, and Twitter (@ascsracing).
Race Results:
ASCS Gulf South Region
Heart O' Texas Speedway (Waco, Texas)
Saturday, September 23, 2023
Heat 1 (8 Laps): 1. 55B-Brandon Anderson[6]; 2. 42P-Preston Perlmutter[1]; 3. 2-Breckton Crouch[2]; 4. 25B-Blaine Baxter[3]; 5. 74E-Claud Estes III[4]; 6. 93-Chris Sweeney[5]; 7. 1-Paul White[7]; 8. 5-Lucas Boxwell[8]; 9. 17T-Tyler Harris[9]
Heat 2 (8 Laps): 1. 4-Austin Mundie[1]; 2. 0-Eric Baldaccini[3]; 3. 74-Colby Estes[5]; 4. 9-Kevin Rutherford[2]; 5. 15-Michael Colaluca[4]; 6. 3-Willie Reed[6]; 7. 16-Blake Baccus[7]; 8. (DNS) 96S-Brandon Sampson
Heat 3 (8 Laps): 1. 35-Shane Morgan[2]; 2. 44P-Jason Howell[5]; 3. 22M-Rees Moran[6]; 4. 91T-Tyler Thomas[8]; 5. 27-Kody Keimig[1]; 6. 57P-Peter Walker[4]; 7. 56B-Kyle Belli[7]; 8. 33C-Casey Carter[3]
Brazos Tractors and Powersports B Feature 1: 1. 3-Willie Reed[2]; 2. 93-Chris Sweeney[3]; 3. 1-Paul White[5]; 4. 16-Blake Baccus[6]; 5. 57P-Peter Walker[4]; 6. 27-Kody Keimig[1]; 7. 56B-Kyle Belli[7]; 8. 5-Lucas Boxwell[8]; 9. 17T-Tyler Harris[9]; 10. (DNS) 33C-Casey Carter; 11. (DNS) 96S-Brandon Sampson
Pipeline MD A Feature 1 (25 Laps): 1. 55B-Brandon Anderson[1]; 2. 35-Shane Morgan[3]; 3. 44P-Jason Howell[2]; 4. 22M-Rees Moran[4]; 5. 4-Austin Mundie[5]; 6. 42P-Preston Perlmutter[9]; 7. 91T-Tyler Thomas[6]; 8. 25B-Blaine Baxter[11]; 9. 9-Kevin Rutherford[12]; 10. 74E-Claud Estes III[13]; 11. 74-Colby Estes[8]; 12. 93-Chris Sweeney[16]; 13. 3-Willie Reed[15]; 14. 1-Paul White[17]; 15. 57P-Peter Walker[19]; 16. 16-Blake Baccus[18]; 17. 27-Kody Keimig[20]; 18. 15-Michael Colaluca[14]; 19. 2-Breckton Crouch[10]; 20. 0-Eric Baldaccini[7]
---
Submitted By: Bryan Hulbert
Back to News