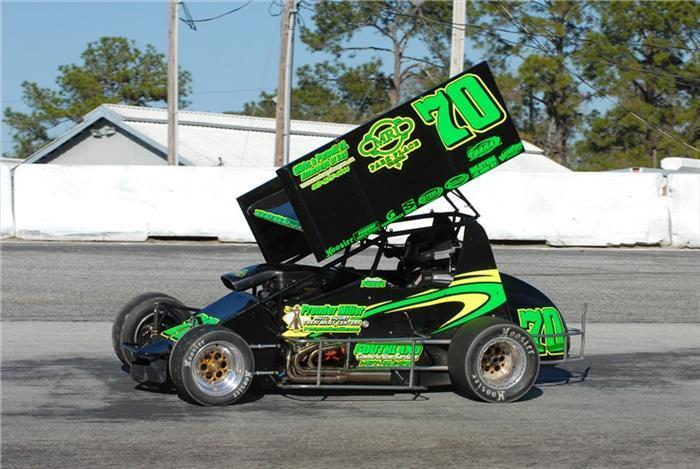 ---
TBARA VISIT TO FIVE FLAGS SPEEDWAY, PENSCAOLA, FL
[i PENSCAOLA, Fla. ]- The Tampa Bay Area Racing Ass'n. made their first of two planned visits this season to the fast half mile of Five Flags Speedway Friday night and it was Joey Aguilar the victor in the 30 lap sprint car feature after a wire to wire run from the pole position.
Aguilar paced the 21 car field at the drop of the green flag over fellow front row starter Ben Fritz and Bo Hartley. The man on the move was Shane Butler as he worked through traffic from his eighth starting slot. Always fast Troy DeCaire in the Rudolph 68 brought out a yellow flag on lap 13 when the left front wheel departed and he pounded the concrete. DeCaire was unhurt but the same can't be said for his car.
When the green flew once again it was Aguilar over Butler and Hartley as they clicked off laps in the 14 second bracket like clockwork. It was a yo-yo deal among the front trio as Butler could run down Aguilar before Joey would stretch it out on Shane with Hartley only a few car lengths back. The pace slowed somewhat in the close laps as Hartley ran down both Aguilar and Butler but all three were mindful of the rough track surface and the condition of their tires due to the rough track surface.
When the checkers flew it was Aguilar for his first victory in Doc Miller's 78 ahead of Butler, Hartley, Dude Teate and D.J. Hoelzle.The second five consisted of Larry Brazil, Fritz, Michael Miller, Tommy Nichols and fast qualifier Brian Gingras.
Heat race victories fell to Aguilar, Hartley and Fritz.
The next event is set for March 27 at DeSoto Super Speedway in Bradneton, Fla.
Back to News