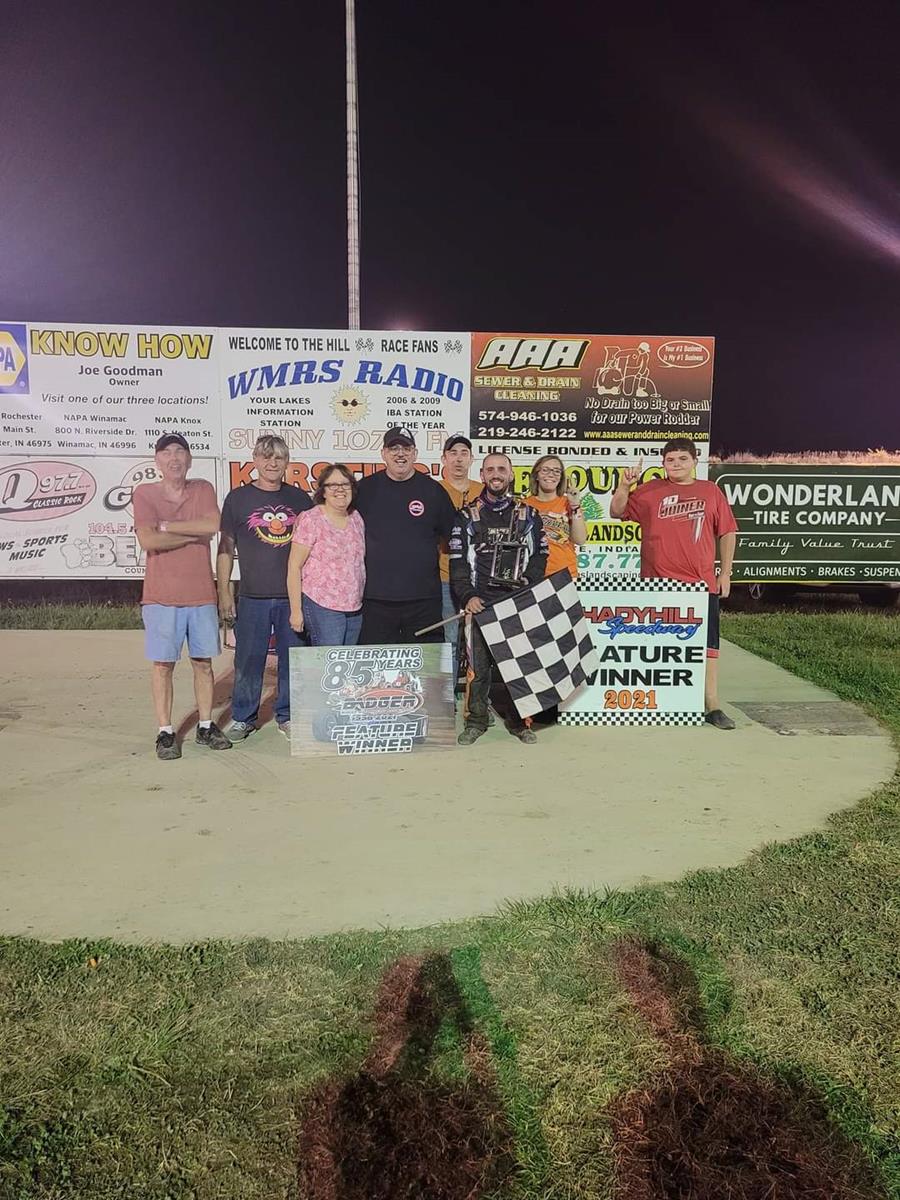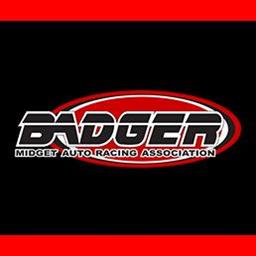 9/19/2021
Badger Midget Auto Racing Association
---
"Taylor Sweeps Shadyhill Speedway in Badger Finale"
September 19, 2021, Medaryville, IN-- The Badger Midget Auto Racing Association closed out its 85th season of racing on Saturday night at the Shadyhill Speedway in Medaryville, IN. Adam Taylor of nearby DeMotte, Indiana, capped the season off with a clean sweep at the ¼ mile high banked oval earning his first career BMARA feature victory.
The evening began with Schoenfeld Headers qualifying and the return of single-car qualifying for the event. Taylor, driving the Jones Engineering Spike/Honda, did not disappoint by establishing a track record of 14.968 seconds. In heat race action, Daltyn England from Springfield, Illinois driving his Spike-powered Chevy won Behlings Race Equipment Heat #1, and Taylor won Simpson Race Products Heat #2.
Dave Collins, starting from the pole position, jumped out to pace the field early. The first caution flag flew on lap seven involving Chris Adrien and Lamont Critchett bunching the field together. Aaron Muhle and Taylor starting from eighth and tenth positions respectively began moving through the field using both high and low grooves. On the restart, Kevin Douglas made a pass for the lead entering turn three, and brought three cars with him. The leader was shuffled to the fifth position coming back to complete lap eight. The final caution of the night flew on lap ten for Mike Stroik. Taylor, running second, used the high groove off of turn two to pass Douglas for the lead on lap 12. Muhle working the high line passed Douglas for second a few laps later but was unable to run down the leader. Rounding out the top five were Douglas, England, and Michigan's Carl Peterson.
Howard Law Cash Draw: RJ Corson
Badger Midget Series Points: 1. Chase McDermand 1905; 2. Zach Boden 1359; 3. Lamont Critchett 1250; 4. Kyle Stark 1089; 5. Andy Baugh 997; 6. Kevin Olson 996; 7. Kevin Douglas 986; 8. Mike Stroik 938; 9. Cody Weisensel 883; 10. Kyle Koch 883.
Stay connected by visiting BMARA.com and the BMARA Racing Facebook page for additional announcements and information regarding upcoming events.
Badger Midgets 18 Entries
Lap Leaders: Dave Collins 1-7, Kevin Douglas 8-12, Taylor 13-25.
Advanced Race Suspension Hard Charger: Adam Taylor
A Feature 25 Laps
5X-Adam Taylor[10]; 2. 24-Aaron Muhle[8]; 3. 6-Kevin Douglas[4]; 4. 19E-Daltyn England[6]; 5. 49P-Carl Peterson IV[14]; 6. 40JR-Dave Collins Jr[1]; 7. 21K-Kurt Mayhew[7]; 8. 1-Scott Koerner[17]; 9. 10-Denny Smith[3]; 10. 8-Jake Goeglein[12]; 11. 29-Harrison Kleven[2]; 12. 71-Kyle Koch[15]; 13. 31-Shay Sassano[13]; 14. 9S-Mike Stroik[11]; 15. 15C-RJ Corson[5]; 16. 3A-Chris Adrien[9]; 17. 6B-Lamont Critchett[16]
Heat 2 10 Laps | Simpson Race Products
5X-Adam Taylor[9]; 2. 21K-Kurt Mayhew[7]; 3. 24-Aaron Muhle[8]; 4. 40JR-Dave Collins Jr[1]; 5. 6-Kevin Douglas[4]; 6. 9S-Mike Stroik[5]; 7. 31-Shay Sassano[2]; 8. 71-Kyle Koch[6]; 9. 1-Scott Koerner[3]
Heat 1 10 Laps | Behlings Racing Equipment
19E-Daltyn England[6]; 2. 15C-RJ Corson[4]; 3. 3A-Chris Adrien[8]; 4. 29-Harrison Kleven[2]; 5. 10-Denny Smith[3]; 6. 8-Jake Goeglein[1]; 7. 49P-Carl Peterson IV[5]; 8. 6B-Lamont Critchett[7]
Qualifying | Schoenfeld Headers
5X-Adam Taylor, 14.968[6]; 2. 3A-Chris Adrien, 15.230[1]; 3. 24-Aaron Muhle, 15.607[2]; 4. 6B-Lamont Critchett, 15.691[4]; 5. 21K-Kurt Mayhew, 15.951[13]; 6. 19E-Daltyn England, 15.995[15]; 7. 71-Kyle Koch, 16.030[9]; 8. 49P-Carl Peterson IV, 16.109[7]; 9. 9S-Mike Stroik, 16.128[14]; 10. 15C-RJ Corson, 16.162[12]; 11. 6-Kevin Douglas, 16.225[16]; 12. 10-Denny Smith, 16.244[11]; 13. 1-Scott Koerner, 16.442[3]; 14. 29-Harrison Kleven, 16.460[5]; 15. 31-Shay Sassano, 16.508[10]; 16. 8-Jake Goeglein, 16.542[17]; 17. 40JR-Dave Collins Jr, 16.556[8]
Back to News