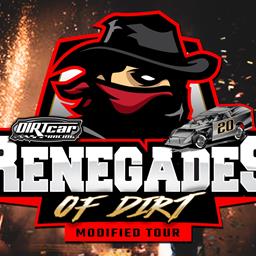 Renegades of Dirt Modified Tour
Series Information
About Us
The boys are back and the tour is riding to an all-new level! The Most Wanted Modifieds in Motorsports put it all on the line for your viewing pleasure!
The Renegades of Dirt Modified Tour will continue to introduce a new era into the open wheel modified scene in the Mid-Ohio Valley. The Renegades of Dirt Modified Tour is the evolution of the long standing success of short track dirt racing in the Ohio Valley region and the most popular form of dirt track racing in the United States the open wheel modified. The Renegades of Dirt Modified Tour features the 'most wanted' modified drivers in the Eastern U.S. as they showcase their skills at premier events and facilities throughout the region.
Debuting in 2012 the Renegades of Dirt would witness Bobby Kitchen became the inaugural tour champion followed by Rick Aukland (2013), Kyle Strickler (2014), Derrick Ramey (2015) and Jacob Hawkins (2016). In 2017 and 2018 only specials were ran under new ownership. Purchased back by EDGE Entertainment in 2019 the Renegade tour showcased once more with Michael Altobelli winning his first championship!
In 2020 the series will utilize old school traditions, unified rules, new school talent, high speed excitement, and star an explosive cast of characters to produce jaw dropping action as the best weekend warriors sling dirt this season as they battle it out for the lucrative title as Renegades of Dirt Champion!