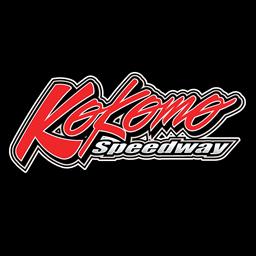 Kokomo Speedway
Kokomo, IN
Track Information
Track Information
NOTICE: COVID-19 While we have taken reasonable precautions to minimize the risk of exposure to COVID-19, it is impossible for us to eliminate all risk. Please help us protect you and your family by observing proper social distancing, washing your hands often and following other protective guidelines as recommended by the CDC. If you have been diagnosed with or exposed to COVID-19 or are otherwise concerned about becoming sick from the virus, please do not enter the property and instead plan to join us for a future event. We will comply with all guidelines set in place by the state of Indiana, and expect our guests to do the same. Thank you
Kokomo Speedway is a fast, 1/4 mile semi-banked clay oval located at 2455 North Davis Road in Kokomo, Indiana. The storied speed plant commenced operation in 1947 and will embark on its 72nd. season in 2019. Kokomo Speedway season runs from April to October.
RACEDAY AND GENERAL INFORMATION
For race day information, please call the track phone at 765-459-3877. If weather conditions are questionable, changes or cancellations will be immediately recorded there, as well as posted on our website, Facebook and Twitter pages.
Kokomo Speedway is a family-oriented facility. We offer a family seating section that prohibits alcohol; it is located on the north half of the front stretch grandstands.
GENERAL SEATING AND HANDICAP ACCESS
There is a full grandstand in both the front and backstretch areas, as well as a grandstand in the pits. Handicap parking is located in the front grandstand parking lot, and ramps lead to the grandstands in the front stretch. Lawn chairs are not allowed, as there are no areas in the facility that can accommodate them.
TICKET SALES AND RACE TIMES
This information varies per event. Please see the event schedule for pricing and times. There are ticket windows at the front stretch grandstands, backstretch and pit ticket window.
AMENITIES
We offer a souvenir shop, closed-circuit television screens, two full-service concession stands, permanent front and back stretch restrooms and a beer garden in both the front and backstretch areas.
PARKING
Parking is available in front and the backstretch. Parking is first come first serve. No saving parking spots allowed.
STADIUM SEATS
As a courtesy to the other patrons around you we ask no stadium seats larger then 12" long and 15" wide.
RAIN OUT POLICY
If the halfway point in the program (heat races) has been completed, rain checks will NOT be issued, but all features will be run at a future event. If the halfway point has not been completed, your wristband will be honored at another designated event or new date for that event. Refunds are not given at any point in the event, nor at a rainout.
COOLERS AND FOOD
Coolers or carry-in food are not allowed in any part of the grandstands. If you have special dietary needs that are not met by our concessions, you can exit the facility to obtain and consume items at your vehicle.
CAMPING
During race events, free camping is permitted in the campground located at the south end of the property for those purchasing race event tickets, no hook-ups. Please keep campground clean during your stay and clean up your area before you leave. Do not leave trash behind. Be respectful to camping neighbors. No fireworks. Campfires must have fire ring, you are responsible for fire safety. Friendly pets are allowed in campground but must be leashed at all times and under pet owner's constant watch. When not watching pets they must be placed indoors for safety of all guests. Please clean up after your pets immediately. No 4-wheelers or other motorized sports vehicles are allowed in campground or parking lot. They are only allowed inside pit/racetrack area during designated race times. Golf carts are allowed in campground.
If rules are broken, camping privileges can be revoked.
Reserved camping is required for the Sprint Car Smackdown event at $50.
NO ENTRANCE UNTIL OPEN FOR BUSINESS
In preparation for an event, our gates may be open for employees to enter and exit while working to get the facility ready for the event. We ask that patrons do not enter the facility for any reason until we are officially open for business at the time advertised. Blankets or other items are not allowed to be placed in the grandstands until our ticket window is open.
SAFETY
For the safety of our guests, the entire property is under video surveillance at all times. Before, during and after all events, there are both uniformed and non uniformed police officers on duty. When entering the facility, always be aware of events on the track in case of any flying dirt or debris to avoid injury. By entering the facility, you assume that risk.
Thank you.
Fan Info
Tents and campers (no hookups)
No coolers allowed
ATM on site
All major credit cards accepted
Parking information unavailable
Front & back stretch grandstands
WiFi information unavailable
Family Info
Open family seating
Playground information unavailable
Restroom information unavailable
Pit Info
Fans allowed in pits
Pit concessions available
Electrical information unavailable
Fuel available at the track
Check-in information unavailable
Placement information unavailable
Surface information unavailable
Tire information unavailable