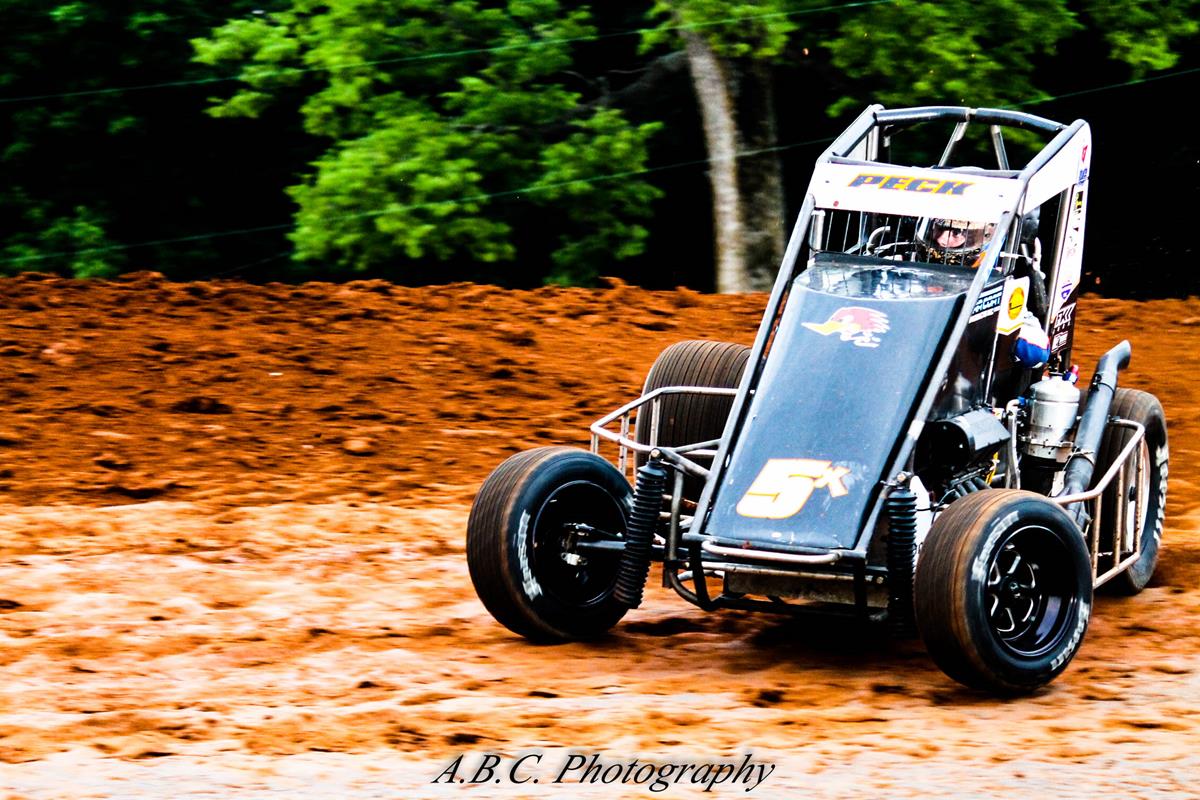 11/4/2015
---
Peck Aims For Turnaround at Turkey Night Grand Prix
(Photo by A.B.C. Photography)
MONROVIA, Ind. – A season full of excellent performances marred by bad luck has continued for Justin Peck. Five top-three starts in the seven races following his September 15 POWRi victory at Spoon River Speedway in Lewistown, Ill., but just one of those seven culminated with a feature finish. Issues with torsion bar stops ended races early on multiple occasions for the Mooresville (Ind.) High School junior, including his bid from the pole position in the "Jason Leffler Memorial." Peck and his team plan to travel to Perris, Calif. for the "Turkey Night Grand Prix" on Thanksgiving Day, hoping the misfortunes are behind them.
Peck's recent bout of bad breaks began at Tri-State Speedway in Haubstadt, Ind. on September 26. An eighth-to-third rally in his heat race earned him the opportunity to start on the front row, alongside former POWRi National Midget champ Andrew Felker. Peck took the lead on the opening circuit, but a stripped torsion stop forced him to pull to the infield.
The next week, Peck and his Dura Coat Products-sponsored No. 5x started 14th in the main event at Belle-Clair Speedway's "Meents Memorial," but an opening-lap incident involving eight other competitors hindered his race car's handling. Soon after, Peck was again spun around, and his night was over.
The following night, October 3, Macon (Ill.) Speedway was up for more POWRi action. Peck swapped rides for the night, instead driving Bill Ecker's Spike/Fontana No. 57. Though the group began to mesh as the night went on, Peck was again caught up when another driver spun ahead of him on two separate occasions, and another DNF was the result.
Back in his own DRC/Esslinger for the "Shaheen's Super Weekend" doubleheader at Jacksonville (Ill.) Speedway, Friday night began with an excellent pill draw that put Peck on pole of heat one. He handily won that event, putting him outside front row for the main event. Using the high side of the tight quarter-mile, Peck jumped out front on the start. 2014 Chili Bowl Champ Bryan Clauson ultimately took the lead from him, and Peck's subsequent slidejob attempt to retake the top spot collected Tyler Thomas, and the pair were out of the race.
On night two at Jacksonville, Peck's pill draw was quite the opposite of the previous night. Nevertheless, the Monrovia, Ind. native hustled forward five spots in his heat race to take third. That effort was good enough to start third in the 30-lap main event. Up to second initially, Peck's machine started to wane in the coming laps, but was thankful just to finish a race. Peck finished ninth.
Back home again in Indiana, the Peck Motorsports crew made their way north to Kokomo Speedway for the "Kokomo Klash" On October 16, a non-sanctioned event. After starting third in heat one, Peck drove to a win. The heads-up lineup procedure put him on pole for the 25-lap feature. Shane Cottle took the lead initially, but Peck stayed in hot pursuit. When Cottle pulled off around the halfway point, the lead was Peck's by default. Soon after, however, Peck would join Cottle in the infield after another torsion stop stripped out and caused him to bicycle the DRC machine, nearly flipping. The DNF came late enough in the race that Peck was still credited with 13th place.
One week later, Peck was back in action in Illinois, this time at Wayne County Speedway in Wayne City, for the "Jason Leffler Memorial," the highest-paying midget race of the year at $20,000-to-win. The pit area was bustling with 53 teams in action. In the sixth of seven heat races, Peck started from the sixth spot, but quickly moved forward to battle with Oklahoman Jonathan Beason for the win. Beason took the checkered with Peck in second. Next up was four qualifiers, and Peck would compete in qualifier one. From outside the front row, Peck masterfully navigated the tiny eighth-mile oval. After taking the lead on the start, he led all 12 laps to win, earning the pole position for the main event. Aligning with his recent races, more trouble was on the way. Peck was able to complete little more than one lap before the left rear torsion stop broke and another event was over for Peck due to mechanical issues.
Making his first racing trip to the west coast, Peck now has his sights set on Perris Auto Speedway in Southern California. The USAC National Midget Series joins their Western Midget counterpart for their season finale, the 98-lap "Turkey Night Grand Prix,"on November 26. Following that event, Peck will compete in the "Indy Invitational" indoor race at Bankers Life Fieldhouse on December 12, and travel to Southern Illinois Center in Du Quoin seven days later for the "Junior Knepper 55" to conclude his 2015 dirt midget schedule.
Peck would like to thank Dura Coat Products, Factory Kahne, Simpson Race Products, Lucas Oil, Keizer Wheels, Hoosier Racing Tire, Saldana Racing Products, Pit Stop BBQ & Grill, Quick Change Products, and Spider Graphix, as well as his parents, Joe Devin, Carl Thomas, Rich Gabel, Jon Steed, Mike Gass, Zack Burks, and all of his fans for their continued support.
2015 Stats
32 races, 25 features, 2 wins, 3 podiums, 4 top fives, 11 top tens, 13 DNFs
Social Media
Website: http://www.justinpeckracing.com
Facebook: http://www.facebook.com/justin.racing.9
Twitter: http://twitter.com/justin_peck5
Instagram: http://instagram.com/justin_peck5
---
Article Credit: Redbeard Promotions
Back to News