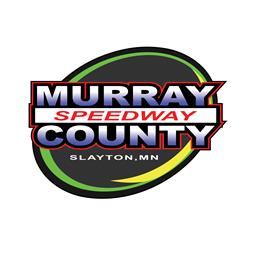 Murray County Speedway
Slayton, MN
Track Information
About
The Murray County Speedway is located on the southwest corner of the Murray County Fairgrounds in Slayton. The existence of the racetrack goes back to the 1930's when there was a 1/2 mile horse racing track. Later, the track was converted to a 3/8 mile track. The infield of the track was also the football and baseball fields for Slayton High School, until the early 1960's. In the early 1970's the Slayton VFW club took over the operation of running the track on Friday nights for a few years and then the Slayton Jaycee's ran it. The track would sit idle for a short time in the early 1980's until Don Zins became the promoter. In the late 1980's the track would sit idle again until 1993. Then a group of guys, (Dave Baack, Rande Johnson, Earl Linder, Gary Muecke, Roger Tyrell), decided to form an association of members, to get the Speedway back as an active track. The first several years had the Speedway facing many difficulties that need to be worked out. However, by the mid 1990's found the Speedway holding many top notch nights, that rivaled many of the tracks in Southwest Minnesota. IMCA and USRA have been the two sanctioning bodies that the cars have raced under.
Racing on Friday nights from mid-May to early September
Grandstands --opens at 6:00pm
Racing Starts at 7:30pm
Adults - $12
Kids 8 & Under FREE
Concessions available
Pits opens at 5:00pm
Pit Entry Fee for Drivers & Pit Crews - $30 (unless note for specials)
Minors under 17 must have minor release forms signed to be in the pits
Transponders will be used for IMCA Modified, Stock Car, Sport Mod and Hobby Classes. All classes must have driver raceivers.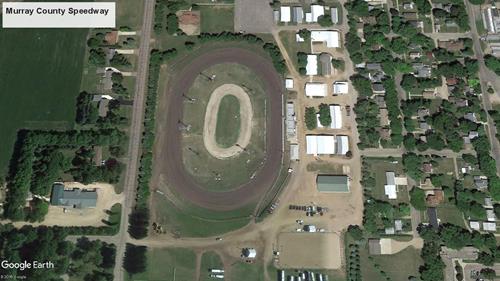 Fan Info
No camping allowed
No coolers allowed
No ATM on site
All major credit cards accepted
Grass parking
Grandstand seating
Free Wi-Fi in grandstands only
Family Info
No family seating section
No play area
Family restrooms available
Pit Info
Fans not allowed in pits
Pit concessions available
No electricity in the pits
Fuel available at the track
MRP Card accepted at the backgate
Pits located outside the track
Gravel pit surface
Tires available at the track