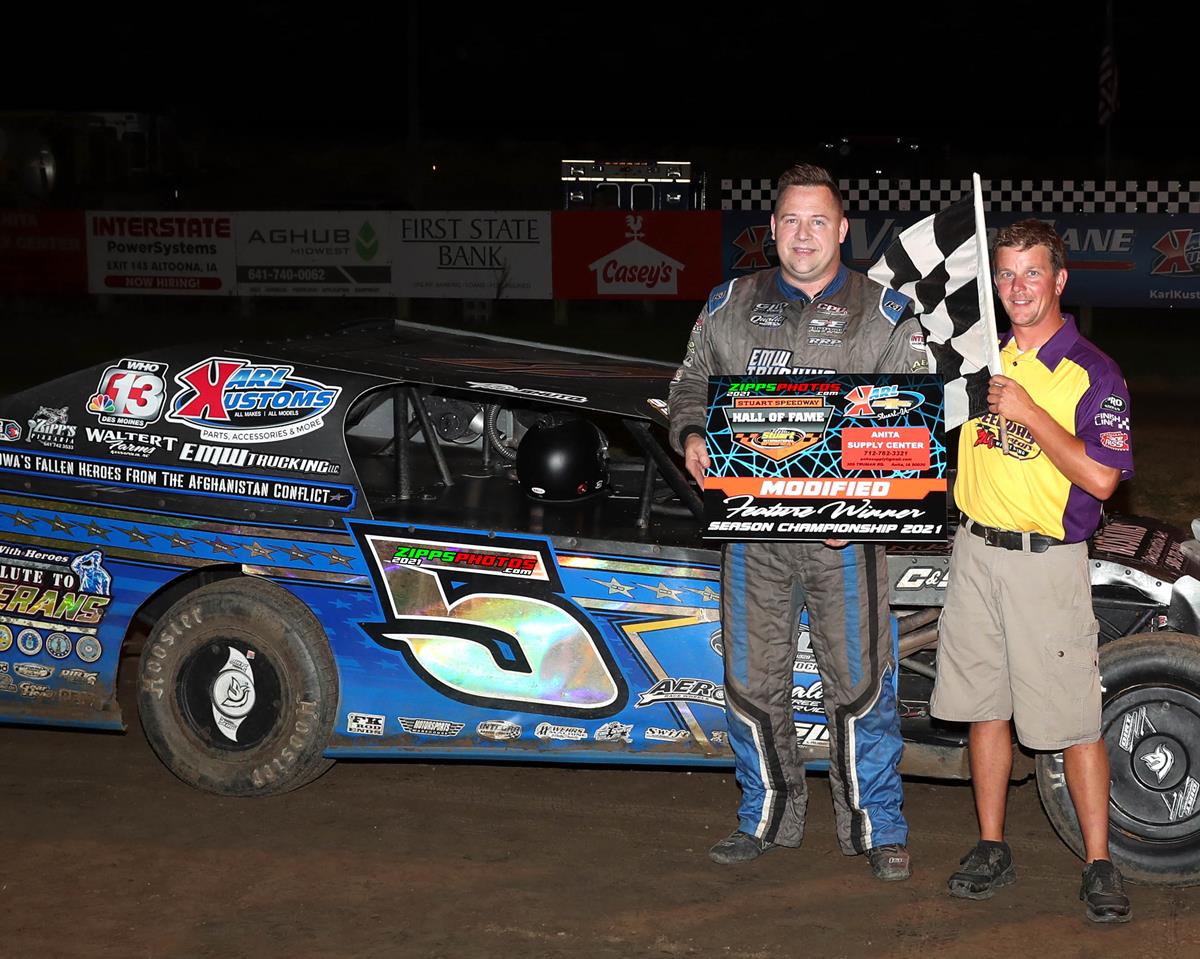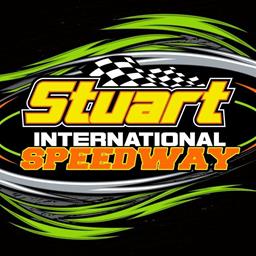 ---
2021 Track Champions Named at Stuart Speedway
92 cars made their way to Stuart Speedway for season championship night presented by Karl Chevrolet of Stuart and Anita Lumber Company. Feature winners for the night were Kaden Rice, Josh May, Kolby Sabin, Brayton Carter, Luke Ramsey, Todd Shute, and Matt Avila.
The third round of Stuart Speedway Hall of Fame inductions took place at intermission with Jeff Anderson, Steve Jackson and Michael "Wombat" Walrod getting the most votes at the August 1st show. Congratulations to these three Stock Car drivers from Stuart Speedway!
First up on the night's racing was the Outlaw Mini Mods with Zoey Yaw and Glenn Orr out front at the drop of the green flag. Kaden Rice was the early leader before contact between Gage Hilgenberg and Dan Kline sent Kline rolling through turn four and onto the front stretch. Kline was ok, but his night was over. Orr took over after the red flag, but Rice took back over with two laps to go and went on to the win. Kamdyn Haggard finished second with Orr third, Gale Worthington fourth and Bobby Daniels fifth. Haggard ended as the point champion with a 15 point lead over Lucas Daniels. Congratulations Kamdyn!
IMCA Mod Lites were up next with Travis Messamer and Dustin Ford on the front row. Cory Sonner shot to the lead, but it was Josh May using the top side of the track to move into the lead on lap six. Sonner worked high and low but there was no stopping May as he went on to the win. Sonner finished second with Ford third, Ben George fourth and Messamer fifth. May finished the year as the point champion with a 23 point advantage over Sonner. Congratulations Josh!
Mark Smith and Dusty Champlin started out front for the IMCA Sport Compacts with Smith sliding into the lead on lap one. Mitchell Bunch muscled his way into the top spot on lap three, but it was Kolby Sabin driving through the pack to take the lead on lap twelve and he would go on to the win. Curtis Masterson finished second with Bunch third, Smith fourth and Tyler Fiebelkorn fifth. Sabin was named the track champion with a 4 point lead over Masterson. Congratulations Kolby!
IMCA Northern SportMods were up next with Josh Sink and Chris Burke on the point. Sink took the early lead with David Schwartz and Burke close behind. Colton Nelson worked the bottom of the track to get to second on lap five as Sink continued to lead. A couple of cautions brought the field to Sink's bumper and it was Brayton Carter powering to the lead on lap fifteen. Hunter Longnecker made it to second a lap later but it was Carter taking the comfortable win. Longnecker finished second with Sink third, Nelson fourth and Brett Vanderheiden fifth. Carter ended as the point champion with a 56 point lead over Dusty Masolini. Congratulations Brayton!
Josh Killen and Colby Christensen were on the front row for the IMCA Hobby Stocks and it was Christensen shooting out to a sizeable lead over Luke Ramsey and Tyson Overton. Ramsey had a little contact with Christensen as he passed him for the lead on lap eight and drove off to the win. Rusty Bates had a great drive to finish second with Christensen third, Brandon Cox fourth and Overton fifth. Eric Stanton finished the year with a 12 point lead over Cox. Congratulations Eric!
IMCA Modifieds were up next with Randy Foote and Josh Cooper showing the way to the green flag. Foote led early with Paul Nagle and Josh Gilman ready to pounce in second and third. Nagle pushed hard on lap six and allowed Gilman and Todd Shute past him just before the yellow came out. Once the green flew it was Shute, who started tenth, flying into the lead and he would sail to the easy win. Gilman finished second with Tom Berry Jr third, Nagle fourth and Foote fifth. Gilman ended his championship run with a 20 point lead over Chase Rudolf. Congratulations Josh!
Last up for the features was the IMCA Stock Cars with Scott Bailey and Corey Piffer on the front row. Bailey led Piffer and Matt Avila until Avila moved by on the bottom side on lap seven. Brock Badger followed into second a lap later and it was Avila leading at the halfway point. The yellow flag flew on lap eighteen, setting up a two lap shootout to decide the race. Badger gave it his all but Avila was too strong and went on to the win. Badger finished second with Brandon Pruitt third, Todd VanEaton fourth and Jeremy Gettler fifth. Buck Schafroth finished the season with a 9 point lead over VanEaton to claim the championship. Congratulations Buck!
Mechanic and Powder Puff races rounded out the night with fendered and non-fendered cars on the track together. Mechanics races saw Marcus Fagan return to victory lane in the non-fendered class and Colton Nelson took the fendered class win. Powder Puffs had Mathison Twigg taking the win in the non-fendered division and Wendy Huss was victorious in the fendered class. Lastly was the Mini Mod/Mod Lite Mechanics race with Nathan Buchanan coming out as the winner.
We'd like to thank all who came out to support the race track at our twelfth and last event of the season. We would like to thank all of the drivers and fans for coming out all year long, details for the banquet will be coming out soon. Have a great offseason and we'll see you all next year!
---
Article Credit: Josh Reynolds
Article Images
Back to News