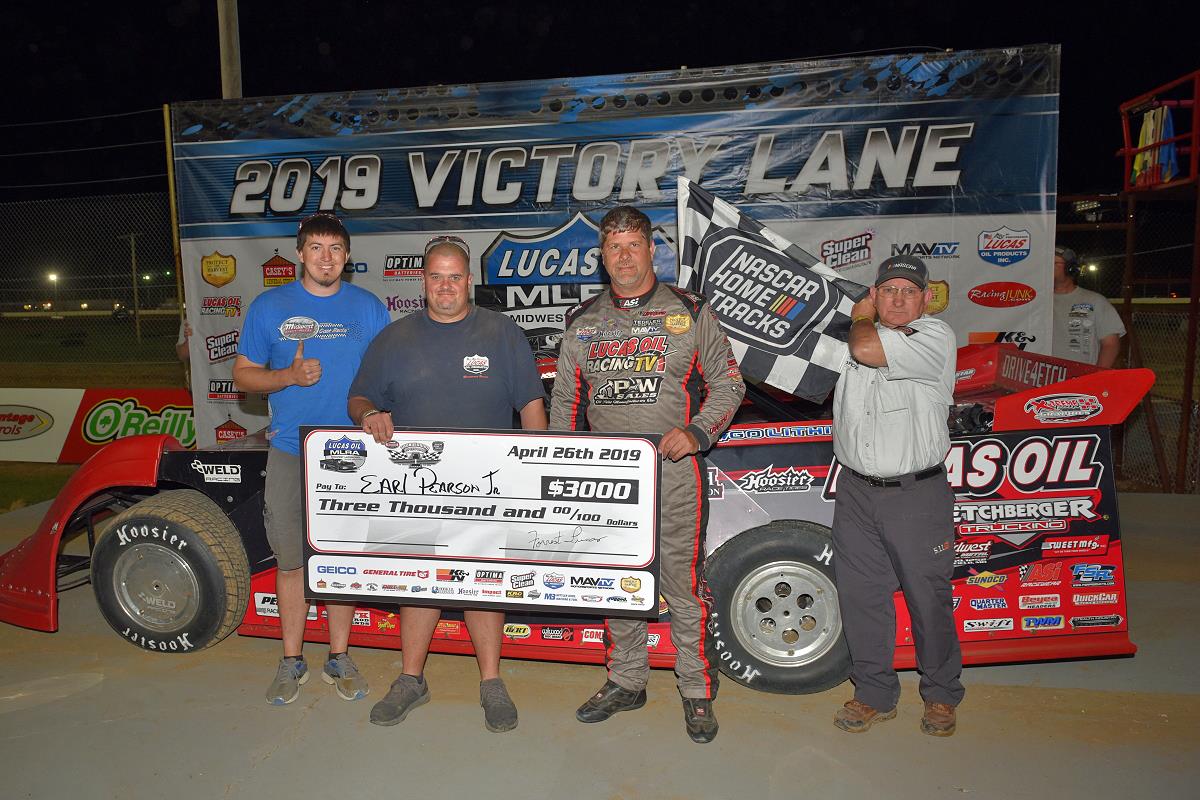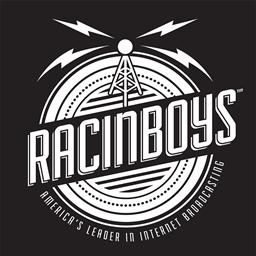 ---
Pearson drops in MLRA and wins at Thunderbird
By Billy Rock, Lucas Oil MLRA PR (Muskogee, OK) -- An unplanned visit to the Thunderbird Speedway paid off on Friday night for Earl Pearson Jr. as he captured the $3,000 to win Lucas Oil MLRA main event presented by Bravado Wireless. Following an early cancellation of the Lucas Oil Late Model Dirt Series event scheduled for the Tri-City Speedway in Granite City, IL, Pearson and his Black Diamond race team made the haul to the "Historic ½ Mile" located in Muskogee, OK and led then entire distance enroute to the win.
PHOTO CREDIT: Lloyd Collins -- http://www.FastTrackPhotos.com
Coming into the weekend second in the LOLMDS standings, Pearson would line up on the outside front row for the 25 lapper alongside DirtonDirt.com pole award winner Will Vaught. Pearson jumped to an early advantage as the duo crossed the stripe and was able to fully clear the XR1 Rocket of Vaught exiting turn two.
In a race that would go the distance caution free, Pearson easily cruised to the win, with his biggest competition coming from lapped traffic as the race progressed. Vaught crossed the line in the runner-up position coming in 3.025 seconds behind Pearson, who collected his 4th career win with the MLRA Series.
Knowing how critical the initial start would be to determining the outcome Person stated, "That was going to be the race (turn one) there ain't no doubt about it. He (Vaught) slipped up there and the track took a little bit of rubber right around the bottom, so once we got out in front I just had to stay on the bottom and run my own race." The veteran Pearson concluded saying, "Any time we're not on the Lucas Series we enjoy coming over and running the MLRA."
Perhaps some of the best racing of the night came from positions three to five. Payton Looney methodically made his way through traffic coming home in the third position, as his Atnip Motorsports entry had a great rebound following a disappointing DNF at last week's Slocum 50 at 34 Raceway. Mitch McGrath followed Looney across the line in fourth after picking up a win in his qualifying heat, with Logan Martin finishing in the fifth slot. By virtue of Martin's five position gain, he collected the Casey's General Stores Hard Charger of the Race Award.
Saturday night will present the first real short track challenge of the season for the cars and stars of the Lucas Oil MLRA. Teams will converge at the ¼ mile Caney Valley Speedway for the series forth event of 2019 and the first time at Caney since 1996. Racing action is set to get under way at 7:00pm.
Thunderbird Speedway Contingencies 4/26/19
Allgaier Motorsports Racing Shocks Award - Will Vaught
Casey's General Store's "Hard Charger of the Race" - Logan Martin
Cedar Creek Beef Jerky "Most Laps Led" - Earl Pearson Jr.
DirtonDirt.com "Pole Award" - Will Vaught
Hooker Harness "11th Place Finisher" - Jesse Stovall
Midwest Sheet Metal "Points Leader Spoiler Challenge" - Will Vaught
Mittler Brothers Machine and Tool "Crew Chief of the Race" - Garrett Alberson
Performance Bodies "Performer of the Race" -Earl Pearson Jr.
RacingJunk.com "Hard Luck Award" - Jesse Stovall
Sunoco "Rookie of the Race" - Joseph Gorby
Lucas Oil Racing TV A Feature (25 Laps): 1.Earl Pearson Jr. 2.Will Vaught 3.Payton Looney 4.Mitch McGrath 5.Logan Martin 6.Billy Moyer Jr. 7.Joseph Gorby 8.Jake Neal 9.Blair Nothdurft 10.Jeremy Grady 11.Jesse Stovall 12. Richard Shepler III
Cedar Creek Beef Jerky Heat 1 (8 Laps): 1.Mitch McGrath 2.Earl Pearson Jr. 3.Payton Looney 4.Jesse Stovall 5.Blair Nothdurft
Casey's General Stores Heat 2 (8 Laps): 1.Will Vaught 2.Jake Neal 3.Billy Moyer Jr. 4.Jeremy Grady 5.Richard Shepler III 6.Joseph Gorby
For all of the latest news and information fans are encouraged to visit the series website at http://www.MLRARacing.com.
Fans may also "like" the Lucas Oil MLRA Facebook page by clicking http://www.Facebook.com/lucasoilmlra or follow us on Twitter at http://www.Twitter.com/MLRA.
---
Submitted By: Kirk Elliott
Back to News