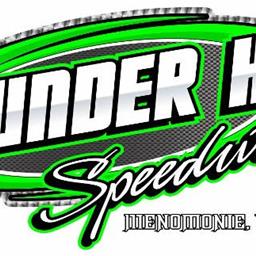 3/8/2022
Thunder Hill Speedway
---
Thunder Hill Speedway Gets Rowdy in 2022!
FOR IMMEDIATE RELEASE:
MENOMONIE, WI (March 8, 2022) Thunder Hill Speedway is proud to announce a new partnership for 2022! This year, Thunder Hill Speedway will host the 2022 Rowdy Energy Outlaw Nationals Powered By Kwik Trip! The event will be held on August 2nd and 3rd! The annual Outlaw Nationals is Thunder Hill Speedway's most prestigious event of the season. Rowdy Energy Drink is a cleaner, smarter, energy drink developed by two-time NASCAR Cup Series champion Kyle Busch & beverage entrepreneur, Jeff Church. This partnership is a perfect combination for success at this premiere event!
This event consists of all of Thunder Hill Speedway's Outlaw kart classes and this year will also include their new 600cc Micro Sprint class! Last year alone, racers came from 12 different states, and there were 100 plus entries in the 2 day event. Kyle Busch and his son Brexton visited Thunder Hill Speedway twice in 2021. From their visits, Chad Cummings (track owner) and Kyle Busch (Rowdy Energy) were able to come to an agreement on hosting the Rowdy Energy Outlaw Nationals Powered By Kwik Trip for 2022.
"Working with Rowdy Energy is a huge step in the right direction to grow our Outlaw Nationals event", said Cummings. "I am thankful for this opportunity and excited about the potential of the partnership."
Not only will Thunder Hill Speedway host the 2022 Rowdy Energy Outlaw Nationals Powered By Kwik Trip, but they will also be expanding the type of racing that will be possible at the facility. Thunder Hill will always focus on the youth of our sport with their kart racing, but this year, they will also add Micro Sprints, Wingless Sprint Cars, Winged Sprint Cars and possibly more! Making all this possible, was the expansion of the 1/8th mile track in 2021. Thunder Hill made the track wider, hauled in tons of new clay, added a containment wall and a 12' chain link fence around the racing surface to create an action-packed bull ring like no other.
Thunder Hill Speedway will sell Rowdy Energy drinks at the track and will also be at local Kwik Trip stores throughout the summer to promote Rowdy Energy Drinks and the Nationals event. At these promotional events, there will be Outlaw karts and Micro Sprints on display for the community to check out along with some ice cold Rowdy Energy. "I love doing these local promotions because it not only exposes the community to what our race events are all about, but it also promotes the great brands and businesses that support Thunder Hill Speedway," said Cummings. "We definitely look forward to working with Rowdy Energy Drink and Kwik Trip in 2022 and beyond as we continue taking everything to the next level at Thunder Hill Speedway."
Rowdy Energy Socials:
Facebook:https://www.facebook.com/rowdyenergy
Twitter:https://twitter.com/rowdyenergy
Instagram:https://www.instagram.com/rowdyenergy/
Thunder Hill Speedway:
Facebook:https://www.facebook.com/thunderhillspeedway/
About Rowdy Energy:
Rowdy Energy was founded in 2020 by accomplished NASCAR driver, Kyle Busch and notable entrepreneur, Jeff Church with a focus on wellness. The beverage is formulated with sequenced energy release of caffeine, sugar reduction ingredients, amazing taste, and higher levels of electrolytes than sports drinks. A can of Rowdy Energy has 160mg of naturally occurring caffeine. Derived from caffeine from green tea, Rowdy Energy pairs their caffeine with the nootropic L-Theanine giving you a powerful lift without the unwanted and irritable crash. The beverage is currently available in ten flavors – Strawberry Lemonade, Cherry Limeade, Peach Mango, Blue Raspberry, Sour Green Apple, Orange Citrus, Cotton Candy, Chiseled Ice, Grape and Lemon Lime – (seven of which are sugar-free and KETO certified). Rowdy Energy is available for purchase online at https://rowdyenergy.com/ and in select grocery and convenience stores nationwide.
CONTACT:
Chad Cummings
Gunner Cummings
Thunder Hill Speedway
cummings7cc@gmail.com
---
Submitted By: Chad Cummings
Back to News