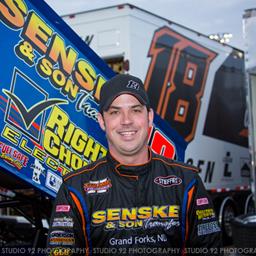 Mark Dobmeier
Grand Forks, ND
Driver Information
Number: 13
Hometown: Grand Forks, ND
Car Owner: Jimco Motorsports
Chassis: Eagle
Engine: Kistler/Fisher
Twitter: @DobmeierRacing
Website: www.MarkDobmeier.com
Sponsors: Senske & Son Transfer, Big Trucks by Jimco, Right Choice Electric, Acme Tools, X-treme Polishing, Interstate Towing & Recovery, B/L Strong Box, Steffes, Dahlstrom Motors, GLB Transport, Tireboss, Forx Radiator, Anderson Auto Body, Gary Gruhot Farms, Willow Ridge, Rose Creek, Great Plains Plumbing & Heating, Ironman Welding, DAV, Rendevous Region Construction, High Mark Snowmobile Rentals, Boss Signs & Graphics, Dobmeier Bonding
Bio: "Dynamite" Mark Dobmeier continues to be one of the winningest drivers in 410 racing in the past decade. The all-time leader in wins at his hometown River Cities Speedway, the owner of Forx Radiator and a Bail Bond company continues to tow long hours to find his racing.
Mark teamed up with Lunstra Motorsports in 2006, and during their run that concluded at the end of the 2014 season, they had nothing but great results. The effort put forth was second to none, compiling over eighty A-main event wins, two World of Outlaws wins, and five points' championships at Huset's Speedway. In their eight years competing at Knoxville, the team failed to finish out of the top six on only two occasions. In 2015, Mark will be driving for Jimco Motorsports.
Mark holds three World of Outlaws feature wins: one at Huset's Speedway and one at Wilmot Speedway in Wisconsin. He was the 2007 Knoxville Raceway 410 Rookie of the Year and is a two-time "Lyle Boyd Hard-charger Award" recipient.
Recommendations
No recommendation information