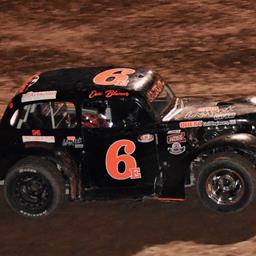 Eric Blumer
Sun Prairie, WI
Driver Information
(May, 2022) Eric Blumer is the owner, driver and chief mechanic of the 6E INEX Legend car. He hails from Sun Prairie, Wisconsin, home to Angell Park Speedway. With the help of his parents, at the age of 17 he bought his first Legend car. It was late in 2018 and he did not campaign it until the following season. From those beginnings, with the help of many great sponsors to help fund his operation and great friends who have helped wrenching on the car, Eric has built the team into a two car operation. He specializes in dirt track racing.
The idea behind a second car was to have a back up, as he often runs twice a week. That changed in 2022, where the back up "Frankenstein" had been set up for pavement racing. Eric did make his debut on pavement and acquitted himself well, finishing in the top 10 our of 15 cars.
Eric's work ethic help him to be chosen by Griffin McGrath of Cedar Rapids, IA, as one of the trackside reps for Legends Direct. Legends Direct, one of the leading Legends purveyors in the country, offers support on and off the track, providing advice and parts to racers.
In 2022 graduated from the University of Wisconsin-Platteville with a degree in Sales and Marketing.
About Eric
"It's all about connections," as Grandpa Blumer would say. And Eric's biography can't be told without including many of the people who helped him with his racing through the years.
Eric started racing karts at the age of six, primarily with the Badger Kart Club (Dousman, WI) and the Road America Karting Club (Elkhart Lake, WI). While there were wins, Eric's first championship didn't come until his early teens with family friend Brian Benisch calling the shots. Brian's son Preston also raced karts and the families often traveled together. Eric scored two Yamaha Lite championships at the C-Tech Road America Motorplex with the help of Brian. This was paved road circuit racing.
In the middle of those championships, local Midget and Sprint Car driver, Joe Wipperfurth gave Eric a dirt kart to run. Joe also helped Eric get in contact with the Sainsbury family, who were invaluable with their knowledge of dirt racing and teaching life lessons about the world of racing in general. Eric scored a championship on the little dirt oval within Beaver Dam Raceway, thanks to the help of Jerry and Steve Sainsbury.
Eric is well known for his work ethic. Since he was old enough to drive, Eric has often spent summers working seven days a week between High Performance Goaltending (Sun Prairie and Oregon, WI) and Road America in Elkhart Lake, WI.
Late in 2017, with the advice of local Legend and Midget driver, Brian Peterson, Eric (with Mom and Dad splitting the bill) bought his own Legend car, he had just turned 18 and was a senior at Sun Prairie High School.
He raced his first Legend race in 2018 and the story is still being written...
Eric attends the University of Wisconsin-Platteville, as did his dad and Grandpa Blumer. His major is business. He plays on the DIII club hockey team which is part of the American Colligate Hockey Association.
Career Highlights
(Feb. 2019) Buying and tending to his own race car and especially competing at his home track of Angell Park Speedway are two of Eric's highlights to date.
He was a class champion twice (2016 &17) at the Road America Motorplex in the Yamaha Lite kart division. The RA Motorplex is a road circuit specifically made for karting within the confines of the world renowned Road America.
He scored a senior class championship along with the "Sportsmanship Award," on the karting dirt oval within Beaver Dam Raceway in 2017.
Strapping into his own Legend car for the first time and running the "plowed field" (literally) that was the Wilcenski Farms Proving Ground was a highlight in itself. Winning a heat race (as predicted by one of his mentors, Brian Peterson) and nearly winning a second at Beaver Dam Raceway were 2018 season highlights.
Racing at his home track of Angell Park Speedway was also a highlight.
Hobbies
(May 2022) Every win is a good win! Winning the Wisconsin Legends Racing Dirt Series championship is a highlight.
Winning an A-Main at Angell Park Speedway, the track I grew up going to as a fan, is the biggest so far!
Favorites
Track

Angell Park Speedway

Event

Any race at Angell Park Speedway
Recommendations
No recommendation information