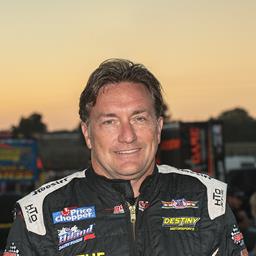 Terry McCarl
Altoona, IA
Driver Information
Number: 24
Hometown: Altoona, IA
Car Owner: TMAC Motorsports
Chassis: Silva
Engine: Rider
Twitter: @TerryMcCarl24
Website: www.TerryMcCarl.com
Sponsors: Country Builders Construction, Bosma Poultry, SnowPlow Snow Pushers – www.TheSnowPlow.com, DeBerg Concrete, Colin Bulmer, A.R.T. Speed Equipment, Berryhill Racing, Phil and Vivian, Justice Brothers/Gillund Enterprises, Hoosier Tire, Chris Spaulding – Attorney at Law, SuperFlow, Schoenfeld Headers, K&N Filters, Rens Trucking, NutriShop – Maple Grove, MN, HRP, All Pro Cylinder Heads, Bob and Beulah Elder, Engler Injection, Snap On Tools, Sposato Paint, Winters, Kilani Fender, Inc.,
Bio: In 2016, Terry reached the milestone of 300 sprint car wins. Among them was another Ronald Laney Memorial "King of the 360's" title and a "Dirt Classic" qualifier win at I-80 Speedway with the NSL. In 2015, Terry had arguably his best season since 2009, winning five features worth more than $10,000. Those included his fourth 360 Nationals win, and his preliminary night at the Knoxville Nationals. Despite battling a fractured vertebrae in his back, TMAC came home third in 410 points last season.
Terry won his seventh career track championship at Knoxville in 2012. It was his first since ripping off six in a row from 1999-2004. In 2014, he added an eighth title at the Huset's Speedway in South Dakota where he is the all-time leading feature winner. His 56 career wins here entering 2016 are fourth on the all-time list, trailing only Danny Lasoski, Doug Wolfgang and Steve Kinser. In 2014, he finished runner-up in the 410 point race. He was honored for the first time as the class's "Owner of the Year".
Terry has never failed to finish outside of the top ten in points at Knoxville since he was named "Rookie of the Year" in 1985. He was named the "Most Improved" Driver in 1986, and has been honored with the "Junior Fan Club Driver of the Year" on four occasions.
Terry is a veteran of the road as well, having competed with the All Stars and World of Outlaws through the years. He proved he can still beat the big boys when he scored a WoO win at Knoxville in July of 2016.

Terry McCarl
Birthday: 11-28-64
Resides: Altoona, IA
Wife: Lori
Children: Austin and Carson
Racing Heroes: AJ Foyt, Fred Rahmer
How He Got Into Racing: Father (Lenard) was a sprint car driver
Favorite Tracks: Huset's Speedway (Brandon, SD), Knoxville Raceway (IA) and East Bay (FL)
Toughest Competitor: I don't take anyone lightly
Hobbies: None
Music: Everything, if it is good.
Race He Would Most Like To Win: King's Royal
Worst Crash: Devil's Bowl 2002
If Not A Racer What Would He Be?: Race Promoter or Stock Broker
Biggest Win: 2003 Pella Nationals
318 Sprint Wins (Through 10-31-19)
102 (98 410 wins, 4 360 wins) at Huset's Speedway ranks 1st All-time in 410's
68 (59 410 wins, 9 360 wins) at Knoxville Raceway is 3rd All-time in 410's
Terry has sprint car wins in 21 states and Australia: California, Florida, Illinois, Indiana, Iowa, Kansas, Michigan, Minnesota, Missouri, Nebraska, Nevada, New York, North Carolina, North Dakota, Ohio, Oklahoma, Pennsylvania, South Dakota, Texas, Washington and Wisconsin.
Terry holds the following records at the Knoxville Raceway:
4 laps - 1:05.7 (June 3, 1995)
11 laps - 3:00.9 (August 29, 1998)
18 laps - 5:09.5 (July 8, 2000)
25 laps - 6:53.8 (June 27, 2009)
25 laps (360) - 7:31.8 (August 8, 2015)
Terry has won at the following 69 tracks:
Knoxville (IA) Raceway
Park Jefferson Speedway (Park Jefferson, SD)
Huset's Speedway (Brandon, SD)
Marshalltown (IA) Speedway
San Jose (CA) Speedway
King's Speedway (Hanford, CA)
Silver Dollar Speedway (Chico, CA)
Ocean Speedway (Watsonville, CA)
JAX Speedways (Jacksonville, FL)
Davenport (IA) Speedway
Savannah (MO) Speedway
Lincoln Speedway (Abbottstown, PA)
Spoon River Speedway (Canton, IL)
Quincy (IL) Raceways
Jackson (MN) Speedway
I-80 Speedway (Greenwood, NE)
Quad City Raceway (East Moline, IL)
Hawkeye Raceway (Blue Grass, IA)
Southern Iowa Speedway (Oskaloosa, IA)
Tri-State Speedway (Haubstadt, IN)
Volusia County Speedway (Barberville, FL)
Volusia Speedway - 1/3-mile (Barberville, FL)
Sharon Speedway (Hartford, OH)
Attica Raceway Park (Attica, OH)
New Castle Motordrome (Newcastle, NSW, Aust.)
East Bay Raceway (Gibsonton, FL)
KC Raceway (Chillicothe, OH)
River Cities Speedway (Grand Forks, ND)
Lee County Speedway (Donnellson, IA)
Iowa State Fair Speedway (Des Moines, IA)
Salina (OK) Highbanks Speedway
West Liberty (IA) Raceway
Jacksonville (IL) Speedway
Eagle (NE) Raceway
Cresco (IA) Speedway
US36 Raceway (Osborn, MO)
Scotland County Speedway (Memphis, MO)
Crawford County Speedway (Denison, IA)
Lake County Speedway (Madison, SD)
81 Speedway (Wichita, KS)
Cedar Lake Speedway (New Richmond, WI)
34 Raceway (West Burlington, IA)
Butler County Speedway (Rising City, NE)
Joplin (MO) 66 Speedway
Thunderbowl Raceway (Tulare, CA)
Grays Harbor Raceway (Elma, WA)
Nodak Speedway (Minot, ND)
Williams Grove Speedway (Mechanicsburg, PA)
Orange County Fair Speedway (Middletown, NY)
Ocala (FL) Speedway
Hartford (MI) Motor Speedway
Oshkosh (WI) Speedzone
Eldora Speedway (Rossburg, OH)
Dodge County Fairgrounds (Beaver Dam, WI)
Superior Speedway (Superior, WI)
Terre Haute Action Track (Terre Haute, IN)
Premier Speedway (Warrnambool, VIC, Australia)
Rapid Speedway (Rock Rapids, IA)
ELKO Speedway (New Market, MN)
Lonestar Speedway (Kilgore, TX)
Independence Motor Speedway (Independence, IA)
Tri-City Speedway (Granite City, IL)
Cedar County Raceway (Tipton, IA)
The Dirt Track at Las Vegas (Las Vegas, NV)
Lake Ozark Speedway (Eldon, MO)
Texas Motor Speedway Dirt Track (Fort Worth, TX)
Carolina Speedway (Gastonia, NC)
Hancock County Speedway (Britt, IA)
Sioux Speedway (Sioux Center, IA)
Terry has won with the following sanctions:
World of Outlaws
All Stars
World Series Sprintcars (Australia)
NARC
IRA
NCRA
ASCS
Wissota
NMRA
ESTS
Sprint Invaders
NOSA
Sprint Bandits
NST
JSTS
USCS
MOWA
National Sprint League
Nebraska 360 Sprints
MSTS
Favorites
Event

Front Row Challenge

Movie

Forest Gump

Sports Team

Vikings
Recommendations
Restaurant

Latin King

Fast Food

Arby's

Hotel

Hilton