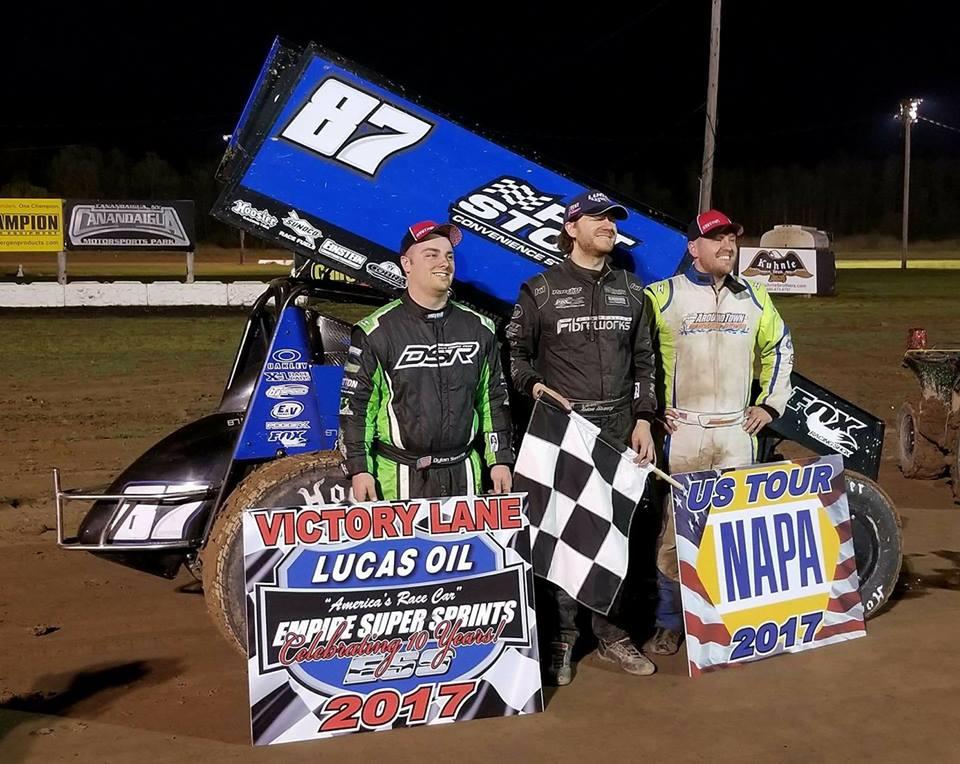 6/7/2017
Inside Line Promotions
---
Big Move Across the Country Doesn't Slow Success of X-1 Race Cars
Inside Line Promotions – MEXICO, Ind. (June 7, 2017) – From coast to coast sprint car drivers are not only running X-1 Race Cars, but they're also succeeding in them.
The company and the man behind the chassis, Ryan Linder, have faced a major transition since the start of the year. Moving from Arizona was a choice that Linder made to expand his business and make it easier to reach different race markets.
"We're finally starting to get things up and rolling," he said. "It's been a bit of a struggle getting the race operation and the business going at the same time, but the shop is all set up and we're steadily making cars."
With 12 clients this year, X-1 Race Cars is growing in size and success. Jason Barney won his third race of the season at Canandaigua Motorsports Park in Canandaigua, N.Y., with the Lucas Oil Empire Super Sprints. He's also currently leading the ESS championship standings.
"Wes Wofford has finished first and second out of two races already out in New Mexico," Linder said. "We came up with a new cage design chassis over the winter and he's already won a couple of races."
Chuck Hebing has won with an X-1 Race Cars chassis at Fulton Speedway in Fulton, N.Y., and Ryan Smith currently ranks fourth in the Arctic Cat All Star Circuit of Champions tour while driving an X-1 Race Cars chassis.
"Ryan has been close to some wins so hopefully he'll get one soon," Linder said. "Our guys are having a solid year this far and we hope it continues for them."
While picking up more clients every year, Linder is glad that he's able to create relationships with his customers and make their experience more personal.
"Because I'm a small company it allows me to focus more on each customer," he said. "I typically build and weld everything myself so I like to stay true to that level of quality and consistency."
X-1 Race Cars has a standard chassis build, but also has the capability of being customized. Barney and Linder have worked together to create a specific type of chassis that is tailored to the New York 360ci sprint car market.
"It's a car that's made more for slick tracks," Linder said. "Jason has helped me a lot with designing them and it's been pretty successful."
Linder has drivers running his cars out West and in the East, but they're mainly 360s and 305s. X-1 Race Cars is looking to drive into the 410 market and get more people not only familiar with their chassis, but also running them.
MEDIA LINKS –
Website: http://www.X1RaceCars.com
Facebook: https://www.facebook.com/X-1-Race-cars-132228736836684
Twitter: https://twitter.com/Ryan_Linder
X-1 RACE CARS –
X-1 Race Cars is a custom sprint car chassis business that was established in 2010 by sprint car racer and master fabricator Ryan Linder. The company is relocating in 2017 to the Northeast to better serve a hotbed of sprint car racing in Central Pennsylvania and New York.
INSIDE LINE PROMOTIONS –
Inside Line Promotions specializes in affordable public relations and media management for motor sports drivers, teams, sponsors, tracks, series, events, organizations and manufacturers. ILP Founder Shawn Miller leverages professional journalism with new media technologies and social networking to improve your exposure and the return on investment for your sponsors.
To meet the media relations needs of your program by joining Team ILP, contact Shawn at 541-510-3663 or Shawn@InsideLinePromotions.com. For more information on Inside Line Promotions, visit http://www.InsideLinePromotions.com.
---
Article Credit: Inside Line Promotions
Submitted By: Shawn Miller
Back to News