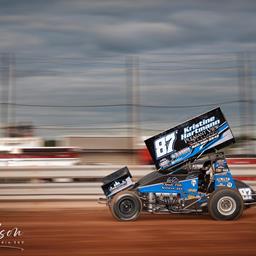 Austin Hartmann
Plymouth, WI
Driver Information
Chassis: Maxim
Engine: "Little Smokie"
Team Owner: Austin Hartmann
Favorite Track: Dodge County (Kan.) Speedway
Racing Hero: "The King" Steve Kinser
Most Memorable Moment: Quick time at home track Plymouth WI
Race Most Like to Win: Knoxville Nationals
Brief History
In the fall of 2019, 87A Hartmann Racing was formed. Owner/Driver, Austin Hartmann purchased a 360 c.i. motor along with a chassis and started to build this team from the ground up.
At this point he had been around and involved with Sprint Car racing for nearly his entire life. With the knowledge from some of the best of the sport and hard work, Austin set out to compete for both the 2020 Midwest Sprint Car Association and Plymouth Dirt Track Racing Rookie of the Year Awards.
The 2020 season was halted a bit by Covid, but this did not discourage Austin and team 87A. With the help of sponsors, he was able to take his very first laps at a rented track. There was no turning back at that point as he proved to himself and everyone that he had what it takes to be a competitor. Austin and team worked hard as one of several rookie teams to show up and compete the entire season, learning more and gaining speed each night out. The season proved successful as he was crowned Rookie of the Year for both series.
As the 2021 season progressed and his first win under his belt, Austin and team took advantage of an opportunity to compete the last portion of the season with the Bumper to Bumper IRA Sprint Car series, learning invaluable knowledge.
It was then the decision was made to purchase a 410 c.i. motor and compete for the 2022 Bumper to Bumper Interstate Racing Association 410 c.i. Sprint Car Series Sage Fruit-Hepfner Race Products Top Apple IRA Rookie of the Year Award.
With just two seasons of prior Sprint Car racing experience under his belt coming into the 2022 campaign, Austin and the members of the Plymouth, Wis.-based 87A Hartmann Racing Team put their talents to the test in a big way during their rookie campaign traveling to 410 Sprint Car races throughout the Midwest with the IRA.
A five-and-a-half-month 2022 journey competing against many of the nation's top 410 c.i. Sprint Car drivers at 13 different tracks in three states produced a garden variety of on-track results, along with a host of valuable learning experiences, will-testing challenges and thrilling highlights. Austin and Team ended the season with a 100% showing, 10th in the points standings, and 3rd overall in the Rookie of the Year battle.
2020 MSA Rookie of the Year
2020 PDTR Rookie of the Year
Recommendations
No recommendation information