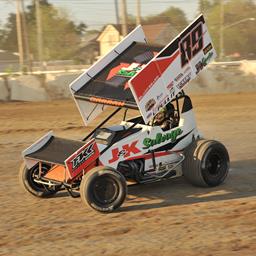 Cody Darrah
Red Lion, PA
Driver Information
[u When and how did you get started in racing?]
I've been racing even before I was born. Racing is a family tradition in our family. If you were to go my Grandparents house you'll find a pictures of all my aunts, and uncles, grandparents, even my great grandparents with checkered flags in there hands.
[u Who had the biggest impact on your racing career and why?]
My Uncle Rick Eckert I probably the my biggest influence in racing. He is always there to help me, and he does it from such a professional stand point.
[u What would you be doing if you weren't racing?]
If I wasn't driving, I would still be in the pits wrenching on someone's car. If there was no racing altogether I really wouldn't, have anything nothing to do.
[u What is your favorite aspect of racing?]
The flat out ride of a sprint car is the best aspect I found. The adrenalin rush you get when lining up before a feature and the lights go out when the flagger gives the one up signal is incomparable to anything I h
Recommendations
No recommendation information