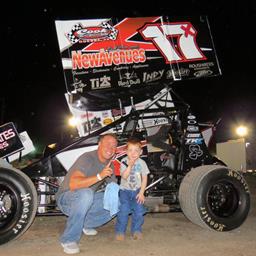 Josh Baughman
Odessa, TX
Driver Information
Driver : Baughman Motorsports - 2000 to present
Years Racing : 13 Years
Height: 5'8" 175lbs
Hometown: Odessa, Tx
I started racing at the age of 8 at a local dirt track that my family owned. I grew watching my dad travel around to different tracks in Texas racing IMCA modifieds. Racing was imbedded into me since i was born and it is something that I live and breath. I quit racing while attending high school and playing football for Odessa High School and said that i was retired from dirt racing till i went and watched 1 local sprint car race. After seeing the cars throw mud around the 1/4 mile track I couldn't help but go home and beg my dad to get me one. I race for my mom and dad they own my race team and i couldn't do what i love to do without them. I don't race for a living i do it for a hobby. Racing gives my family a reason to travel across the country together and do something we all love.
I have a beautiful wife Kori Baughman and 2 wonderful kids Hayden Baughman and Brooklynn Baughman. Ive only been if a sprint car for 4 yrs and 2013 is my first full season in an ASCS 360 car. I ran 305 for the start of my second racing career and loved it, it was just a dying class in my area so we decided to move up into 360's.
I plan on running for rookie of the year on the ASCS National tour in the future.
Recommendations
No recommendation information