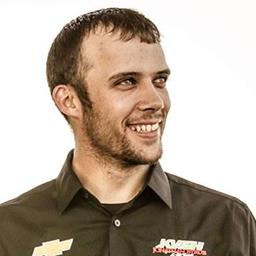 Bryan Clauson
Noblesville, IN
Driver Information
Bryan Clauson has been one of the most prolific drivers to come through USAC in his short career. Racking up over 70 career USAC wins, and several championships, Clauson has cemented his place in USAC history. Clauson has captured over 170 total career feature wins in the Sprint Car (Winged and Non-Wing), Midget, and Silver Crown ranks.
In 2016, Clauson will attempt to make history with a schedule consisting of 200 races. The "Chasing 200 Tour: Circular Insanity" will include Wing Sprint Car, Non-Winged Sprint Car, Midget, and Silver Crown races. Clauson will be back in familiar rides for 2016 - the Elk Grove Ford No. 17w, Dooling Machine No. 63, and Dooling/Hayward No. 63. Jonathan Byrd's Racing and Cancer Treatment Centers of America are involved in the entire "Chasing 200 Tour" - including the Indianapolis 500. Clauson will attempt to qualify for the 100th running of the Indianapolis 500 in the Dale Coyne/Jonathan Byrd's Racing No. 88.
Bryan Clauson has been one of the most prolific drivers to come through USAC in his short career. Racking up 66 career USAC wins, and several championships, Clauson has cemented his place in USAC history in short time.
Clauson's father, Tim, was a Sprint Car racer in and around the family's hometown in Northern California – Carmichael. So it was no surprise that Bryan caught the racing bug at a very young age. He took to Quarter Midgets when he was 5, and also tried go-karts, becoming the youngest ever to be named Rookie of the Year in the Outlaw Go-Kart program. He won multiple championships in Quarter Midgets over the next few years, including a Western States Championship even after the family relocated to the Indianapolis area in 1999. In his six years running Quarter Midgets from 1994 to 2000, Clauson earned one national championship, two state championships (California and Indiana), two Northern California regional championships and four Western States championships. He also set a new track speed record during the Nationals in Pueblo, Colo., and surpassed the 20-win mark almost every year. In 1997, as an 8-year-old, Clauson won 30 times. He earned the Quarter Midget Light A Division National Championship in Apopka, Fla., to cap off his final Quarter Midget season of 2000.
With more than 200 Quarter Midget victories by his 10th birthday, next Clauson turned his attention to 600 Micro and North American Auto Racing Series (NAMARS) Kenyon Midgets. In 2001 and 2002, Clauson scored 26 A-Main event wins and earned Rookie of the Year honors at Camden (Ind.) Speedway. He started running the Kenyon Midgets in 2002, where he scored a national title and Rookie of the Year honors, as well as "First Year Driver" honors from the HARF organization, who in previous years have honored such notable drivers as Tony Stewart and Ryan Newman.
In 2003, Clauson became the youngest driver to win the Open Division of the Tulsa Shootout, and added six A-Main wins in Kenyon Midgets en route to his second consecutive national championship. Clauson took a shot at Sprint cars the latter part of 2003 and proved to be a natural, qualifying for all 10 events he entered at Kokomo (Ind.) Speedway. His much-older peers nicknamed him "The Bullet" and Clauson was recognized as the track's Rookie of the Year.
As a 14-year-old in 2004, Clauson achieved unprecedented numbers in Sprint Car competition. In 37 starts, he netted six wins, 20 podium finishes and 31 top-fives. He earned Rookie of the Year honors at Lawrenceburg (Ind.) Speedway and Bloomington (Ind.) Speedway, where he also finished second in the overall 2004 speedway points standings. The National Sprint Car Hall of Fame recognized Clauson's outstanding efforts and presented him with the "Wildcard Award,' which made him the youngest recipient of the award ever.
Clauson competed locally in Indiana the first half of the 2005 Sprint Car season, then moved up into the USAC ranks following his 16th birthday in June. His first start, at Limaland Speedway in Lima, Ohio, resulted in a third-place finish. He finished with five top-10 qualifying efforts and topped it off with a podium finish. Among those who took note of Clauson's exploits was the ownership of Keith Kunz Motorsports, one of the nation's premier USAC operations. KKM signed Clauson and opened the door for his participation on both dirt and pavement, in both Midgets and Sprints, and broadened his experience in a big way. He won the USAC Midget race at Columbus (Ohio) Motor Speedway in October of 2005 to become the youngest National Feature winner in USAC history. By season's end, he had nine wins on dirt and pavement in three different divisions – Midgets, Sprints and Kenyon Midgets.
Clauson next caught the attention of Lorin Ranier, director of driver development for Ganassi, who wasted no time signing the youngster to the team's development program. In 2006, Clauson collected wins in USAC Sprints and Midgets, including the April Sprint event at Winchester (Ind.) Speedway, making him the youngest winner ever at "The World's Fastest Half-Mile" and the youngest USAC Sprint Car feature winner to date.
Through that summer, Clauson netted 11 Top-5 and 18 Top-10 National Sprint Car finishes, in addition to eight Top-5 National Midget finishes. In August, as a 17-year-old, he became the youngest driver ever to sweep a Midget/Sprint doubleheader weekend by winning both USAC Midget and Sprint Car features at Salem (Ind.) Speedway. The sweep placed Clauson in the USAC history books alongside other notable drivers who had accomplished the same feat, including Jeff Gordon, Pancho Carter and Dave Steele. The wins at Salem and Winchester also meant Clauson had successfully swept the high-banked tracks on the 2006 USAC competition schedule. Even after an injury at Lucas Oil Speedway in Wheatland, Mo. sidelined him for the remainder of the year, Clauson still maintained a top-10 position in both the National Sprint and Midget series by season's end. He finished fifth in the National Midget division and seventh in the National Sprint division. In addition to the outstanding final tally, Clauson again received freshman props by being named the 2006 Rookie of the Year in the National Midget division.
Clauson's prowess in Midgets and Sprints at an early age caught the eye of Chip Ganassi, who signed the then-15-year-old as a development driver. That materialized into a ride in the Nationwide Series that began with five races in late 2007 and 21 races in 2008 in the No. 41 Ganassi Dodge. As the story goes, Clauson had to ask his high school teacher for a hall pass so he could take a moment to meet with his potential sponsor. Leading up to that fall slate of Nationwide races in 2007, Clauson embarked on a 26-race schedule competing in ARCA for the Ganassi team, and also running the American Speed Association (ASA) North, ASA Challenge, USAC and the Georgia Asphalt Series (GAS) with various car owners, including NASCAR driver Kasey Kahne.
In 2007, Clauson's six starts in the Ganassi Racing ARCA Series entry netted a victory at Gateway International Raceway near St. Louis and runner-up finishes at USA Speedway in Lakeland, Fla., and Nashville (Tenn.) Superspeedway, as well as a pole position at Talladega (Ala.) Superspeedway.
In his 21 Nationwide Series starts in 2008, Clauson scored a fifth-place finish at Kentucky Speedway in June and a sixth-place finish in the season-opening event at Daytona (Fla.) International Speedway. He also qualified on the pole in the July race at Daytona.
In 2009 Clauson was slated to run full-time in the Nascar Nationwide Series. Early in the winter the deal fell through and he was left rideless. With nowhere to go Clauson returned to the place that made him a star, USAC, for the 2009 season. The 2009 season would prove to be a huge one for Bryan and his team as they racked up 19 feature wins. Among his many accomplishments in 2009 was the Indiana Midget Week Championship, the Belleville (Kan.) Midget Nationals Championship, winning the Hall Of Fame Classic and the Night Before the Brickyard at O'Reilly Raceway Park, winning the prestigious Turkey Night Grand Prix, and winning the Glenn Howard Memorial at Perris (Calif.) Auto Speedway. Clauson also received the yearlong honors of being named Hoosier Racing Fan Club (HARF) Driver of the Year and the National Midget Driver of the Year.
In 2010, Clauson turned his focus to making a run at all three USAC Championships. He joined forces with Tony Stewart Racing for the USAC Silver Crown Championship, RW Motorsports for the Sprint Car tour, and his family-owned Bryan Clauson Racing Inc. Midget for the USAC National Midget season. 2010 was another stellar year as Bryan captured 19 feature wins that included at least one in each division of USAC. Major wins on the year included the Hut 100, a second straight Belleville Midget Nationals, and a second straight Turkey Night Grand Prix.
2011 was a busy year for Clauson as he competed in all three divisions of USAC full-time along with six Firestone Indy Lights Oval races. Capturing the pole at Indianapolis Motor Speedway for the Freedom 100 and a third place finish at Iowa speedway highlighted the Indy Lights season. Clauson captured 14 feature wins in 2011 and the Indiana Midget Week Championship for the second time in his career. The end of 2011 saw Bryan win both the USAC National Midget and the USAC National Drivers Championship in back-to-back seasons. As a part of the 2011 prize for the National Drivers Championship, Clauson received a scholarship to compete in the 2012 Indianapolis 500.
In 2012, Clauson claimed the USAC National Drivers Championship for the third consecutive year. Clauson won his first USAC National Sprint Car Championship driving the BCI/Curb-Agajanian No. 7 Sprint Car, becoming the youngest driver in USAC history to do so. In USAC National Midget competition Clauson was behind the wheel of the Keith Kunz Motorsports No. 67. The reunited duo finished the season 3rd in National Midget points. The highlight of Clauson's 2012 season came in May when he qualified for the Indianapolis 500 with the Sarah Fisher Hartman No. 39 team.
Clauson continued his winning ways in 2013 capturing a career high 26 feature wins, including his first career winged sprint car win (Jacksonville, IL). Major accomplishments on the year included the Eastern Storm Championship (USAC Sprint Car), the Indiana Sprint Week championship, and a Western World Sweep (winning both the midget and sprint car feature on the same night at Canyon Speedway). Clauson won his second consecutive USAC National Sprint Car Championship driving the Tony Stewart/Curb-Agajanian Racing No. 20 Sprint Car. Clauson finished the USAC National Midget season 2nd in points driving the BCI/Curb-Agajanian No. 39.
In 2014, Clauson kicked off the year by winning the prestigious Chili Bowl Midget Nationals aboard the Joe Dooling/Curb-Agajanian #63 midget. Clauson captured 22 feature wins and the Indiana Sprint Week Championship for the second consecutive year. Along with non-wing sprint car success in 2014, which included winning the Kokomo Track Championship, Clauson made strides in a winged sprint car, as well. In only his second attempt, Clauson made the Knoxville Nationals A-Main for the first time in his career in 2014.
Clauson again captured over 20 feature wins in 2015, making it four years in a row with 20+ wins. Clauson won prestigious midget events in 2015, including the Belleville Midget Nationals at the Belleville High Banks and the Jason Leffler Memorial Race at Wayne County Speedway. Non-Wing sprint car success continued, as well, with Clauson winning Oval Nationals at Perris Auto Speedway and the Western World Championship at USA Raceway. Clauson also recorded wins in the winged sprint car, both 410 and 360, in 2015. The most memorable winged sprint car win came at Knoxville Raceway on Friday night during the Knoxville Nationals. In 2015, Clauson competed in the Indianapolis 500 for Jonathan Byrd's Racing/KVSH.
Major Accomplishments
2014 Chili Bowl Champion
2012, 2015 Indy 500 Qualifier
2 Time USAC National Sprint Car Champion
2 Time USAC National Midget Champion
3 Time USAC National Drivers Champion
36 Career USAC National Midget Wins
36 Career USAC National Sprint Car Wins
2 Career USAC Silver Crown Wins
2 Time Indiana Sprint Week Champion
3 Time Belleville Midget Nationals Champion
2 Time Turkey Night Grand Prix Champion
2 Time Indiana Midget Week Champion
2 Time HARF Driver of the Year Recipient
3 Time National Midget Driver of the Year
2011 Freedom 100 Pole Sitter (Firestone Indy Lights)
1 Career Nascar Nationwide Series Pole (Daytona July '08)
1 Career ARCA Win (Gateway '07)
Youngest USAC National Midget Winner Ever (Columbus Speedway '05)
Recommendations
No recommendation information