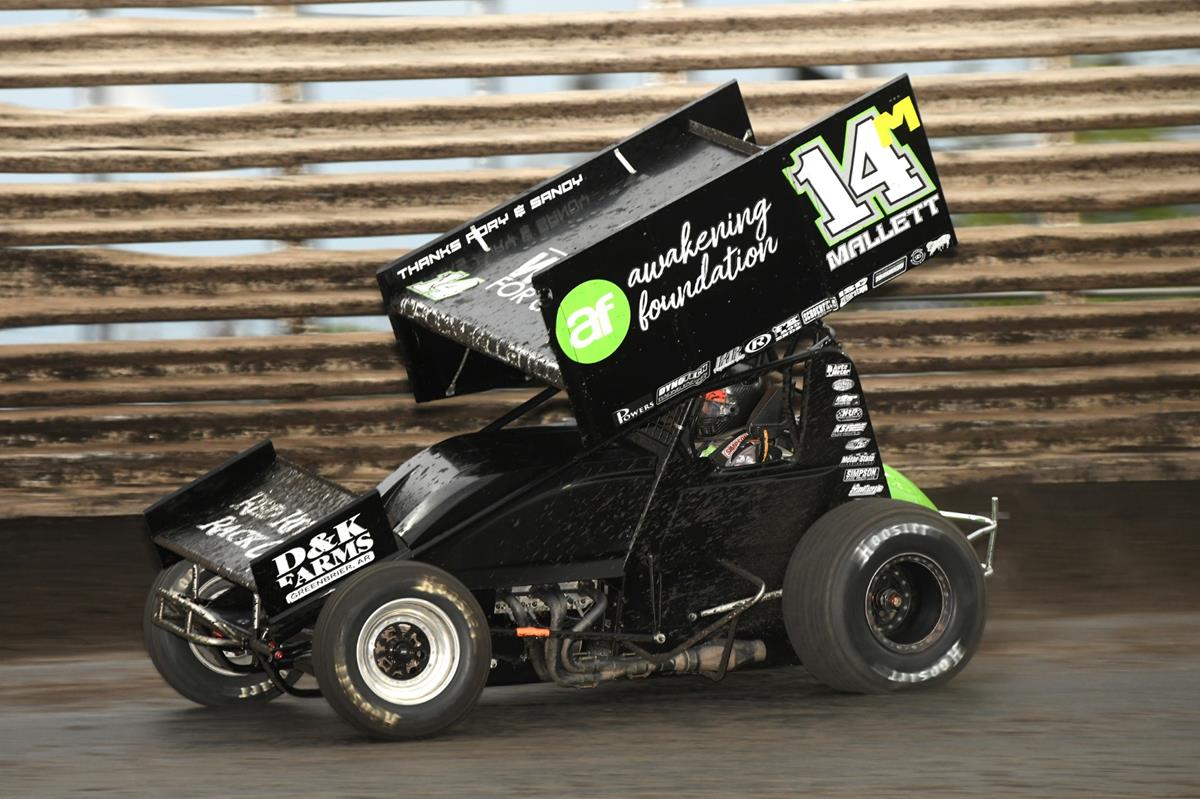 10/31/2023
Inside Line Promotions
---
Mallett Perseveres for Career-Best Third-Place Finish in ASCS National Tour Championship Standings
(Photo by Paul Arch)
Inside Line Promotions – GREENBRIER, Ark. (Oct. 31, 2023) – Jordon Mallett battled through a challenging season to record his career-best points finish with the ASCS National Tour.
Mallett used nine top fives and 21 top 10s with the series to place third in the championship standings.
"We pushed through and to come out with a podium is a good way to pay off the hard work," he said. "The end goal is always the same. I want to be a contender and put myself in contention. It doesn't matter if it's every night, race by race, or we're talking about a championship. At this level everybody's stuff is good and everybody is good. You have to have things go your way. I felt that was where we lacked a few times this year. We got in some bad spots with some bouts with mechanical problems and parts failures we didn't see coming. There were several weeks in the middle of the year we were a week-to-week race team on whether we could continue or have to pull off. We were riding around with a motor in the car and fingers crossed we didn't have any problems. We have some really good people behind us, stepping up and helping us out. We owe it to them to push through and show them we're in this for the long haul."
The theme of perseverance resonated with Mallett throughout the season.
"It's been a year that was trying as far as so many weird things that happened or went wrong," he said. "I'm hoping we got all of those things out of the way and next year we'll start fresh without the bad luck. I'm just glad to persevere. What really stands out is the nights something went drastically wrong and we were able to still perform.
"If you just look at the results it doesn't show the work and determination we put in. A race that stands out was at Caney Valley Speedway (on June 24). It was in the middle of that week by week. We thought we were in good shape. We were really quick in qualifying and were running second in our heat race with a shot to win. We broke a motor with two laps to go. My crew just went to work. We got back to the trailer and it was a quick turnaround before the feature. We swapped motors and cranked on our way to staging. We went out there and got tangled in someone else's mess. We had to go back to the work area and restart the race at the tail. We got back out there and charged all the way to fourth. I feel if we hadn't broke a motor we would have started up front and could have won the deal. The motor we put in had a fresh spark plug that the electrode was broken. So we charged from the back to fourth on seven cylinders. It stands out because there were two or three ways we should have won that race and to still be in the top five was impressive for our team. There were several races like that where we battled to overcome adversity this year."
There were also some smooth nights. Half of Mallett's top fives were podium runs this year, including season-best outings of second place on June 16 at Humboldt Speedway in Humboldt, Kan., and on Aug. 26 at Salina Highbanks Speedway in Salina, Okla.
"We're taking many positives out of the season and we've found some areas we can build on for next year," he said. "We want to thank all of our partners, fans and supporters. We are eager to get preparation underway for 2024."
SEASON STATS –
39 races, 0 wins, 10 top fives, 25 top 10s, 28 top 15s, 32 top 20s
MEDIA LINKS –
Website: http://jordonmallett.myracepass.com
Twitter: https://twitter.com/jmmotorsports14
Facebook: https://www.facebook.com/jordonmallettmotorsports
SPONSOR SPOTLIGHT – Water for Christ
Water for Christ was established from the joint passions of sharing the Gospel of Christ and supplying clean water to villages in developing countries. For more information, visit http://www.WaterForChrist.com.
"Water for Christ goes to Africa and other third-world countries to drill fresh-water wells where there is no access to fresh or clean water," Mallett said. "We're trying to raise awareness so they can continue to do what they do and hopefully on a larger scale."
Mallett would like to thank Awakening Events, Awakening Foundation, Water for Christ, Porter Commercial Refrigeration, Red River Rack Co., D&K Farms, Powers HVAC, DHR Suspension, Racing Optics, Triple X Race Co., KSE Racing Products, FK Rod Ends, Brown & Miller Racing Solutions, Sinco, Inc., Autometer, Callies Racing Products, DynoTech Race Engines, Hero Graphics, Hilborn Fuel Injection, ISC Racers Tape, K&N Engineering, Lone Star Super Gas (Sunoco), HRP Wings, Schoenfeld Headers, Simpson Race Products, Smiley's Racing Products, MetTec Titanium, MotorState Distributing, DMI, Fast 5 Solutions and Superior Bearing and Supply for their continued support.
INSIDE LINE PROMOTIONS –
Inside Line Promotions specializes in affordable public relations and media management for motor sports drivers, teams, sponsors, tracks, series, events, organizations and manufacturers. ILP Founder Shawn Miller leverages professional journalism with new media technologies and social networking to improve your exposure and the return on investment for your sponsors.
To meet the media relations needs of your program by joining Team ILP, contact Shawn at 541-510-3663 or Shawn@InsideLinePromotions.com. For more information on Inside Line Promotions, visit http://www.InsideLinePromotions.com.
---
Article Credit: Inside Line Promotions
Submitted By: Shawn Miller
Back to News