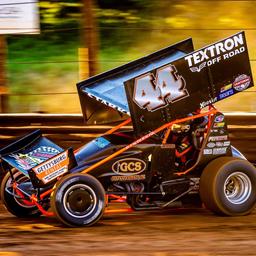 Trey Starks
Puyallup, WA
Driver Information
Brothers Arnie and Mike Starks began their racing careers drag racing in 1964, winning weekly races at Bremerton and Puyallup Raceway. They purchased a midget race car in 1969 and started racing it in 1970 at tracks all over the West Coast and Canada. Arnie won his first Washington Midget Racing Association (WMRA) championship in 1977, winning many races and setting track records along the way.
Arnie's oldest son, Dean, went to work for Bayside Motorsports in 1987, working on state-of-the-art road racing IMSA cars, Porsche 962 and Indy cars. He was part of the 24 Hours of Daytona, 12 Hours of Sebring and many other wins. He has since formed his own fabricating business, Blue Dot Fabrication, and is a very talented fabricator and is involved with many racing ventures. He has been responsible for building cars that won midget championships in 2000 and 2001. The car still holds track records in Canada, Washington, Oregon, California and Nevada. Today, he is still a vital part of Starks Racing as well as working on and preparing vintage race cars from Ferrari F1s to Greenwood Corvettes.
Arnie's youngest son, John, started racing midgets in 1983, running a limited schedule and winning his first race in the final event of the year. In 1986, John won his first championship in the SMORS series, which consisted of tracks on the west coast. In 1998, 1999, 2000, and 2001 he earned championships in WMRA. In addition to the four titles, John won many big races including United States Auto Club's (USAC) Harvest Classic at Madera, Calif., Speedway; USAC Silverstate National 100 Lap race in Carson City, Nev. John had feature wins and track records in most West Coast states. In 2003, John began racing USAC Silver Crown cars and raced on both dirt and pavement tracks all across the country.
In 2002, brothers John and Dean built John's son, Trey, his first quarter midget race car and over the course of three years built four more after Trey's brother, Collin, began racing quarter midgets. Collin had many Junior Honda and Junior Stock fast times, track record, and feature wins culminating in a Region 9 Junior Honda Championship at the age of six in 2005. He stopped racing quarter midgets shortly after the Micro-Sprint program began. In the meantime, he has become a very accomplished mechanic at his young age.
The 2011 season turned out to be a a decent sophomore season in full-sized sprints. Running 59 races across the west coast in both 360s and 410s getting a win and making over 90 percent of the features. We learned a lot, still working through the transition from asphalt to dirt, but made fair progress and met most the goals we had set before our team.
Since then, Trey has expanded to race from coast to coast and has been victorious in the 360 and 410 ranks.
Recommendations
No recommendation information