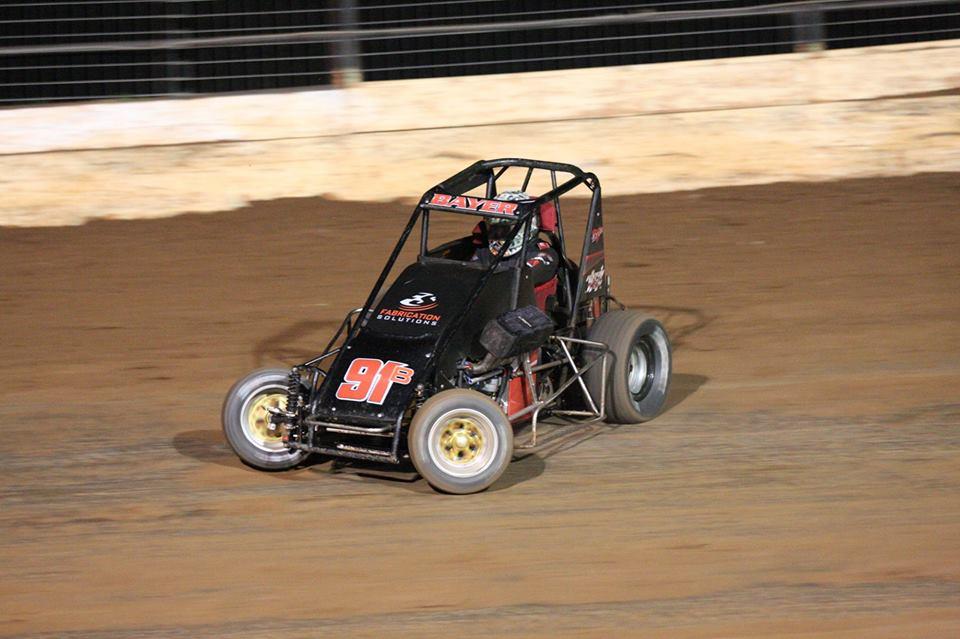 ---
Lucas Oil POWRi West 7-12 Story & Results
The Western reps of Performance Open Wheel Racing, Inc. made their way to the whirling confines of Tornado Alley, their sixth visit to I-44 Riverside in the first full year of POWRi West.
An increased effort on surface preparation paid off and fans were treated to some savvy moves on the 1/5th mile red clay oval despite the near 100 degree temperatures and a wild 2nd heat race sent signs for what was to come in the 25 lap main event before a rapidly increasing fan base for the first year series.
Bixby's Kevin Bayer had put the Jet Motorsports #91B into the lead in six separate POWRi West ventures this year without a win, but courtesy an impressive win in heat race #2, earned the pole position starting spot with West point leader and two time streaker Alex Sewell alongside.
Bayer won the dog fight to lead lap one and proceeded to match the feat each round, but Sewell stayed within striking distance, never allowing Bayer to truly settle in.
While the lead pair timed their marks, the action 100 feet back grew intense in the latter stages as Guthrie's Michelle Decker led a pack of pilots feasting on both upper and lower grooves.
That grew into a five way battle between Decker, series promoter Eric Fenton, Owasso's Ty Hulsey, Olathe, Kansas' Tyler Nelson, and Piedmont sensation Grady Chandler.
Nelson was the first to find the high side and as he began pressing Chandler, the 14 year old moved up with him. As the pair advanced amongst Hulsey, Fenton, and Decker it became a true 5 way battle for third with each pilot opting for different lines on ether side of the track in search for advantage.
Back up front, Sewell waited patiently for any slip from Bayer, but Bayer completed a wire to wire run for his first win of the season aboard the EcoTec powered Jet Motorsports #91B. Side note - Bayer turned around just 30 minutes later and ousted local winged micro action as well from the tail of the field, before scoring third in Outlaw action at the end of his journey, delivering two wins and three podiums total to his camp!
Sewell settled for 2nd as he enters the home stretch in his bid for the Lucas Oil POWRi West championship.
That battle for third was extremely intense late and Grady Chandler showed his mettle, battling by Decker for third in the final laps to earn his first podium finish in just his third career Midget start. Decker ran fourth with Owasso's Ty Hulsey taking a hard fought fifth.
Fenton once challenged Decker for third, but ultimately came in 6th amongst the beautiful chaos and Tyler Nelson, making the 5+ hour one way haul from east Kansas, put on a high flying show to be remembered for the next 4 weeks in his 7th place run.
Edmond's Matt Johnson crossed the 25th round in 8th with Hurricane Hannah Adair claiming ninth and Texans Doug McCune and Jordan McPherson completing the finish.
The Lucas Oil POWRi West Midget Series takes a few weeks off to cool off before rebounding with two more runs at The Only 200 MPH Dirt Track in the World on August 9th and September 6th. The series then dances up the Turner Turnpike to Tulsa's Port City Raceway on Saturday, September 28th before capping a sensational opening campaign with the 2nd Annual Twister Nationals at I-44 Riverside Speedway on October 10-11.
The Lucas Oil POWRi West promoting team, racers, and fans all extend our heartfelt thanks to the partners that have supported us in becoming the premier wingless open wheel series in the region, special thanks to IRaceTv, Factor One Racing, Fenton Graphics, Boss Chassis, MudX, Rod End Supply, KBR Performance, Tulsa Gas Technologies, The Dirty Knuckle Tavern, and of course our premier sponsor Lucas Oil.
Back to News