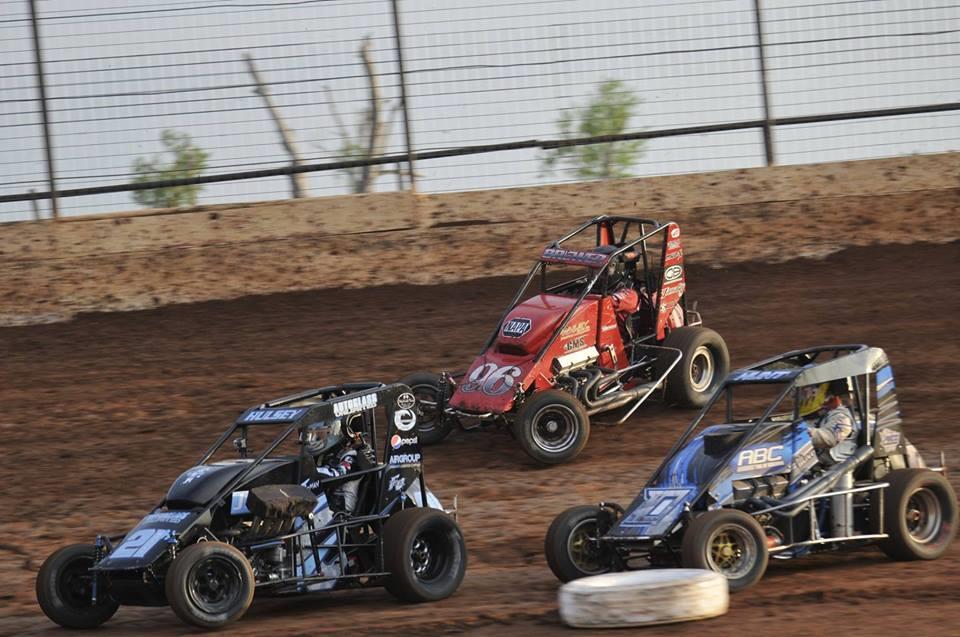 ---
POWRi West 8/9 Official Preview
POWRI West Midgets Storm I-44 Riverside this Saturday
Cody Morris
Lucas Oil POWRi West Official Release
Wednesday, August 6th
Oklahoma City, Oklahoma
Battle Tested and nearly a month rested, the Lucas Oil POWRi West Midgets assemble their machines for a Saturday night showdown in the State Capitol.
The POWRi West posse are no strangers to I-44 Riverside confines, mounting for their seventh race this season at southwest Oklahoma City's semi-banked, 1/5th mile, red clay oval.
Six trips to Riverside have produced five winners with Broken Arrow, Oklahoma's Alex Sewell the only racer to score multiple wins in Oklahoma City.
On the strength of those two victories, the first of his Midget racing career, Sewell stepped to the top of the POWRi West point standings in the Sewell Mechanical, Action Auto Collision, Esslinger powered #8 Spike.
Sewell enjoys a commanding 240 point lead over Bixby, Oklahoma's Kevin Bayer, who just scored his first POWRi West win in the most recent series' event in Oklahoma City on July 12th.
If Bayer or his immediate company are to catch Sewell, they must start the comeback now with only five point races remaining to this groundbreaking 16 event campaign.
Just 40 points off Bayer's pace and 280 behind the leading Sewell, Guthrie, Oklahoma's Michelle Decker enters Saturday's contest third in the point standings with Owasso's Matt Sherrell fourth.
Series Statesman and Jenks, Oklahoma native Eric Fenton enters fifth in the standings as the Southside Mowers #14E entry has found his midseason form after a dejecting opening half of the campaign.
Owasso's Ty Hulsey and Broken Arrow's Hannah Adair ride in a short distance behind Fenton, with a pair of early season winners in Choctaw's Cody Brewer and Tulsa's Jonathon Halford entering 8th and 9th in the standings, respectively.
Edmond's Matt Johnson currently sits tenth and holding off a charge from several contenders led by Broken Arrow's Jason McDougal and Fort Worthm Texas racer Doug McCune.
Sixteen entries have already been confirmed for this Saturday night's event with Olathe, Kansas' Tyler Nelson and Cabot, Arkansas' Bobby Brewer each committed to long hauls to southwest Oklahoma City.
I-44 Riverside gates open at 4pm with driver's meeting at 530pm, followed by wheel pack and hot laps at 6pm. The first competitive green flags will fall at 7pm. Grandstand/Lawn Chair admission will be $12. Pit admission $20.
Lucas Oil POWRi West - 2014 Remaining Schedule
Saturday, August 9th - I-44 Riverside Speedway - OKC, OK
Saturday, September 6th - I-44 Riverside Speedway - OKC, OK
Saturday, September 27th - Port City Raceway - Tulsa, OK
Friday, October 10th - I-44 Riverside Speedway - 2nd Annual Twister Nationals
Saturday, October 11th - I-44 Riverside Speedway - 2nd Annual Twister Nationals
Lucas Oil POWRi West Complete Point Standings as of Wednesday August 8th
11 of 16 races complete
8 Alex Sewell - 1410
91B Kevin Bayer - 1170
4m Michelle Decker - 1130
35 Matt Sherrell - 980
14E Eric Fenton - 935
21H Ty Hulsey - 920
23A Hannah Adair - 880
96 Cody Brewer - 830
83 Jonathon Halford - 750
85 Matt Johnson - 740
73 Jason McDougal - 635
9u Doug McCune - 610
17 Travis Scott - 560
1 Bobby Brewer - 420
91T Tyler Thomas - 300
56 Mark Chisolm - 270
5$ Danny Smith - 180
7x Jordan McPherson - 170
14 Evan Sewell - 80
19 Nick O'Neal - 80
Back to News